For yours truly, the 2014 West Coast Pipe Show was only a 24-hour affair. I flew in on Friday night & flew out on Saturday evening. Even in that short time I was able to pack a ton of pipe fun in so as you can imagine, I had a grin on my face from ear to ear virtually the entire time.
I hugged way too many people whom I have grown close to and haven't seen in a while and essentially it was the usual 'Pipe Heaven' for me, as it always is with anything pipe related and especially at the West Coast Show, which is where I am from, the West Coast.
Great attendance. The usual extra cozy fun at the Pub downstairs.
So many new people came which is always great to see.
My apologies to some of the pipe makers and my sincere apologies to their pipes. My camera was not set properly due to too much excitement and far too many of the shots were not good enough for the report. You still have 500 pictures to look through but I am upset that many beautiful pipes and their wonderful makers did not make it into the report.
Small side-note for next year's show, Tom Eltang is likely planning to come. Several other new pipe makers are thinking about it as well. I will do my best to convince a bunch of European makers who don't usually make the trek to come out next year too. Therefore, you my fellow pipe friends, collectors and makers alike, start prepping that piggy bank and at least put the Las Vegas show on your 'consideration list' for 2015 because it will be even bigger & even better.
Enjoy the pictures, which are shown to you in the order that they were taken. Some stuff is out of order but I do not think you will mind.
We begin with pipes from Jeff Gracik of J. Alan Pipes. All of them are obviously Class A, Super A+ stunning pieces of briar. Some of them however were more eye-popping than others.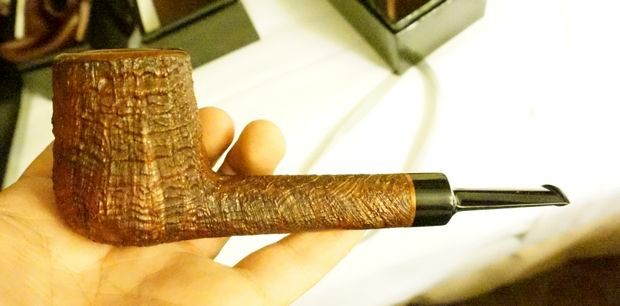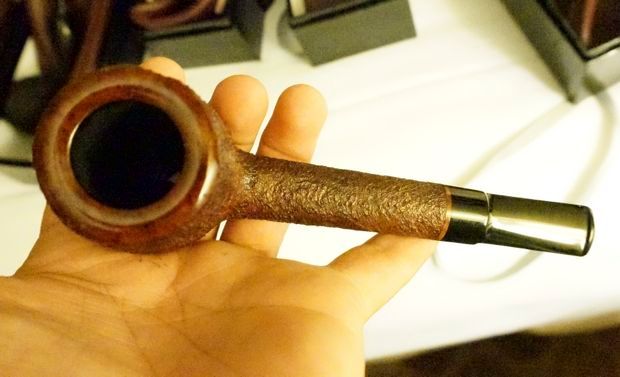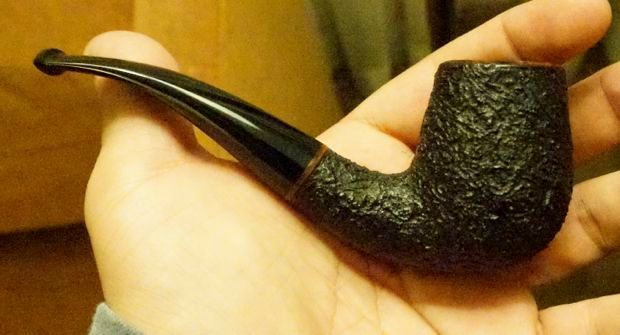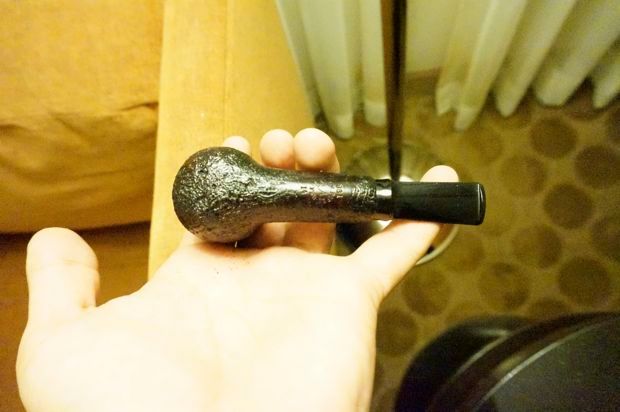 This pipe from Jeff Gracik was likely one of the finest pipes I saw the entire show. The grain on this pipe has a quality that Jeff likes to call 'GrainSanity'. That description fits this pipe perfectly.
Too bad my camera could not capture this shot in better focus.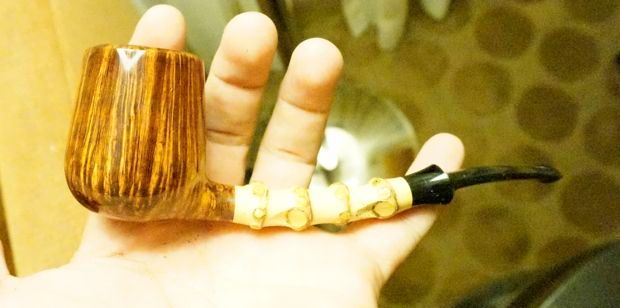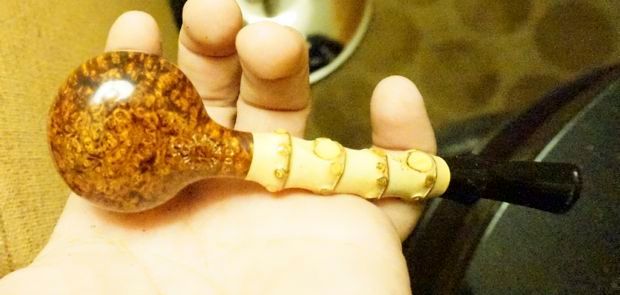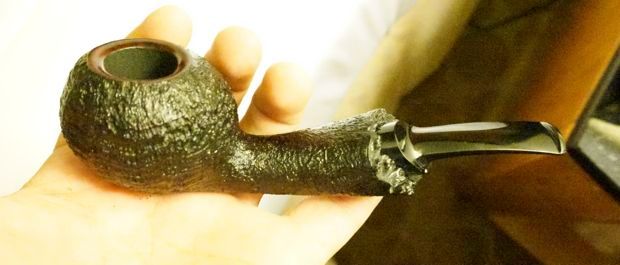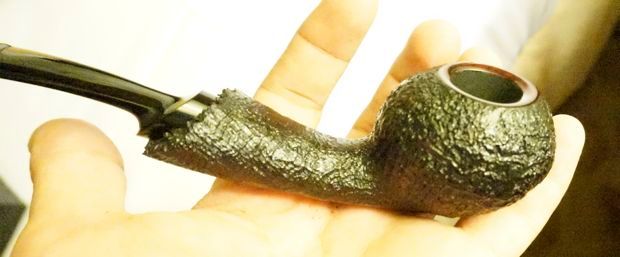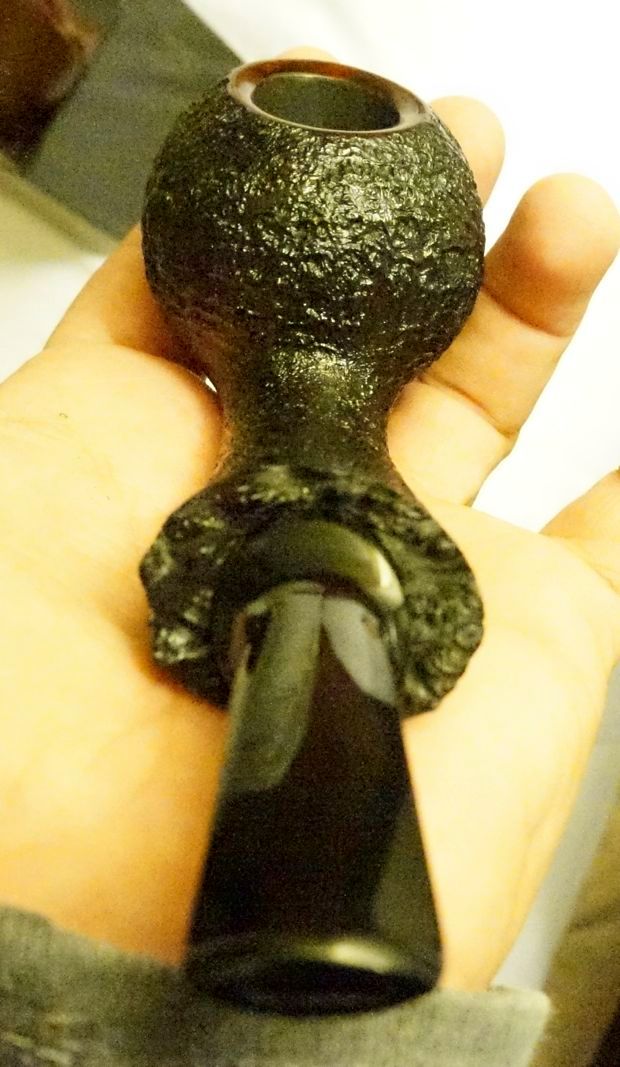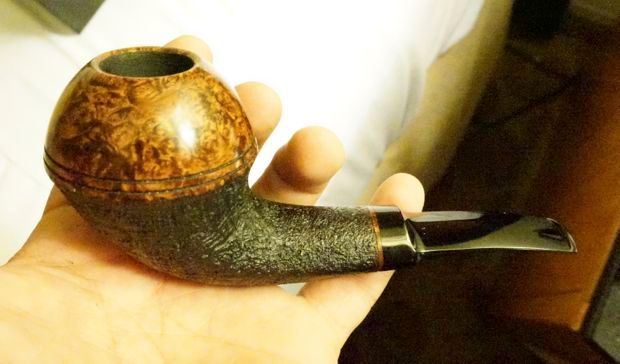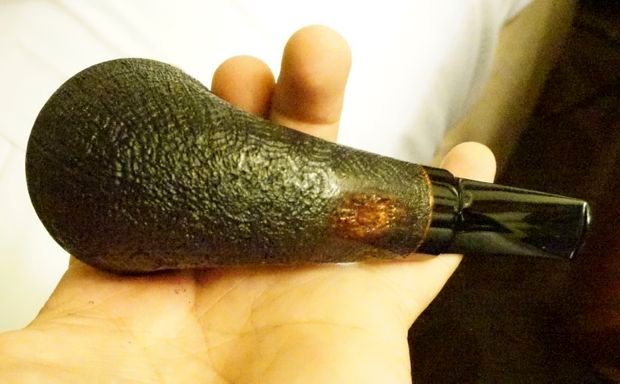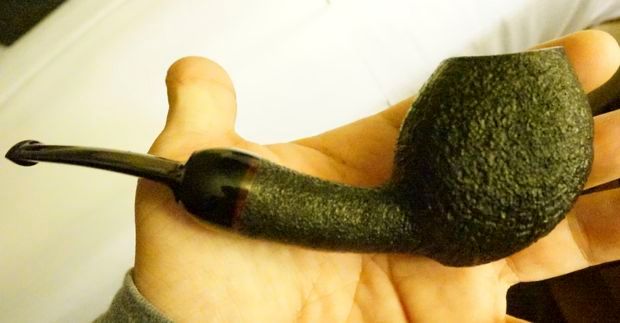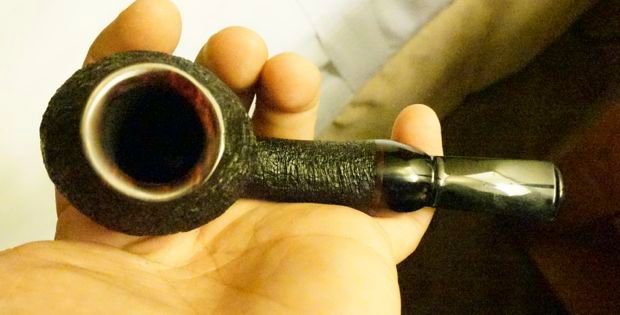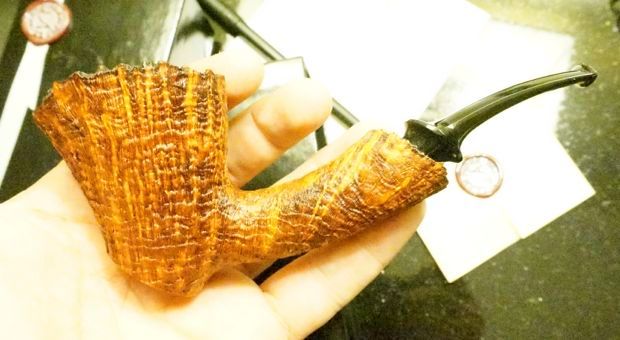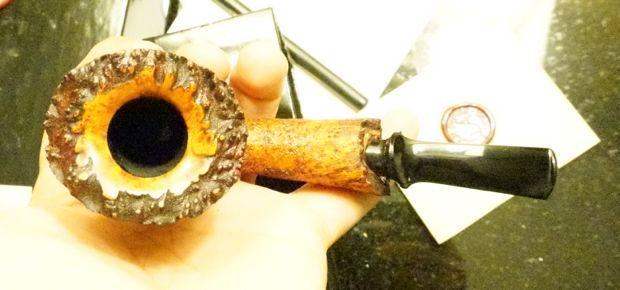 This guy is rather exquisite. From top to bottom, perfect execution.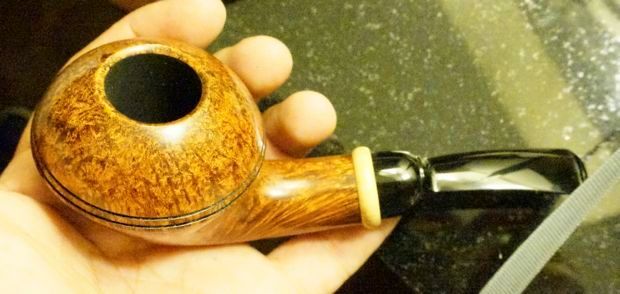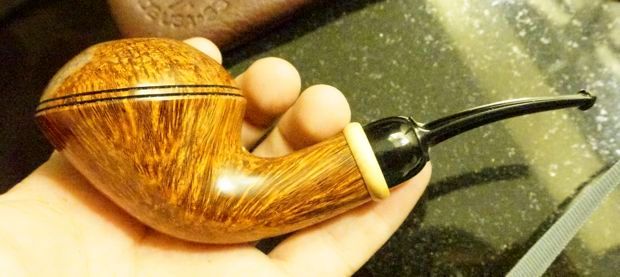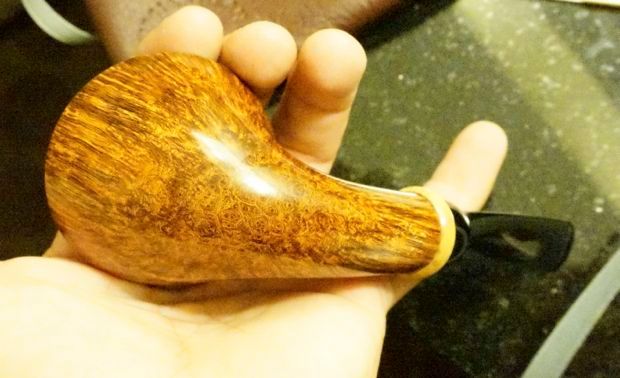 I did an article on Jeff Gracik a few years back. Right when he was at the start of entering the stratosphere that he now occupies. Take a read and learn more about one of the best, if not the best, Full time US pipe maker today. You can read the article by clicking here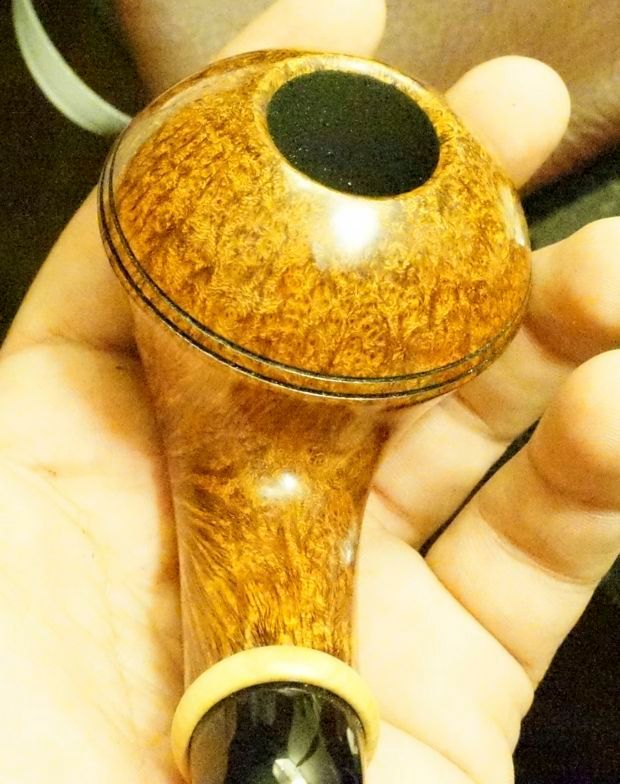 My good buddy Mario Persico was one of the first people whom I hung out with at the Pub. It is always so difficult to spend quality time with all the people that you want to, when you are at a pipe show. So many people, so much going on. You want to sit down and immerse yourself and reacquaint yourself with the person sitting across from you. This is exactly what I do. Mario and I hung out for at least an hour and spend good time with each other. You also however want to do the same with the 100 other people you see in the room. That part is always very difficult.
Here is Mario enjoying his first few puffs on his brand new pipe.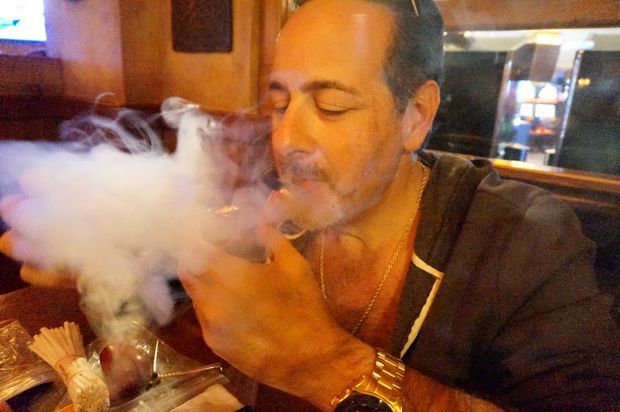 The next set of pipes are from Nate King.

Nate King has a design quality attached to his work that I have yet to be able to perfectly describe. Nate is mostly self-taught. He has spent time with some serious pipe makers but more often than not, Nate finds ways around the information he learns and he looks for what he deems are better methods to complete the pipe. Maybe this quality comes from his past career. He is a former Indy Car Mechanic and Engineer mind you so the guy knows what it means to be precise. Or, it could be that he is just stubborn or that he in fact does know some better way to approach the pipe.

Whatever it is about Nate, the unique style that he brings to his pipes are what interest me and likely to those people that collect his work. Nate has lines that are very unconventional. Yet somehow the entire overall product & it's presentation comes together and works exceedingly well & most especially in the 'unique style' department. This specific area, having a unique look that one can spot from across the room, is one of the hardest things to achieve in the pipe world and Nate King already has it.

If you would like to read my very 1st article on this website which discussed the concept of what it means to have a unique look and being able to spot a pipe makers work from across the room (which still to this day mind you, very few pipe makers achieve the distinction of falling into this category), please take some time and read the article. I called it Will Purdy, Andrew Marks and Larry Roush – These Guys Can't Hide Their Pipes No Matter How Hard They Try. You can read it by clicking here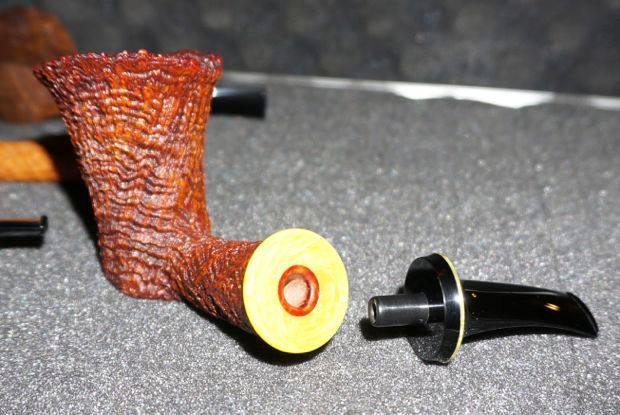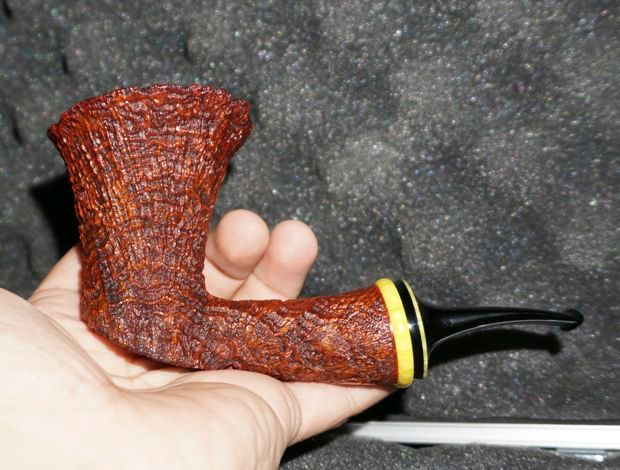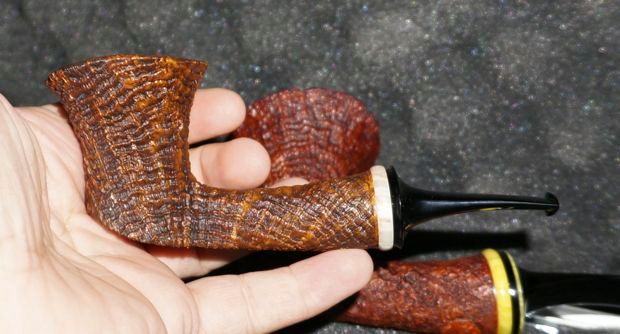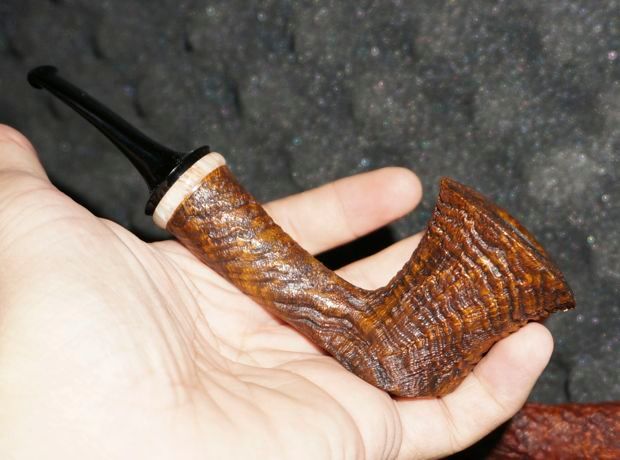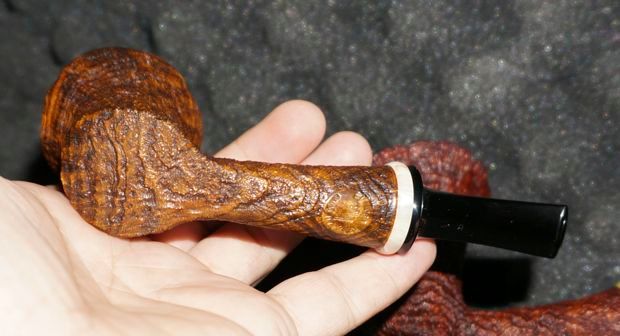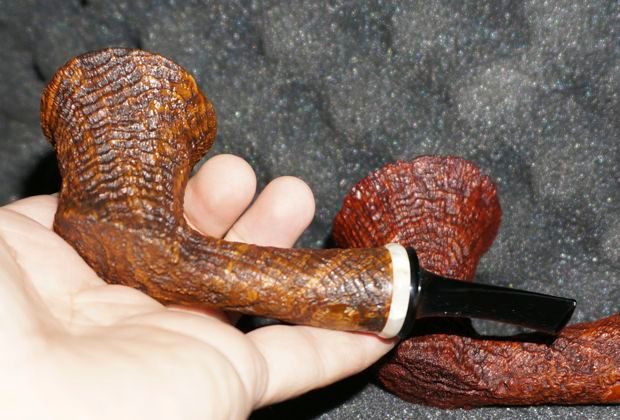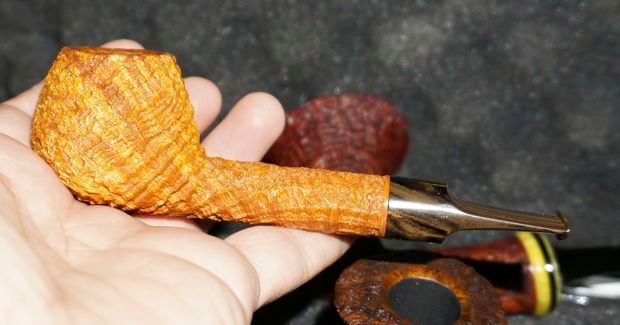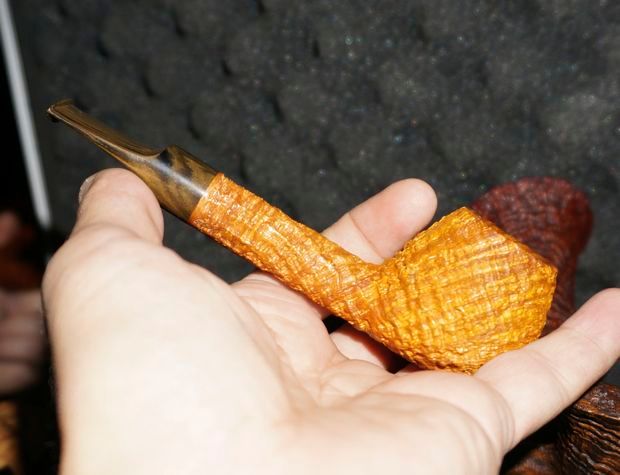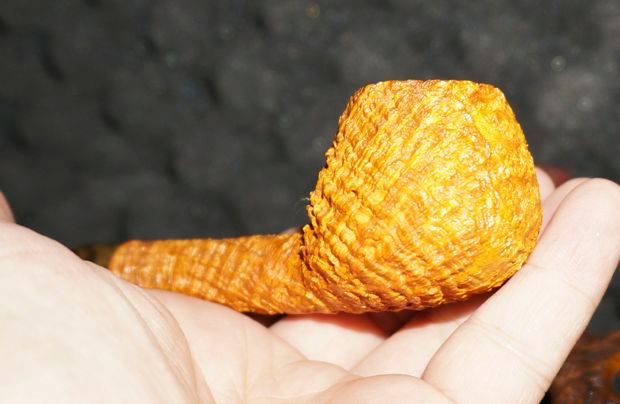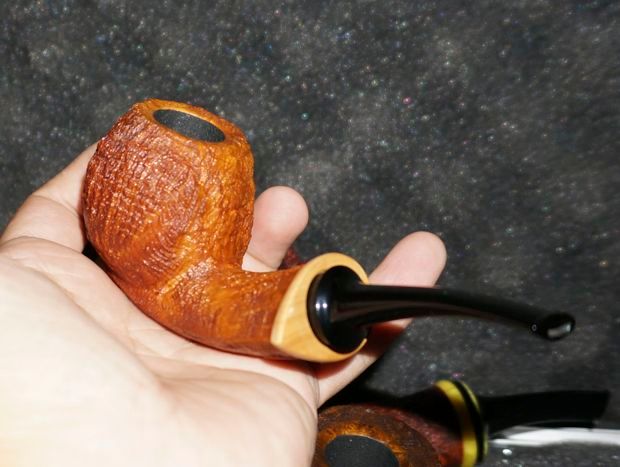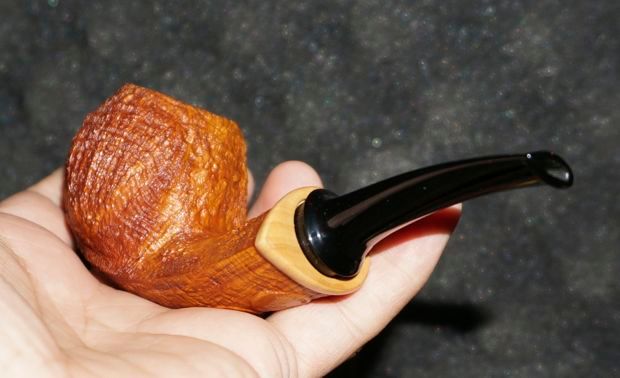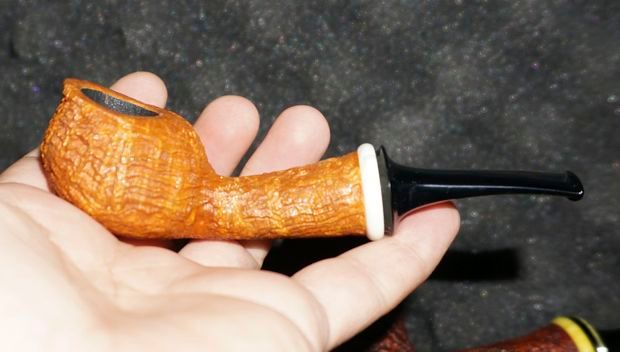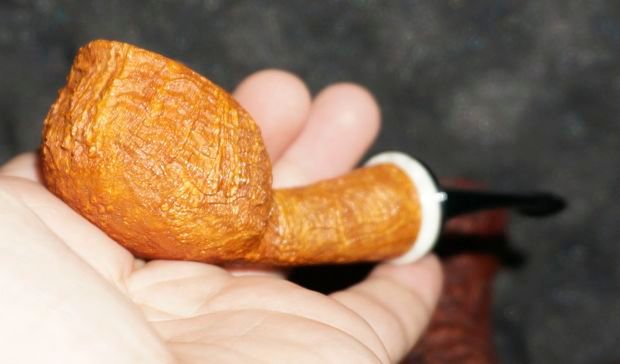 Nate King in front of his case of pipes.
Isn't this the most beautiful sight to see? A case full of pipes. One of the most gorgeous sights that we get to enjoy in our hobby.


Here we have Jared from J&J Pipes inspecting a pipe from Greek maker Chris Asteriou that I had brought to the show. Behind Jared is well-known collector and pipe smoking champion Tom Pfaeffle.


Steve Liskey. California born & bred and his pipes are up next. You will see Steve's pipe scattered a little throughout this report. I took a lot of photos at the Pub but it is actually a bad place to shoot because of poor lighting conditions. Still, you will see a lot of new expression in Steve's work. Starting off with this simplified version of the Nautilus which Steve nailed in beautiful fashion. A non classic shape that he was able to simplify and express in a way that appealed to me quite a bit & I am someone who is rather firmly rooted in the classical side of pipe shapes.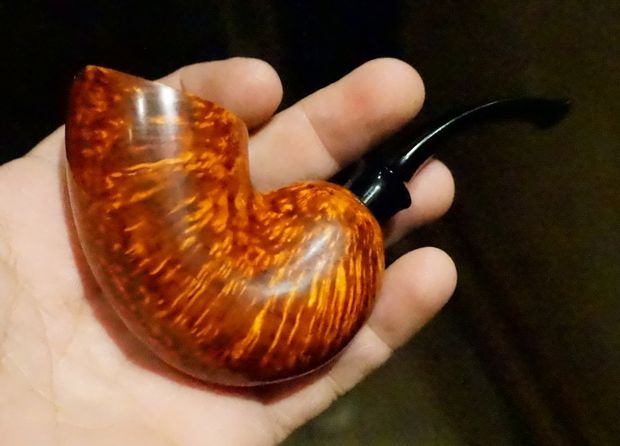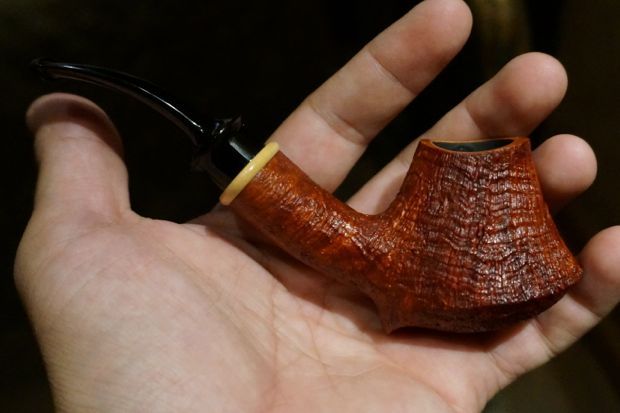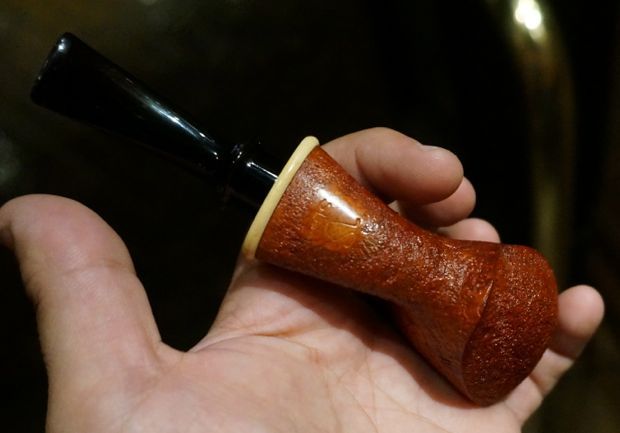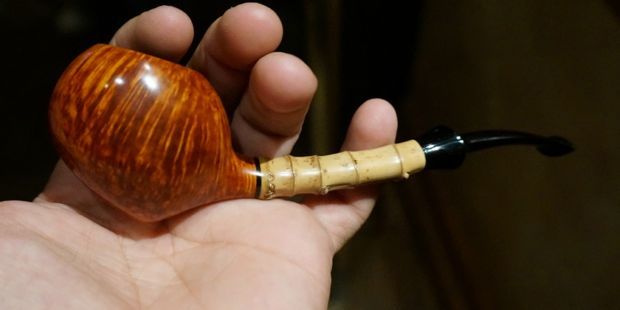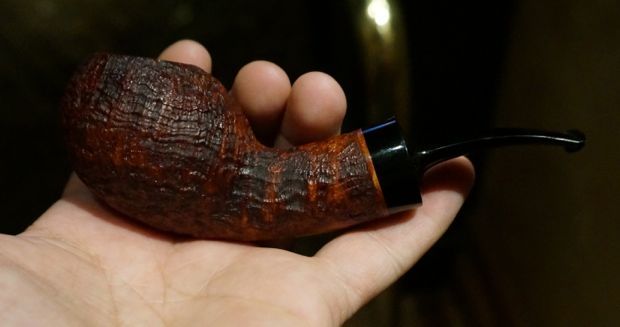 This is the Pub. For those that have not been to Vegas, you walk inside this place and everyone is there. It is not very large, there is a bunch of seating and the environment packs us all into a very small space, forcing us to co-mingle. This cozy, quieter side is what I enjoy most about the Vegas show.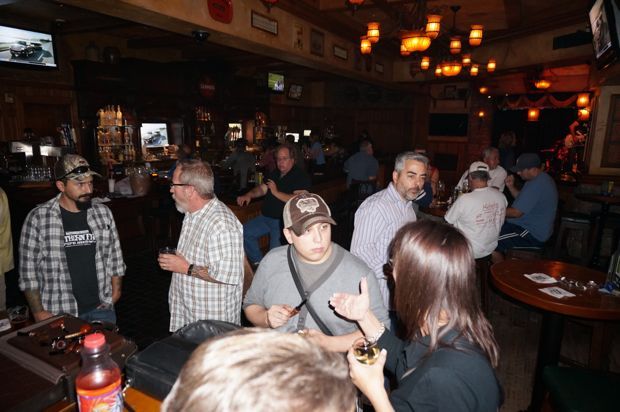 The next few pipes will be from an unfamiliar name. Silver Grey. Silver is Brad Pohlmann's partner. This is her first round of pipes. Brad likely helped in a few small places however if you know Brad, you will easily be able to see Silver's style in these pipes. Mainly because Brad does not do many of these types of shapes. I am very happy to see another female pipe maker and I hope she continues with the craft. You will see her picture below.


Impressive isn't it? I have never seen a blow fish quite like this and I can feel the female perspective when I look at this pipe.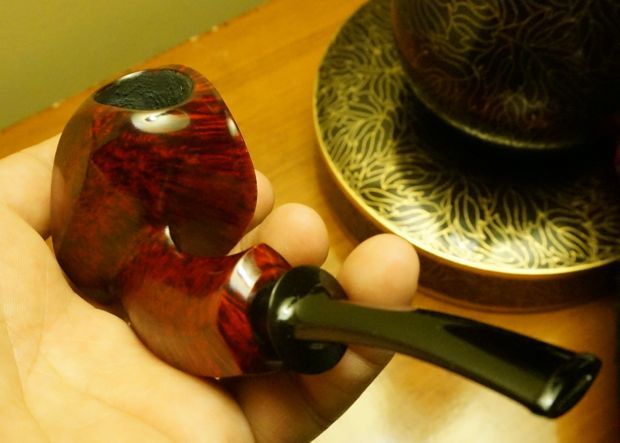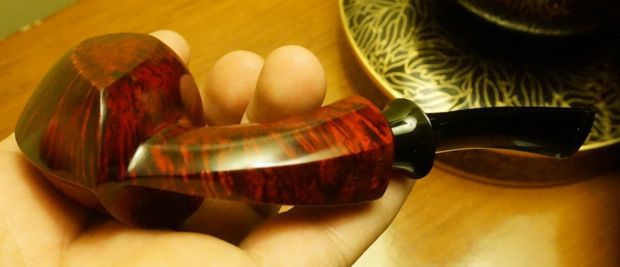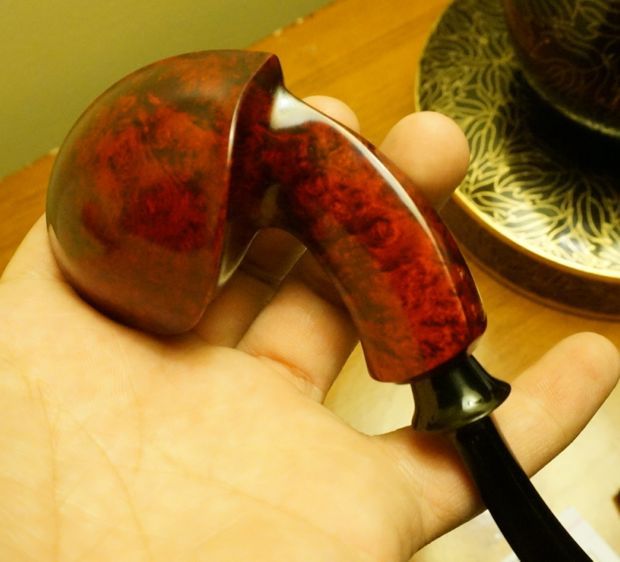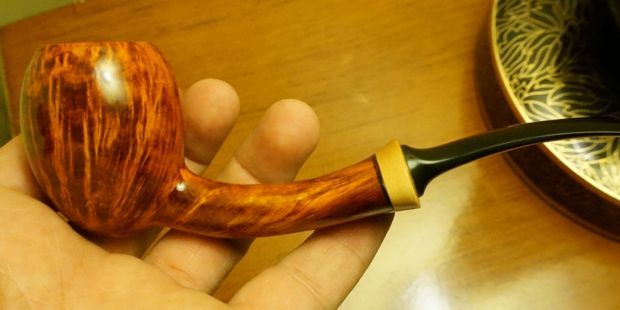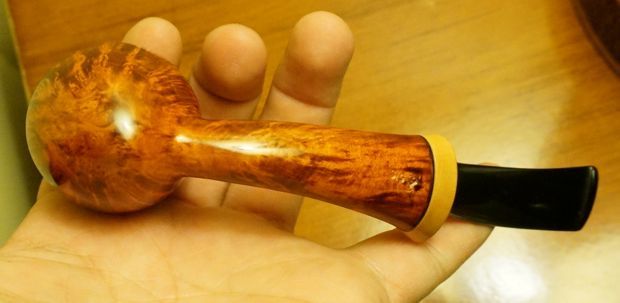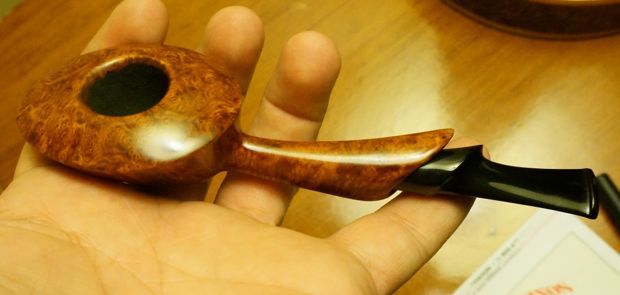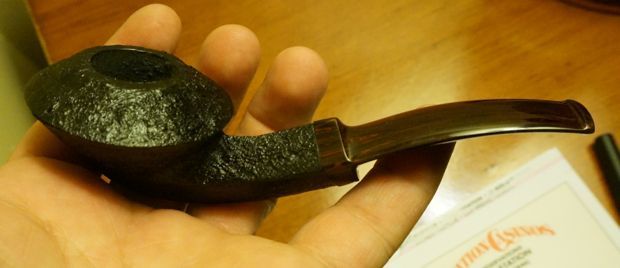 Brad Pohlmann is up next. I have a serious mini man crush on Brad. Well, more so for his pipes.
I adore them. Brad has been in the game for so long and his pipes scream wisdom & knowledge, far above many of the new artisan's that are out there. His contrast stain has been wowing collectors for the past few years.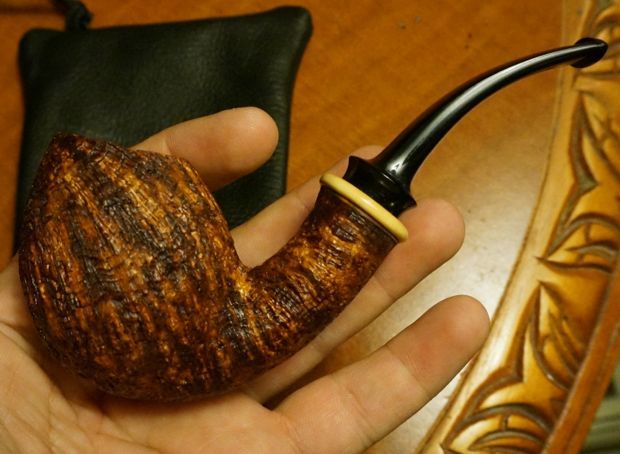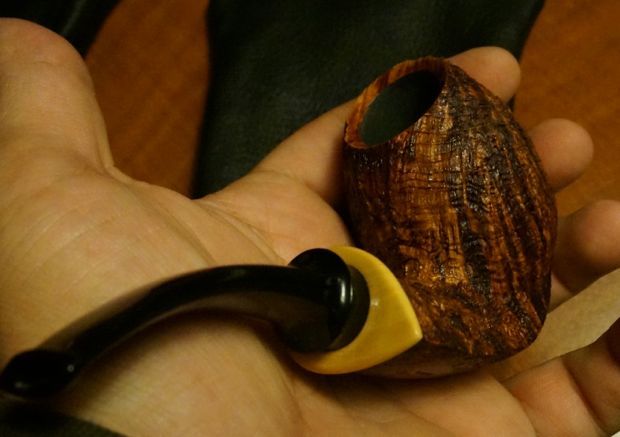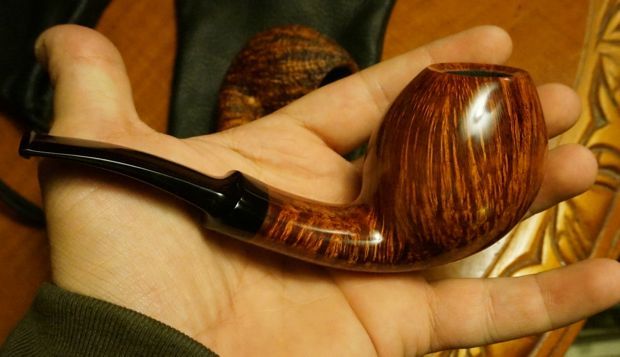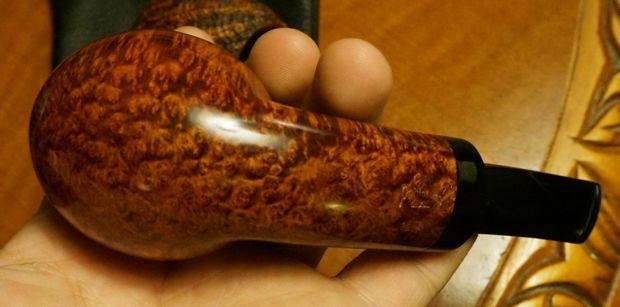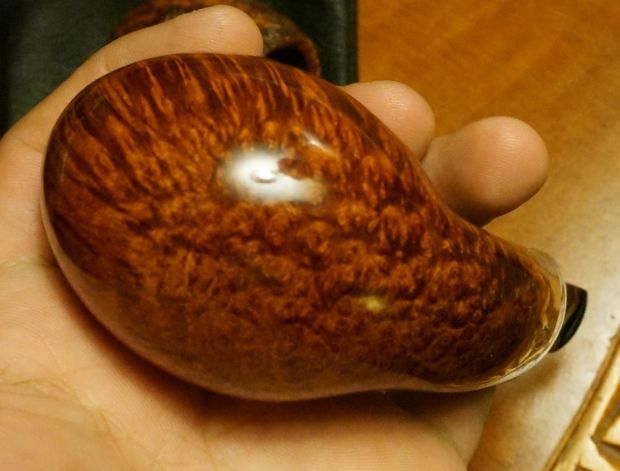 For those that follow Brad's work. He has been making this Dublin shape for a few years now. This time around though the expression has a lot less 'meat' on her. She is much more lithe & more graceful. I like how this shape has evolved in Brad's hands over the years.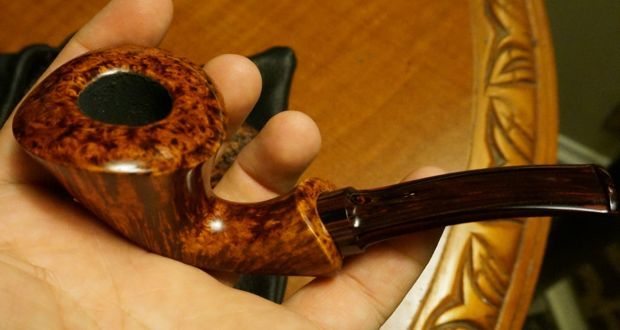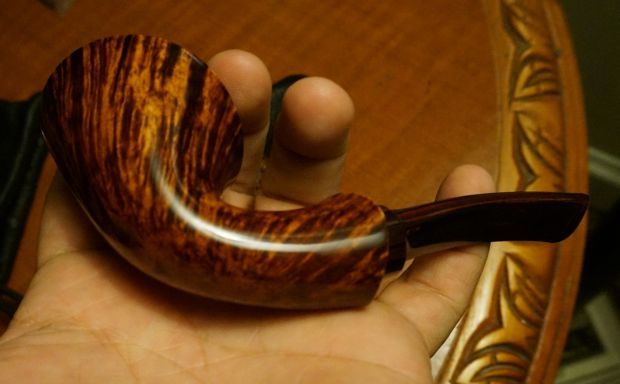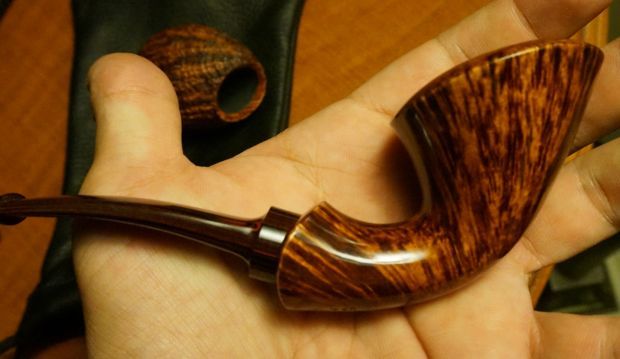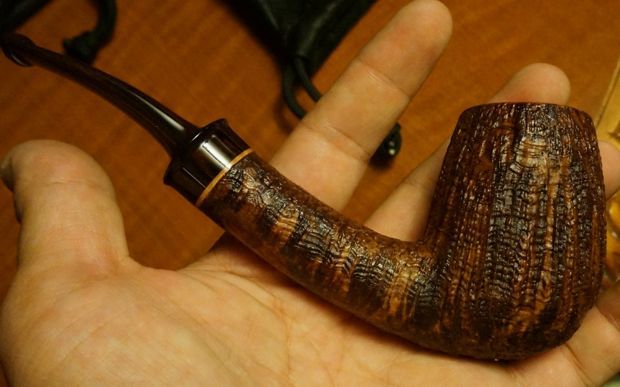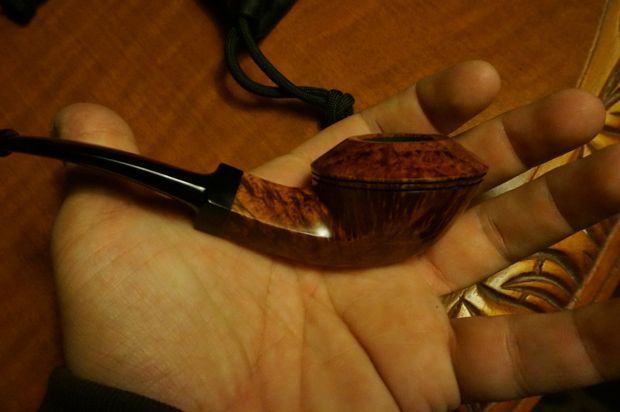 Isn't this Bull Dog just amazing. I love it. Fell in love with this pipe the moment I saw it.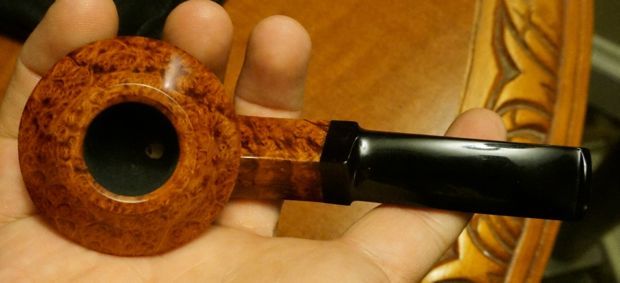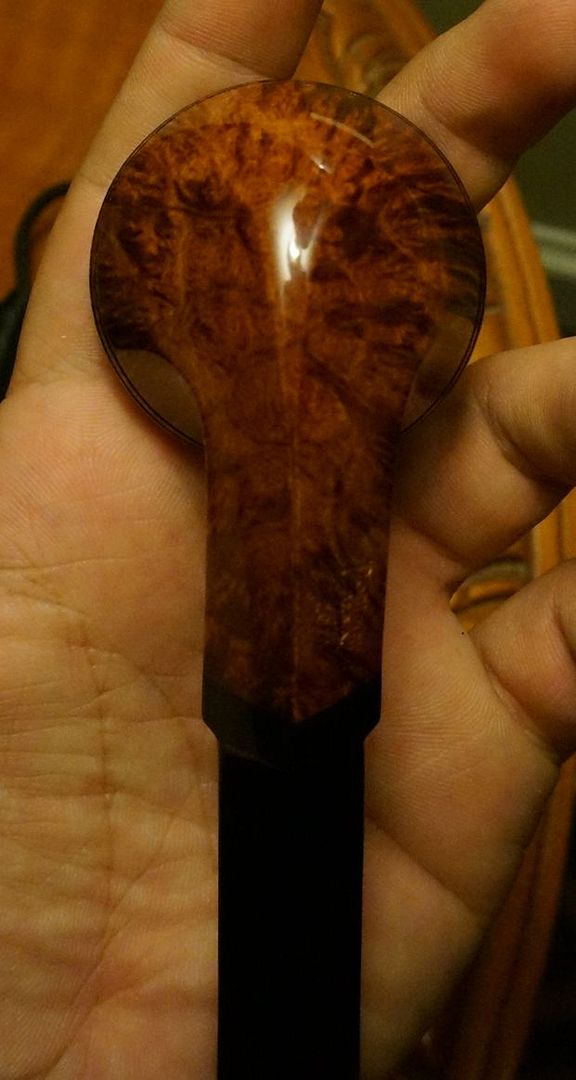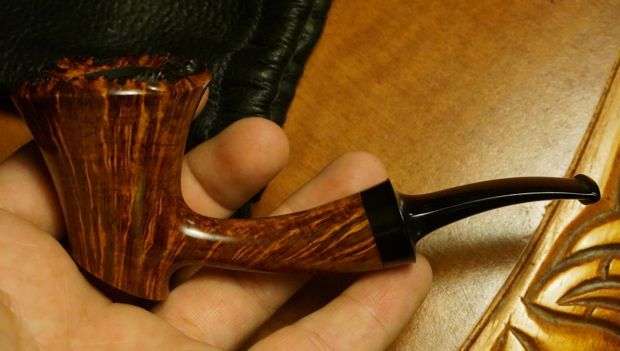 A variation of the Drunken Dubliner that I purchased at last year's Chicago show.
Beautiful.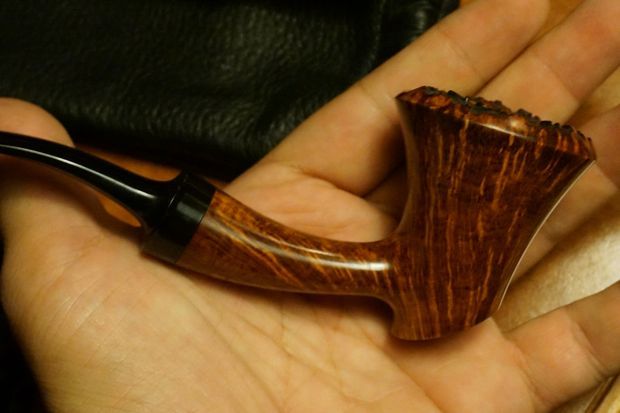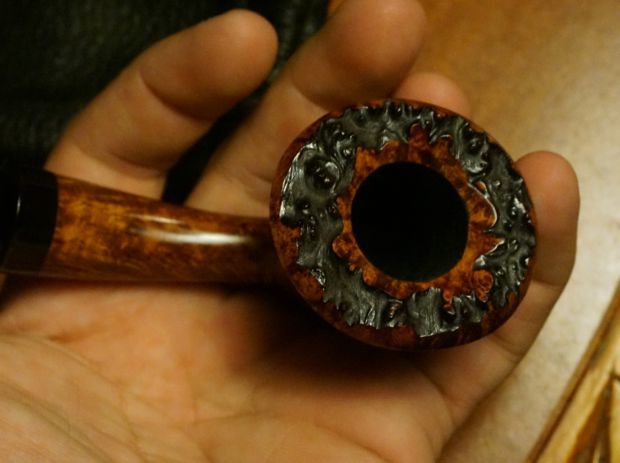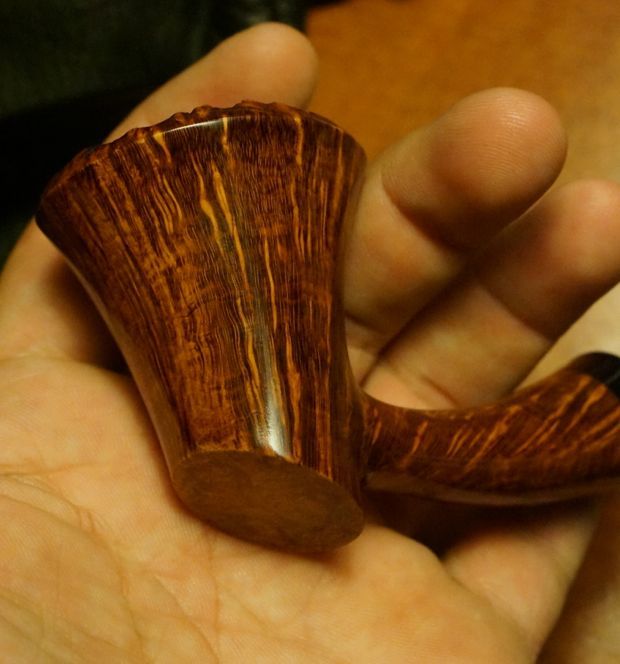 The show floor just after opening.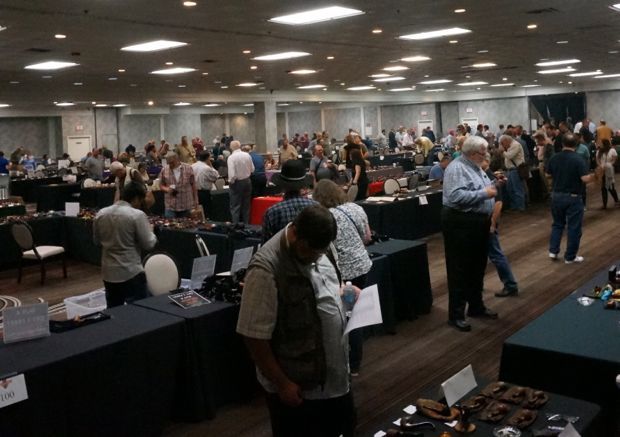 Now we have a few Tonni Nielsen pipes.
Unfortunately, no good images of Tonni and his wife Barbara are available.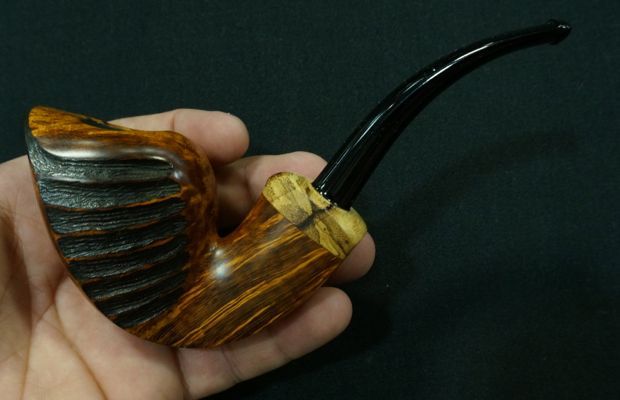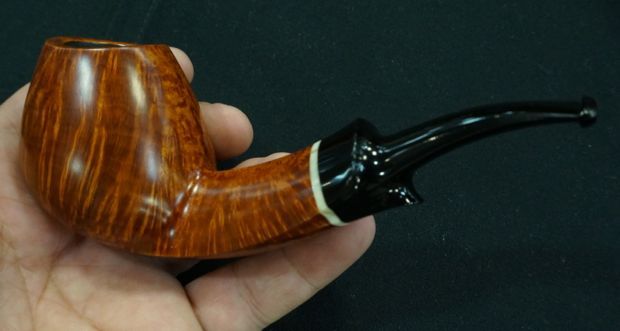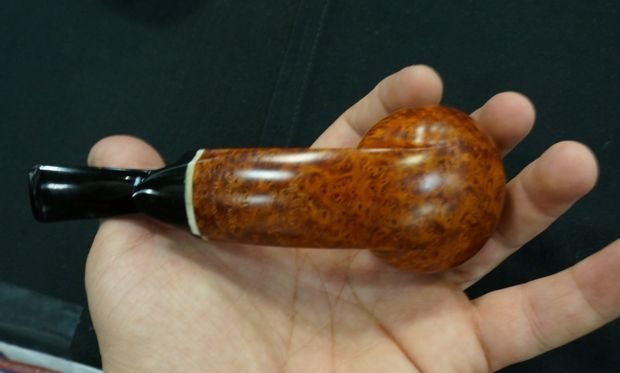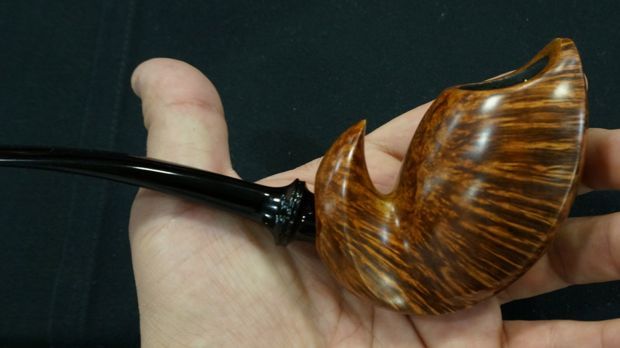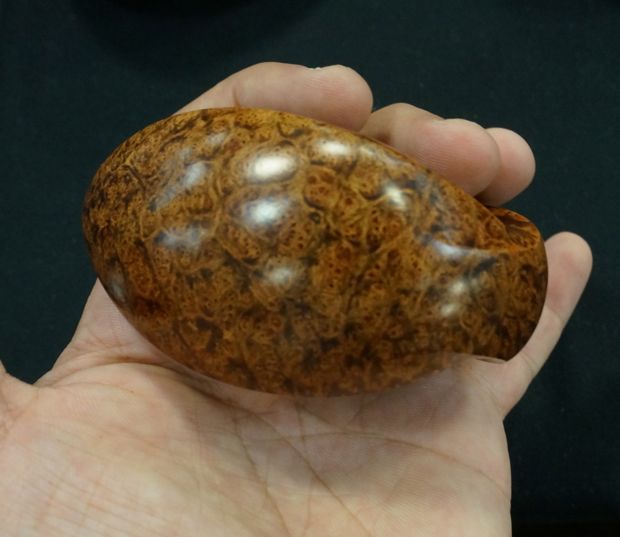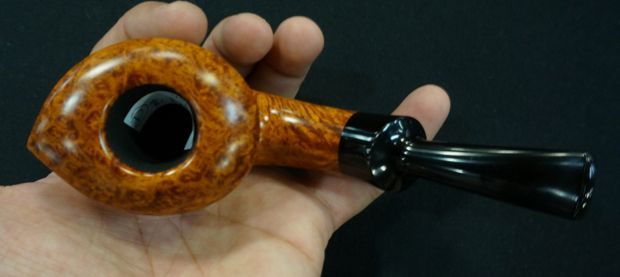 If you would like to learn about the Danish Master Tonni Nielsen, learn about his life, how he started at the W.O. Larsen factory more than 30 years ago (yes, that was 30 or Thirty Years!!!), how other Danish greats like Former and Teddy Knudsen influenced him and his work and everything that makes Tonni the exceptional pipe maker that he is today, I recommend you read this piece on him. It is full of high quality images of his best work over the years & it is my best piece yet on a pipe maker.
Click here to read about Tonni Nielsen and see some of the Most Amazing Pipes that you will ever see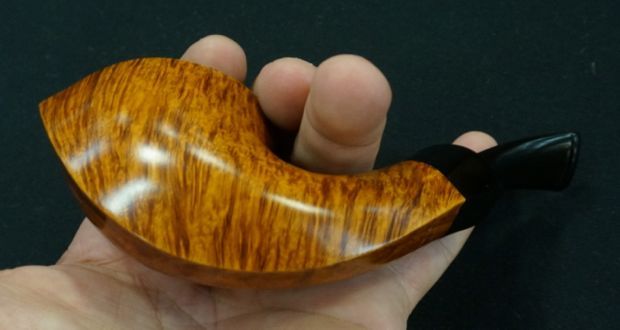 Richard Friedman.
Well known collector who loves to focus on the aquatic side of pipe design expression in his pipe collecting habits has now been making nice strides into the pipe making world. Big strides in fact on the heels of his acknowledged mentor, Tonni Nielsen.
One of Richard's pipes actually participated in the '100% Proven – Reverse Calabash Pipes Cool The Smoke' article I did several months ago and I recommend you read it when you have some time. You can find that article here. Click here to read 'Reverse Calabash Pipes are 100% Proven to Provide a Cooler Smoke
Richard really enjoys incorporating the reverse calabash second chamber into his pipes. So much so in fact that he does it to the point of trying to hide the second chamber in his shanks. What I enjoy about this is that by hiding it, he minimizes the design impact on the pipe. Rather than looking at a bulky round second chamber, Richard hides it. I have a good feeling that this will be the future of these pipes, most especially when we see this in more Classically shaped pipes.
Richard has been quietly showing his work to friends and family over the past year & finally, this show, was his 1st to come out with his pipes.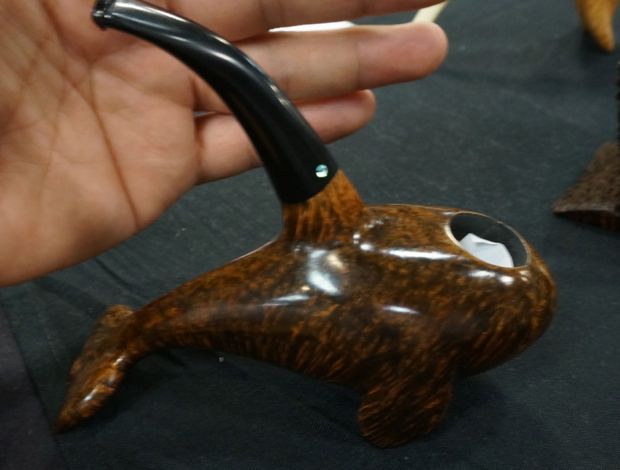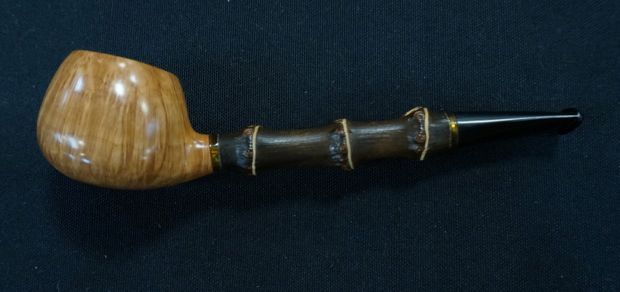 As mentioned, a lot of Richard Friedmans pipes have a reverse calabash essentially hidden inside them. Hardly noticeable, which I imagine will become a partial trend in the future. Hiding the rear chamber.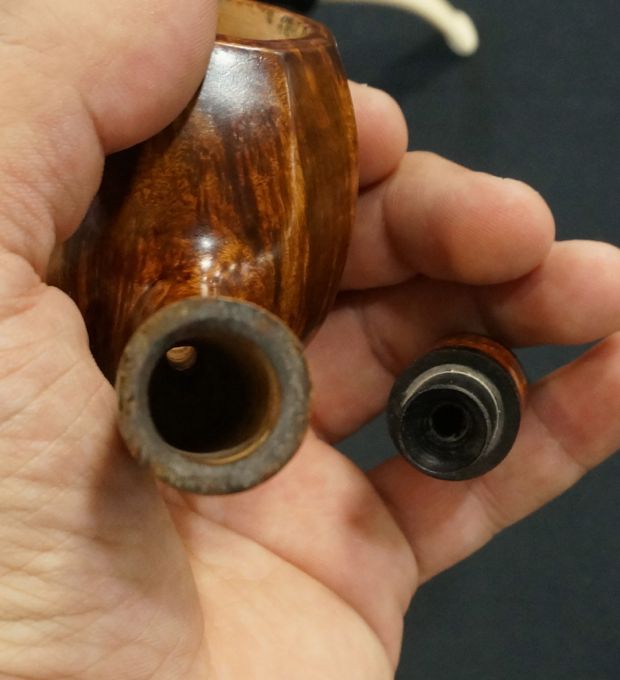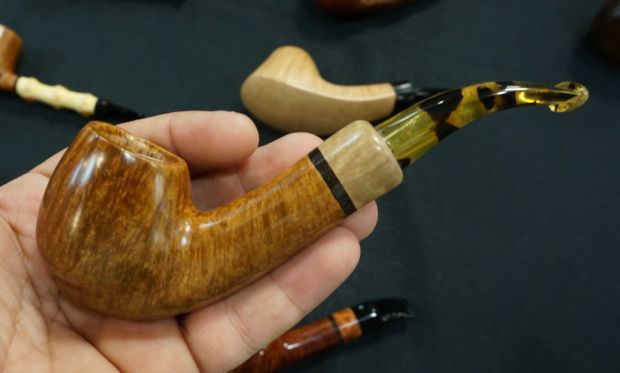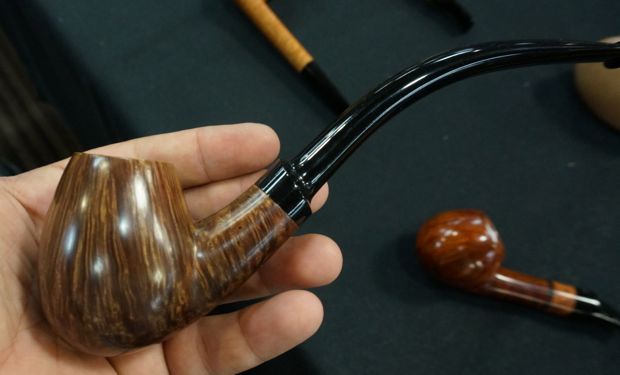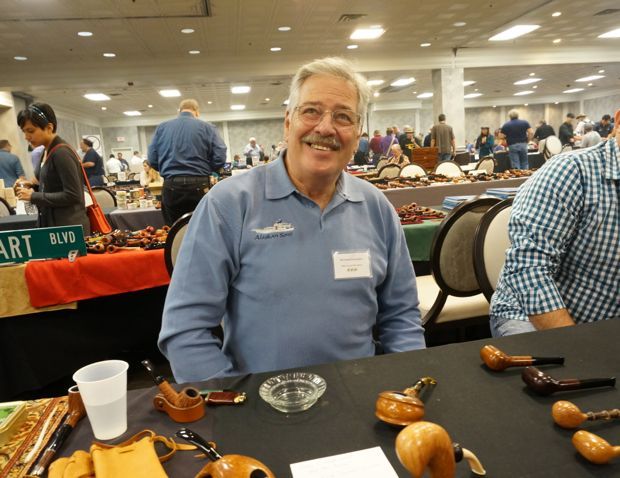 Richard Friedman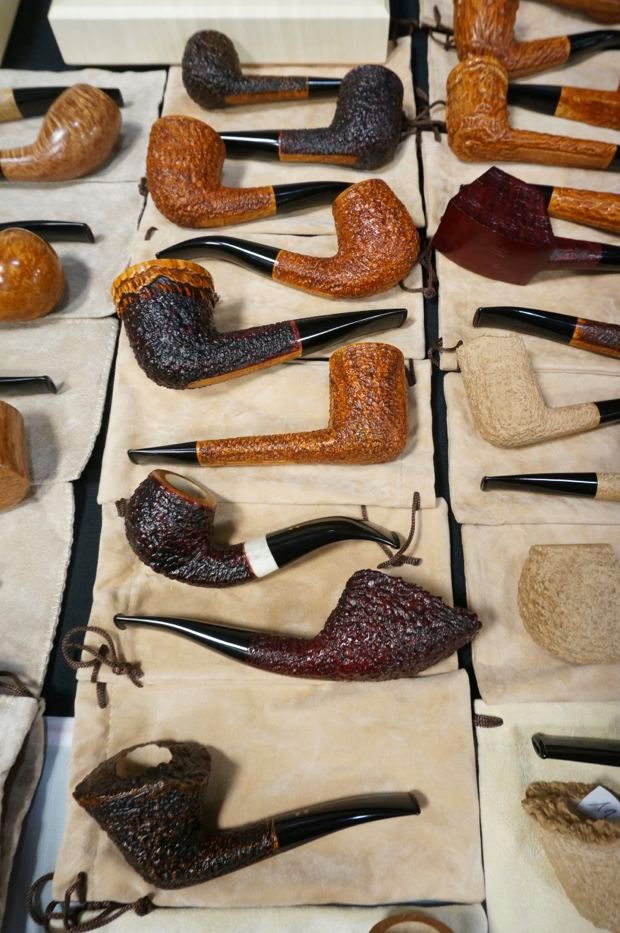 Some Radice pipes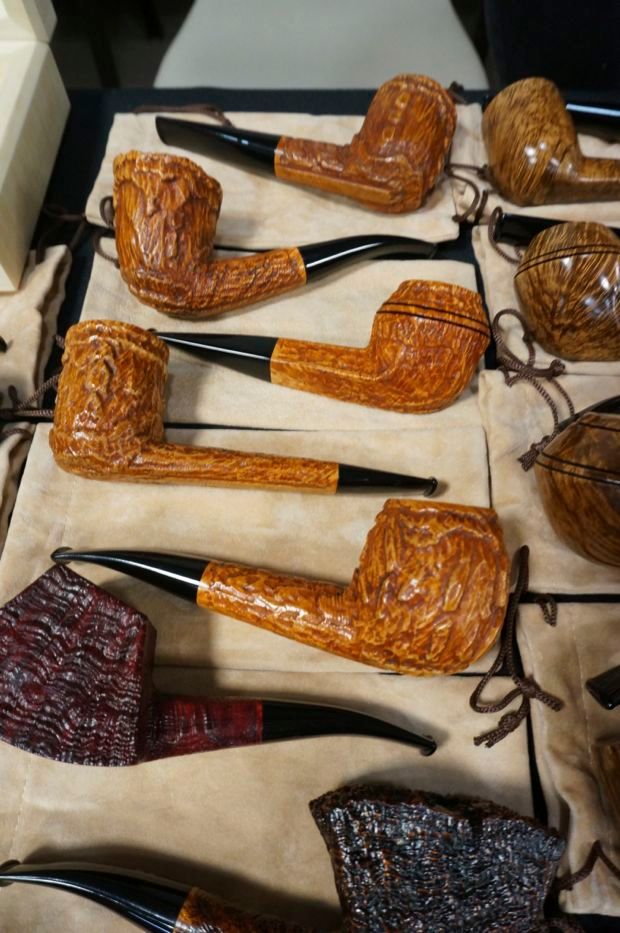 The Los Angeles Pipe Club made it's first public debut at a pipe show.
They have T-Shirts, Stickers and all the other chachkies that a new pipe club has.
If your ever planning to come to the LA area, check out their website at www.losangelespipeclub.org and maybe a meeting will be happening and you can come sit with some friends and enjoy a pipe.


Mr. Colin Rigsby and some of his work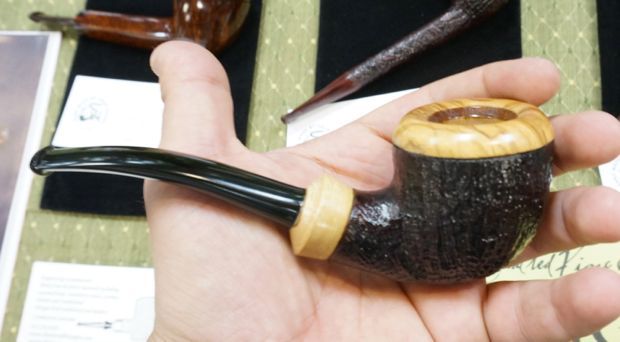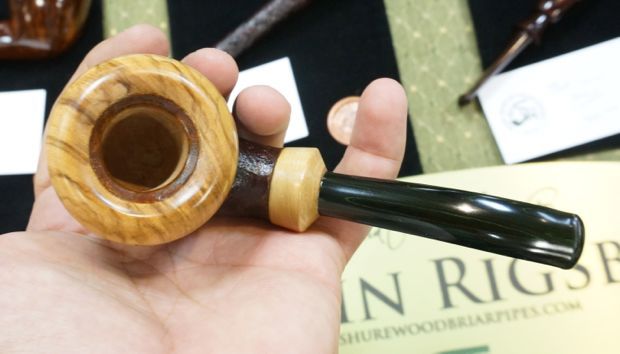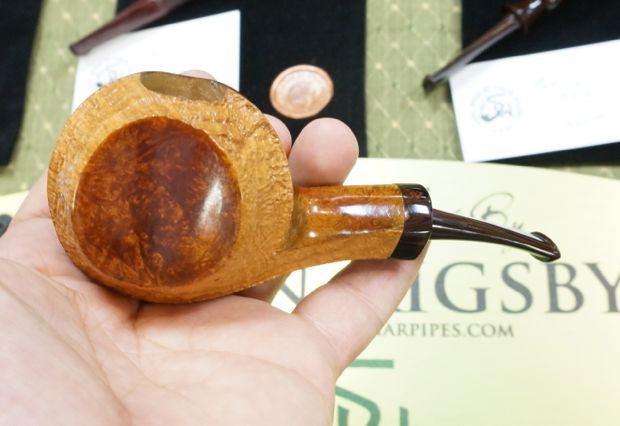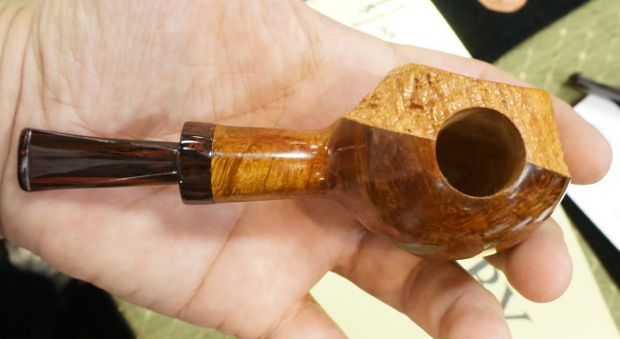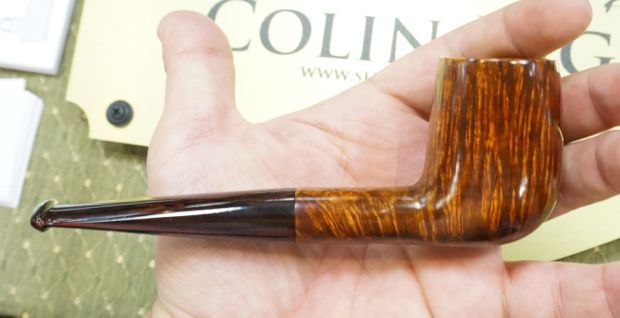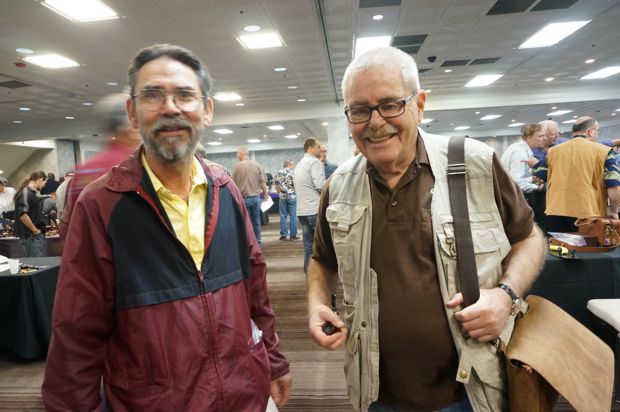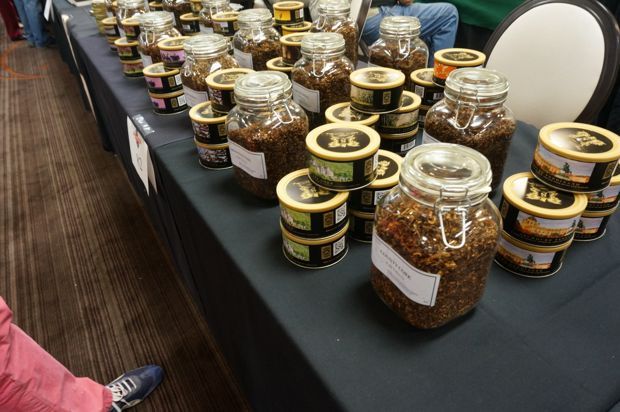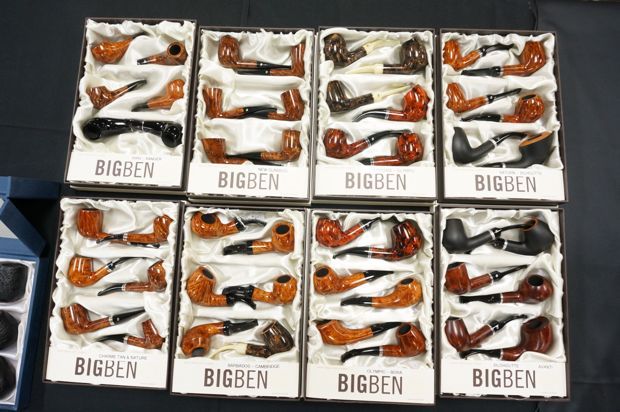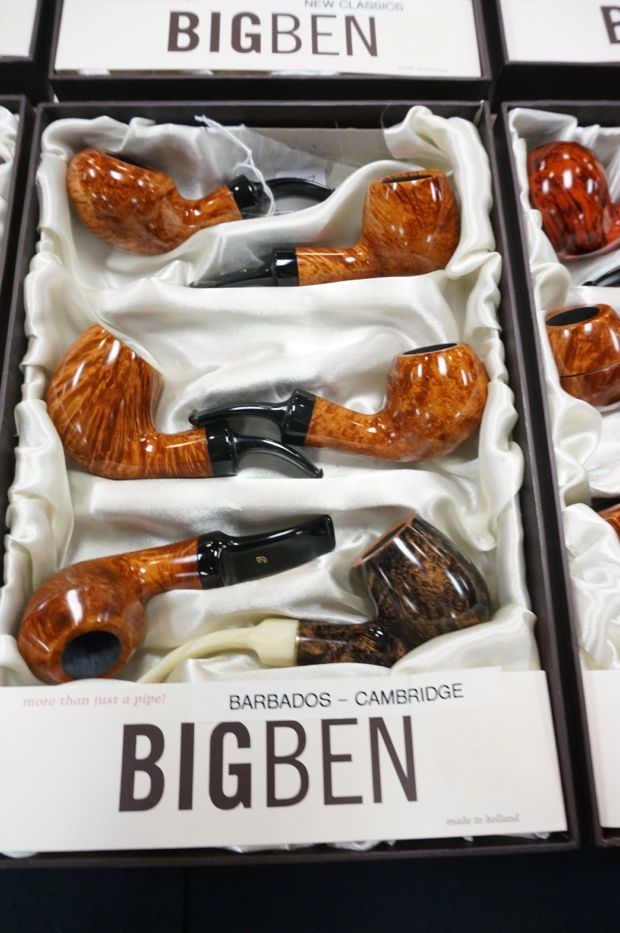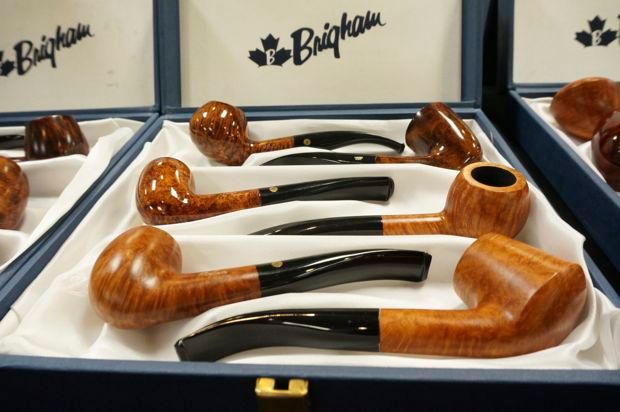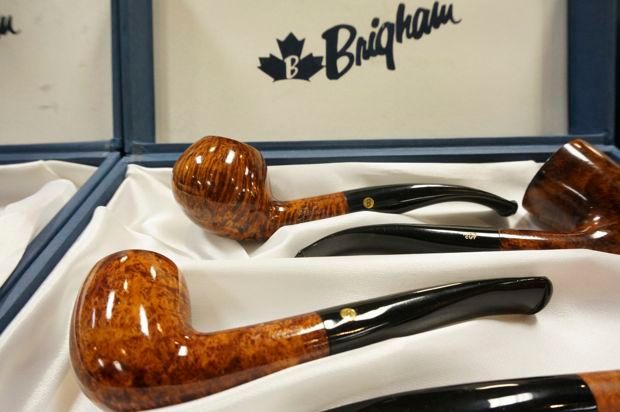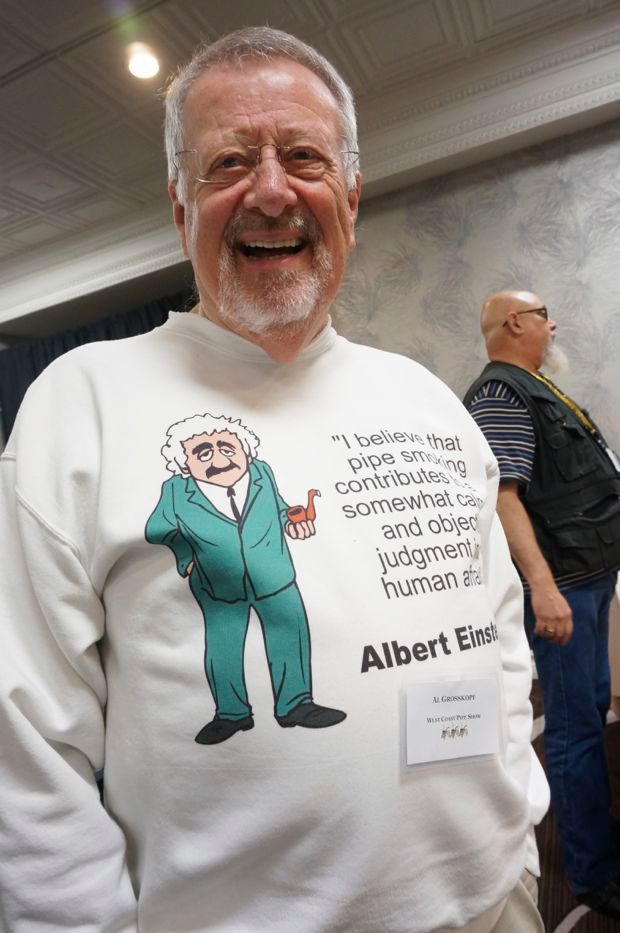 Ian Walker of Northern Briars & some of his work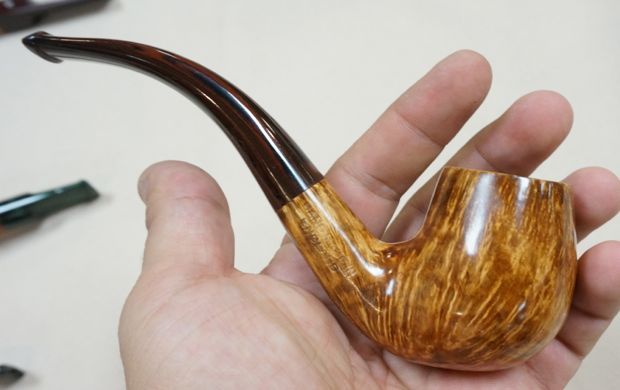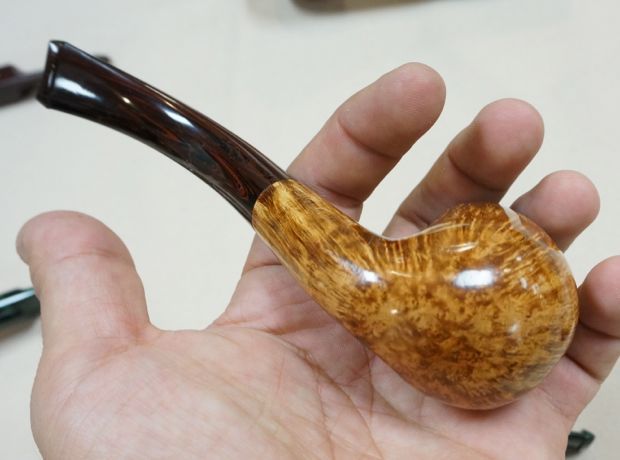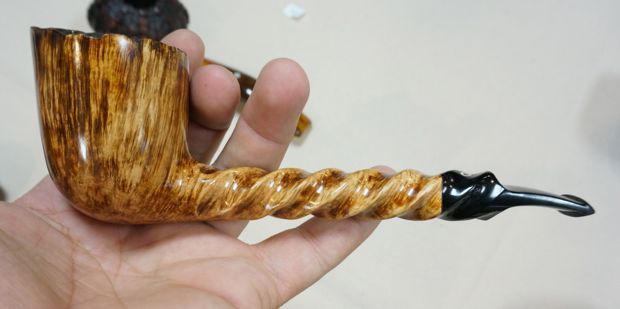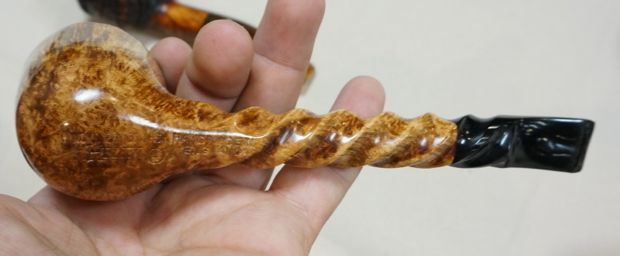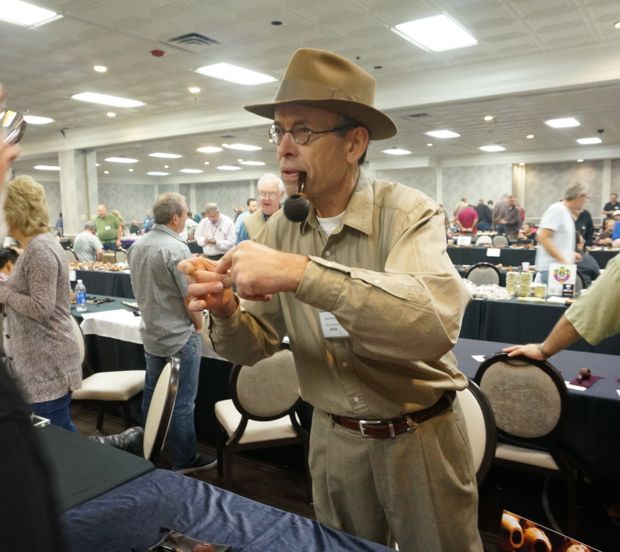 Mr. Brad Pohlmann


Steve Fallon also known as Pipe Stud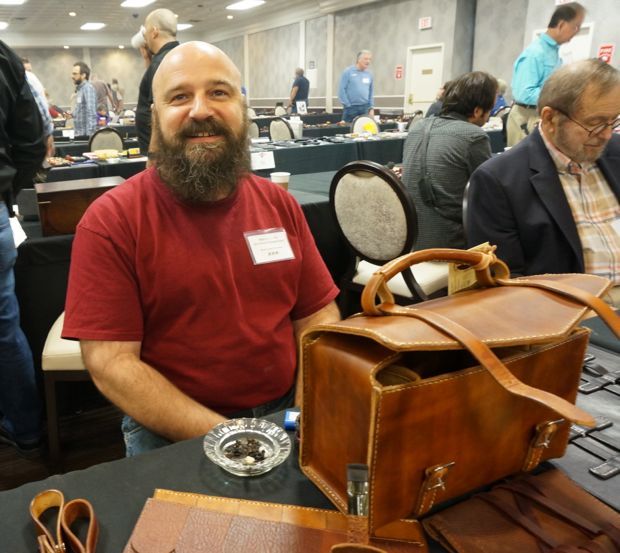 SouthWest Leather Craft and his fine Pipe Goods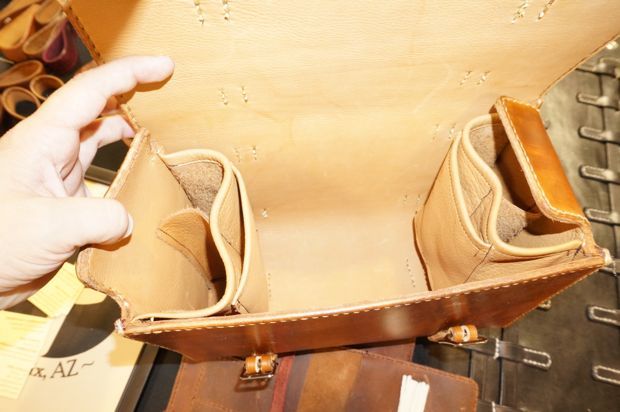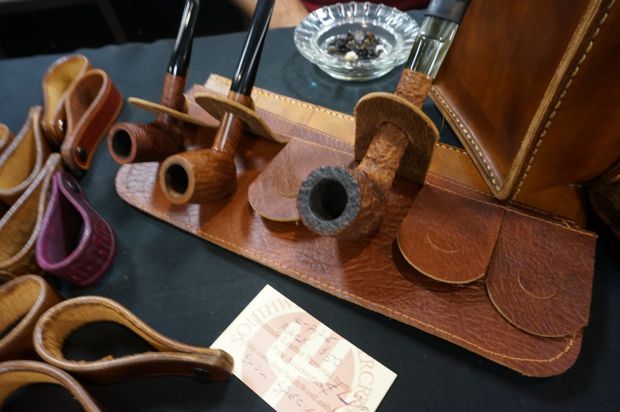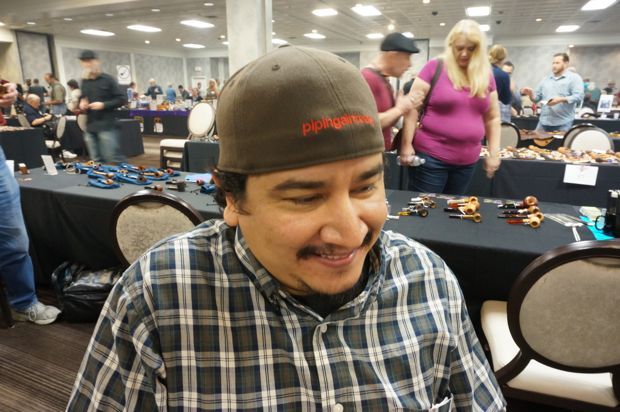 L.J. from www.PipingAintEasy.com follows next as well as some of the great selection of truly outstanding pipes he has on his online Consignment Store. Check out that logo of his. Yes, he does have one of the coolest company logos in the hobby & he is a great guy to boot.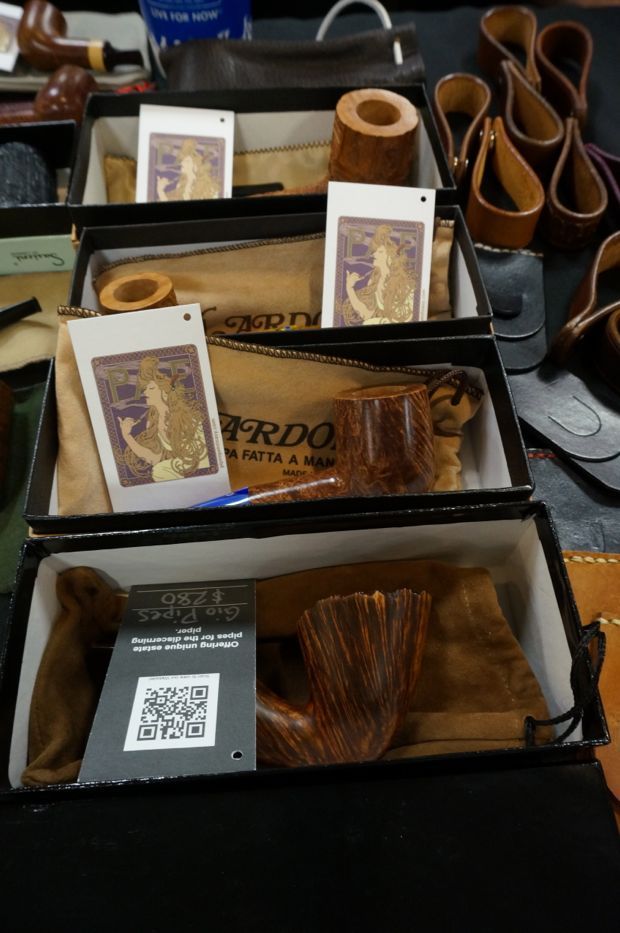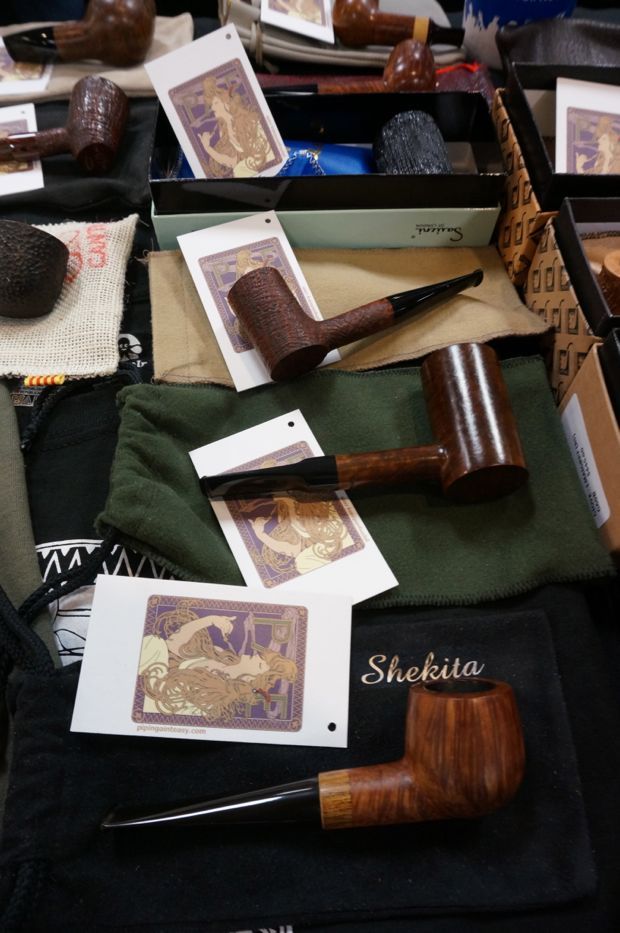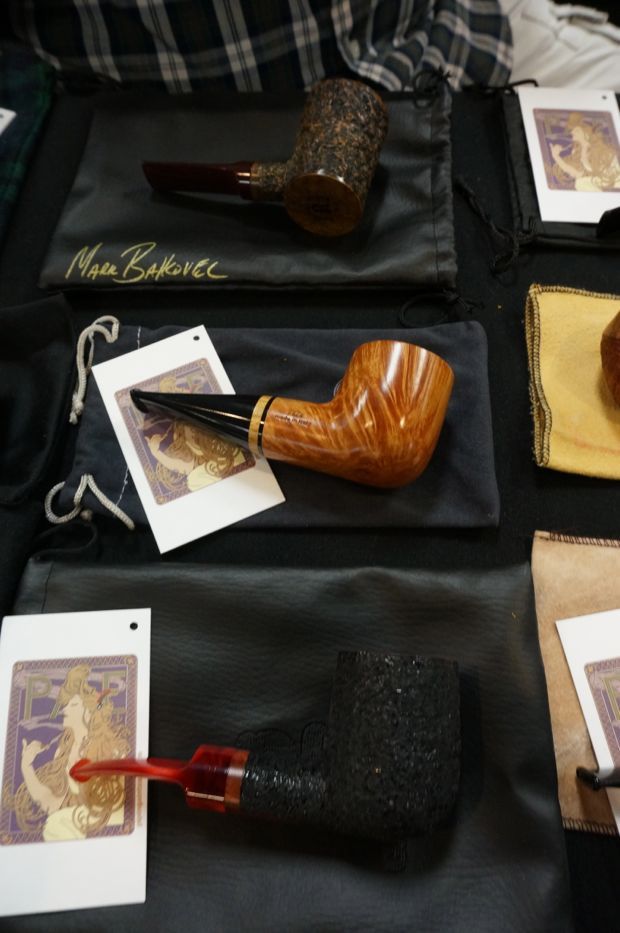 This next pipe is rather spectacular. I believe it's a collaboration pipe from SmokersHaven / Cchedda.Also part of what we are showing from www.PipingAintEasy.com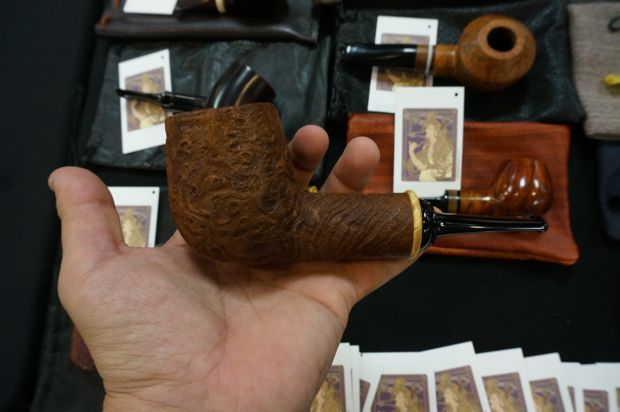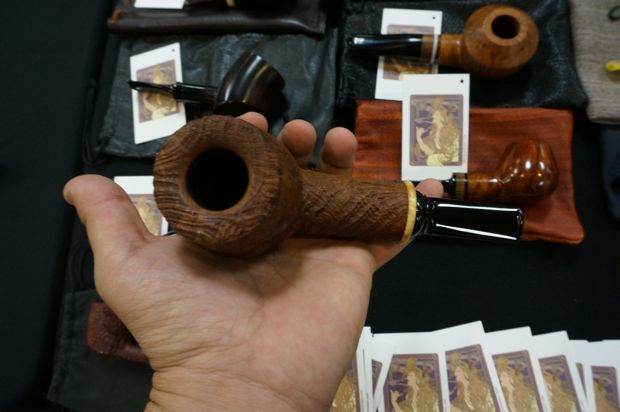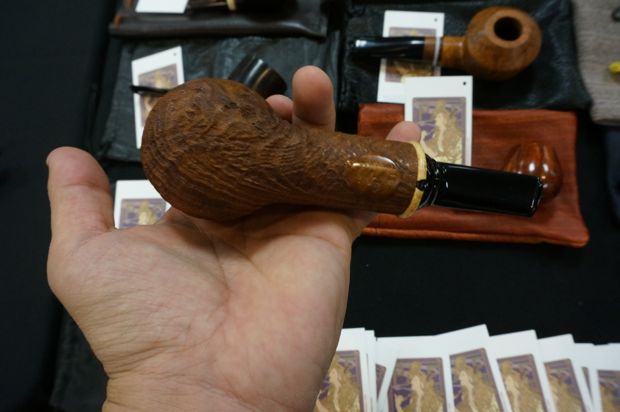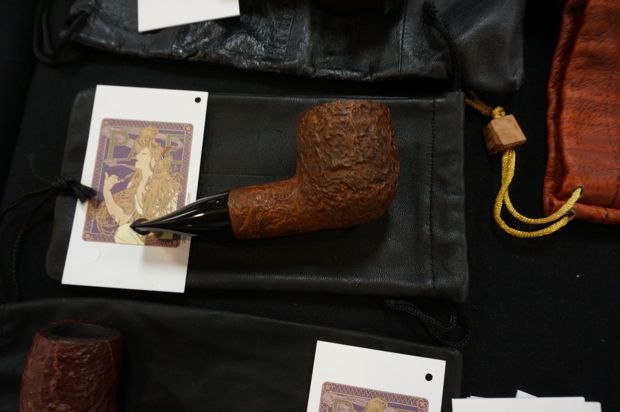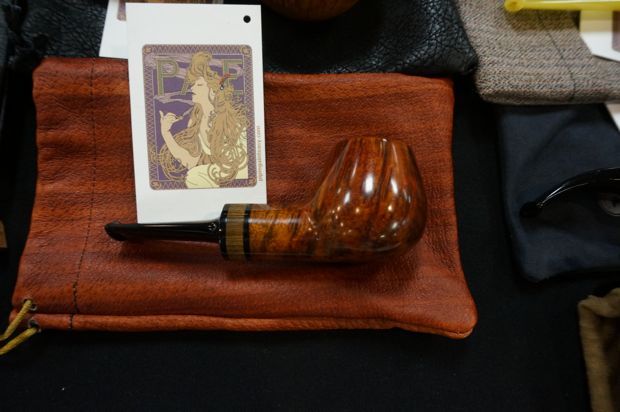 A West Coast Pipe Show Faithful, Dr. Bob & his pipes.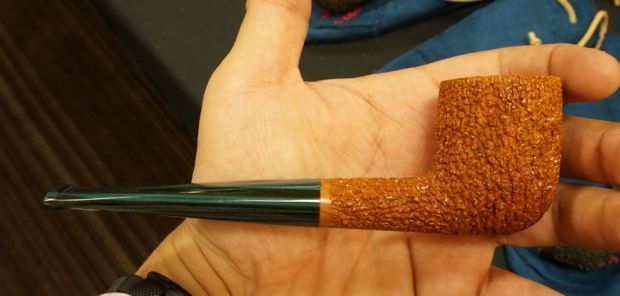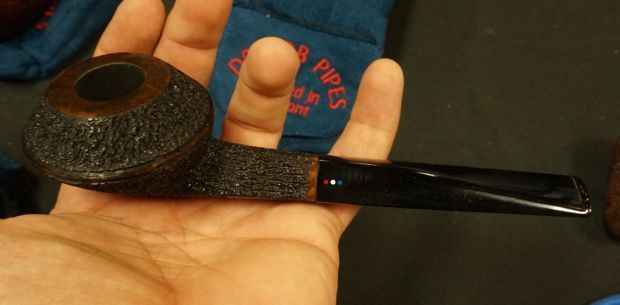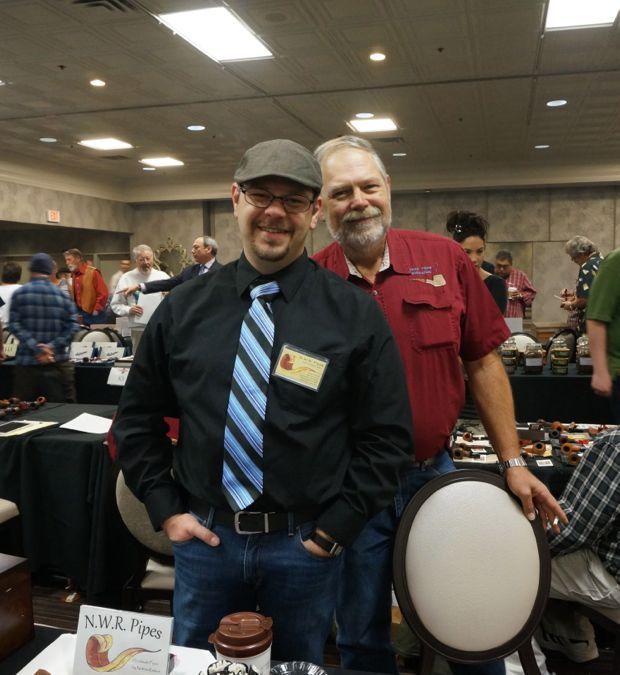 These two gentleman were very funny. They are N.W.R. Pipes. They are the Rimbus family, a Father & Son pipe making combo. A good competitive spirit resides between these two. Although the father admitted, his son would end up the better pipe maker.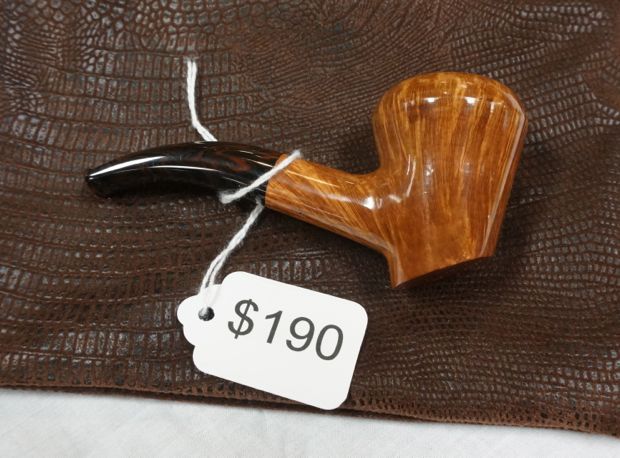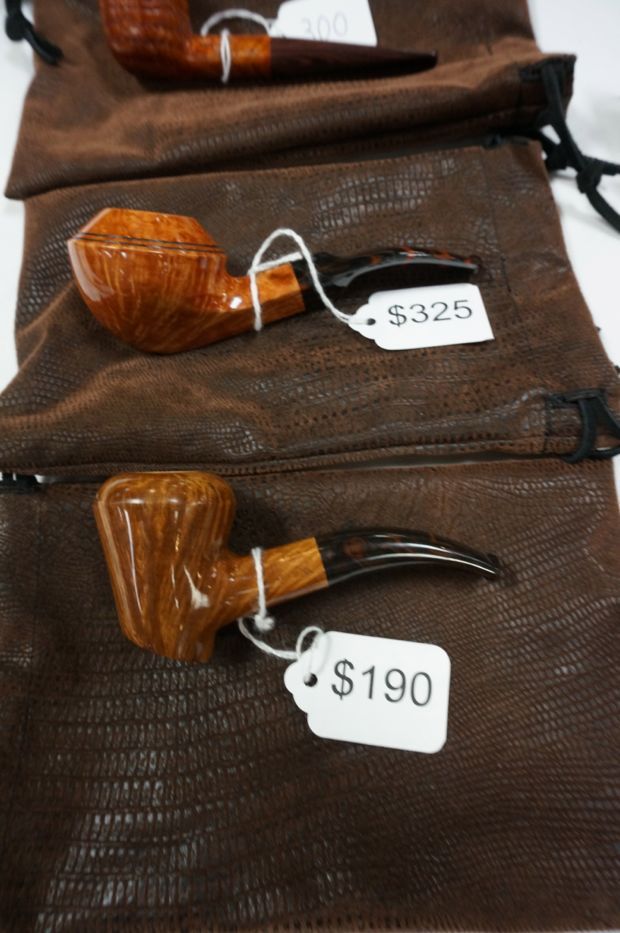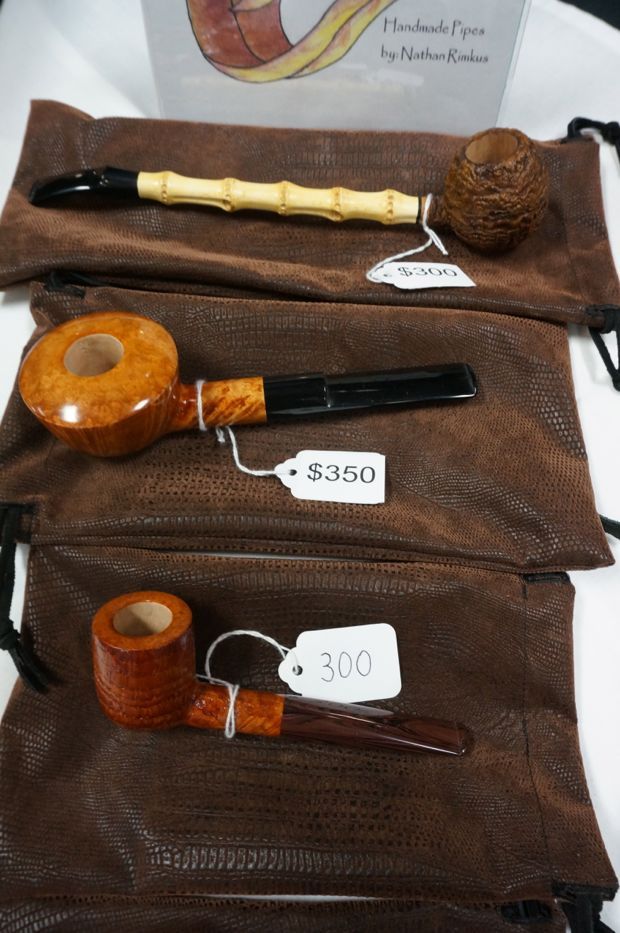 Some stellar pipes from the table of collector Rene Contreras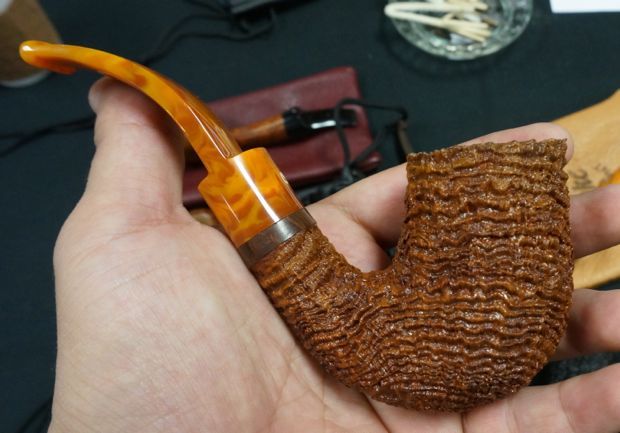 Some J.T. Cooke pipes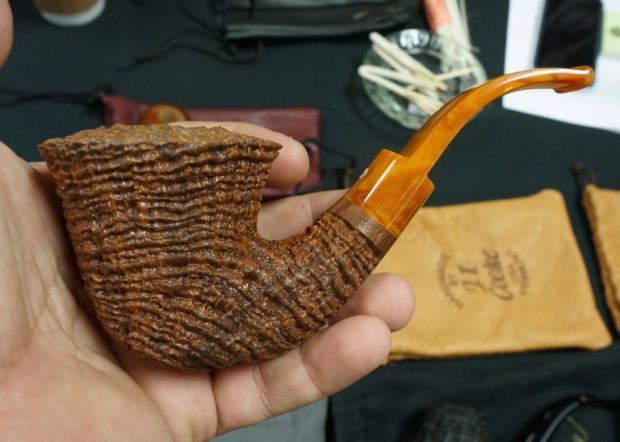 Have you read the article on J.T. Cooke that I did about 5 years ago? It was one of my first so the format I used back then is long gone but it is still full of loads of information. For example, did you know that J.T. has a FIVE STAGE PROCESS OF SANDBLASTING for his pipes?? Five separate stages, all sandblasting. Kind of gives you a little more appreciation for the insane passion this man has for sandblasts.
If you would like to read more about J.T Cooke & his secrets to SandBlasting Supremacy, please click here

Finally a photo of Silver Grey. The new female pipe maker we get to rave about.
Here's hoping she continues playing with the craft.
Now for some photos of some Adam Davidson pipes.
Adam mixes old world thought with new world style & I always enjoy looking at his pipes.
A full blown article was even done on Adam a few years back and you can read it by clicking here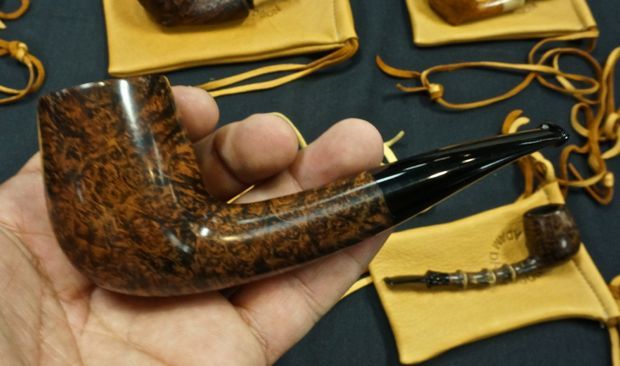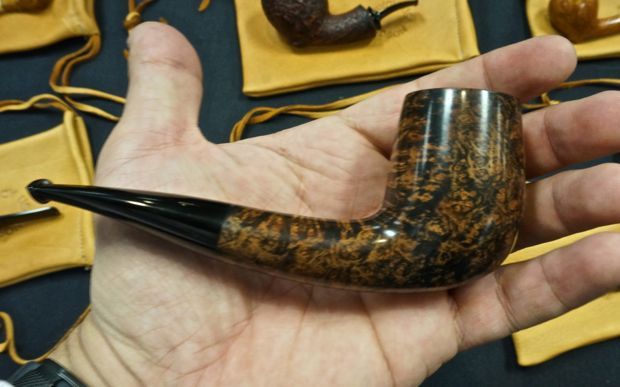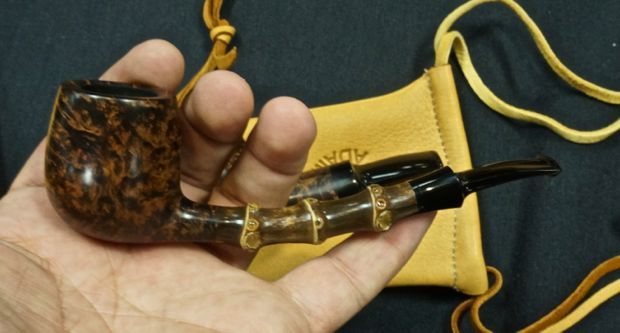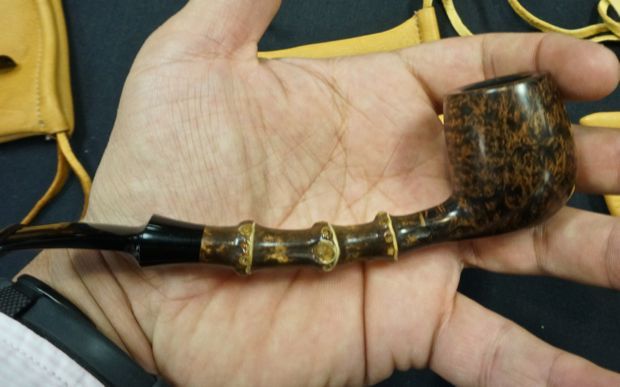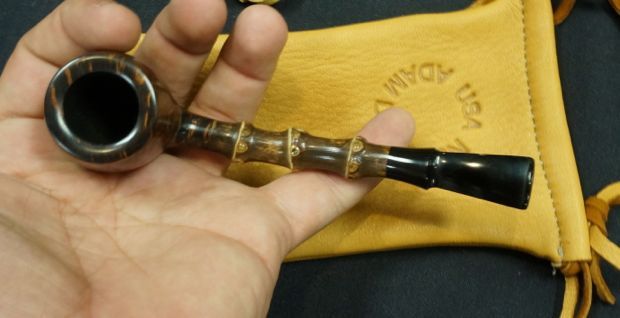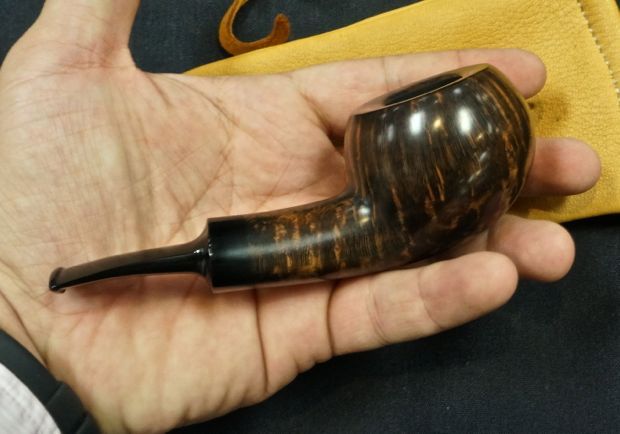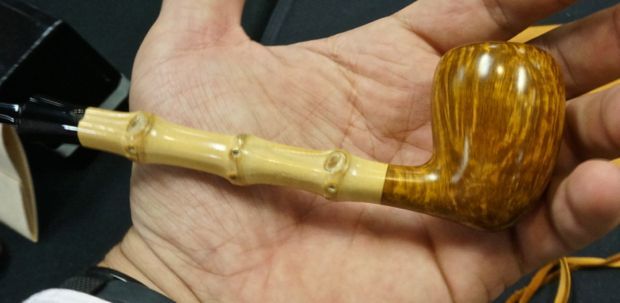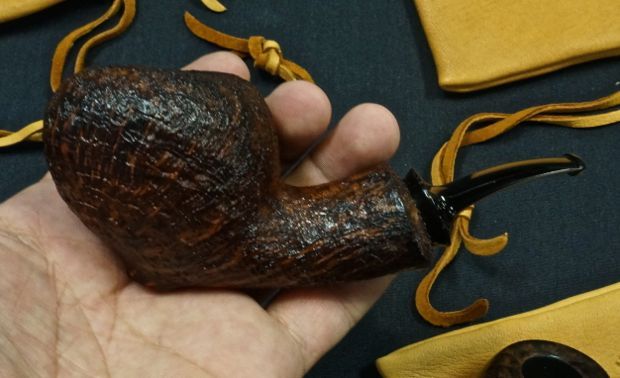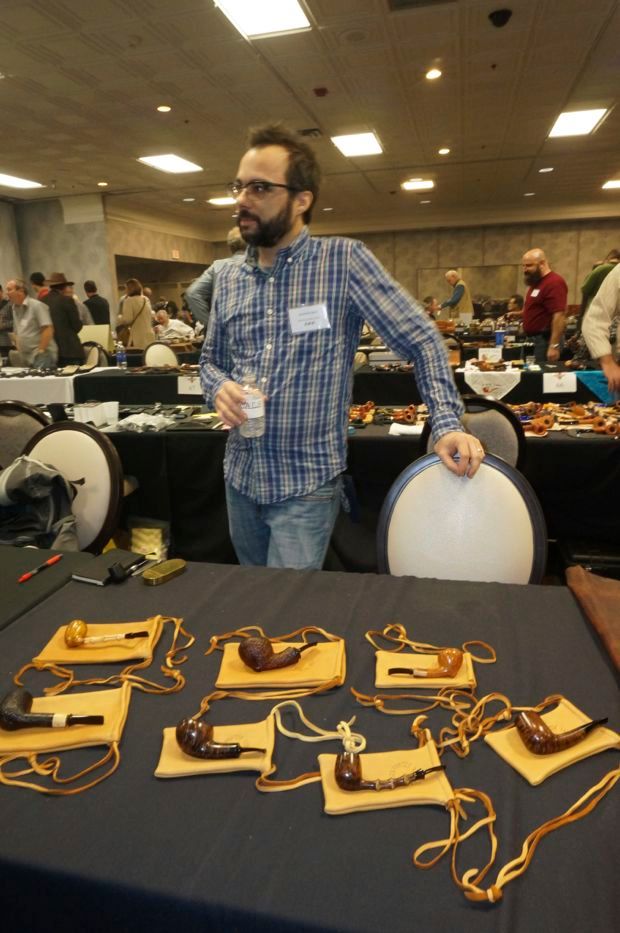 Adam Davidson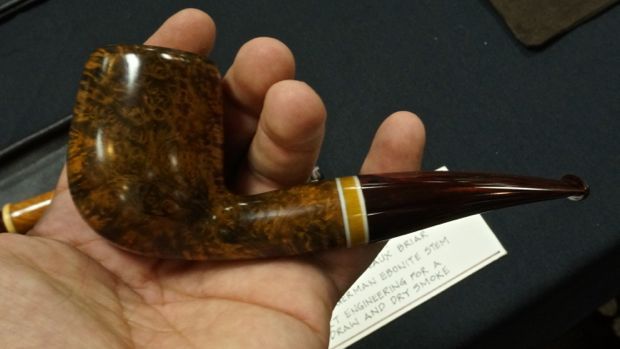 Some Bill Walther Smoking Pipes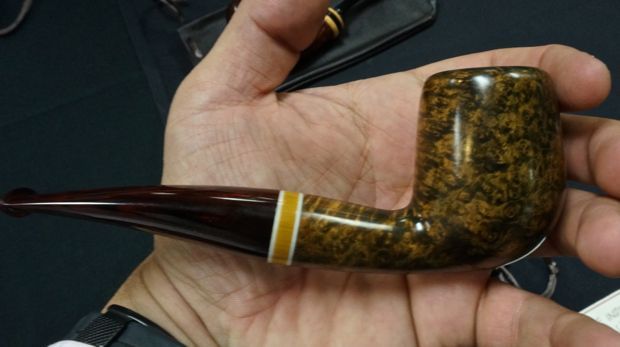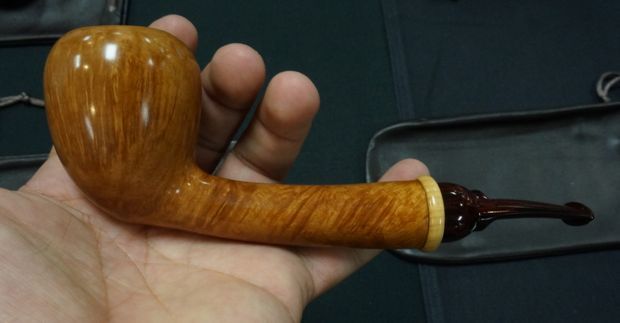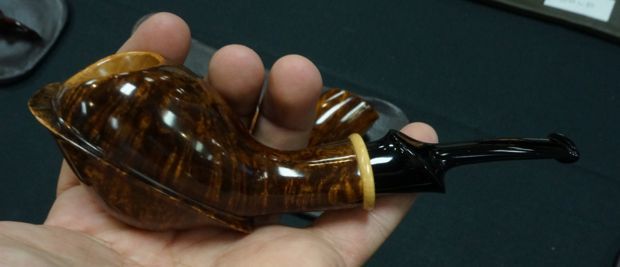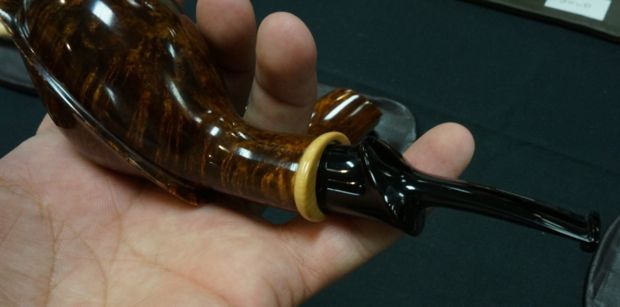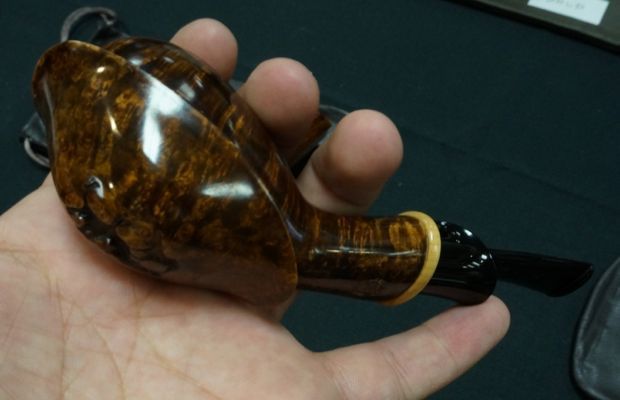 A Beautiful, Exceptional, Top of the Line, Pipe by Austrian Maker Peter Matzhold.


The next few pictures are of a few pipes from one of my favorite carvers in the world. Mr. Karl Heinz-Joura from Germany. I will let these pipes speak for themselves. Joura has found a way to master the bridging of old & new in the most subtle manner. He is an exceptional master briar craftsman.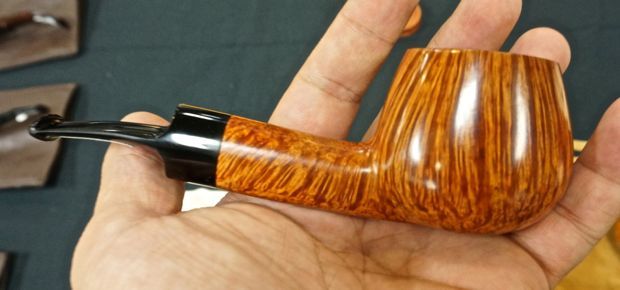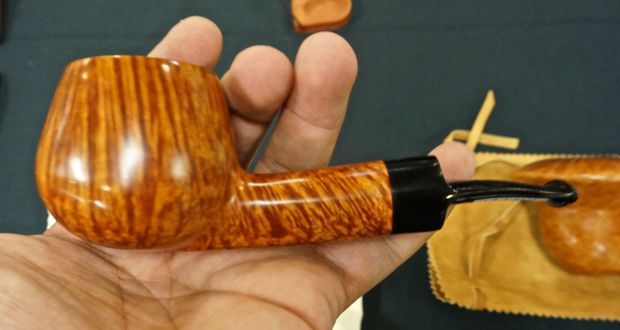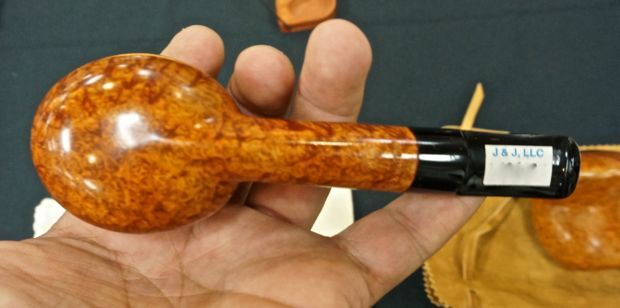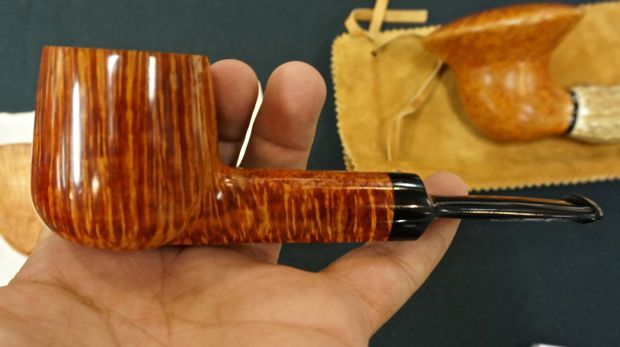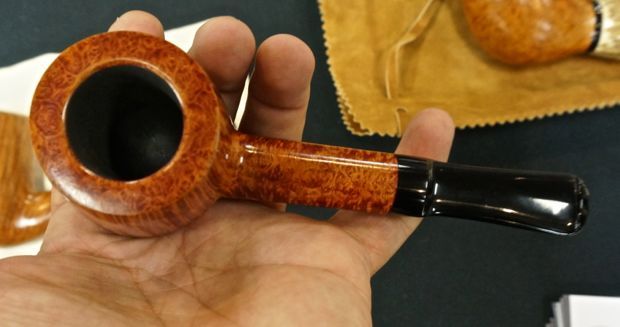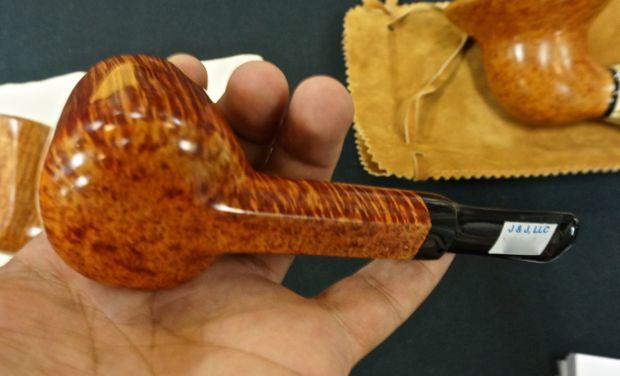 These next few pipes are from Anthony Harris of ACME pipes.
Anthony was also one of the participants in the article on reverse calabash pipes.
His pipes really helped solidify some of the thought surrounding these second chamber pipes because Anthonys pipes have some of the largest rear chambers you will ever see on such pipes. Anthony is a unique artist and he makes an assortment of wood work. Enjoy his art.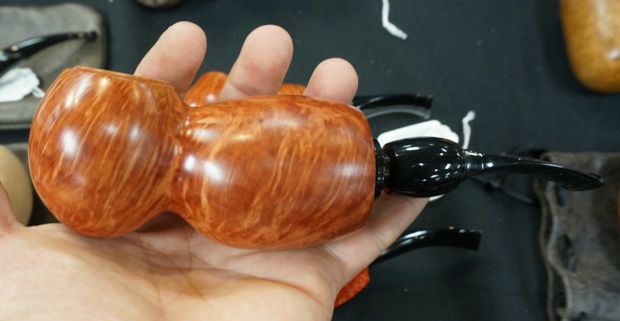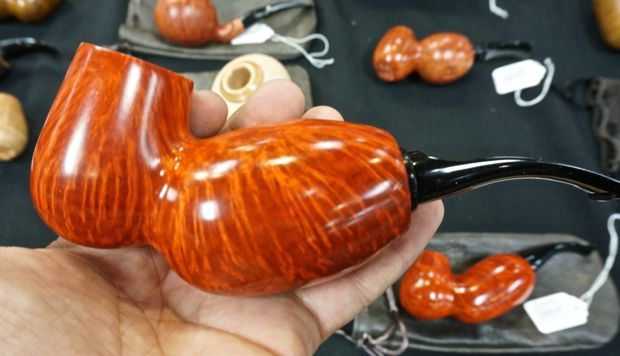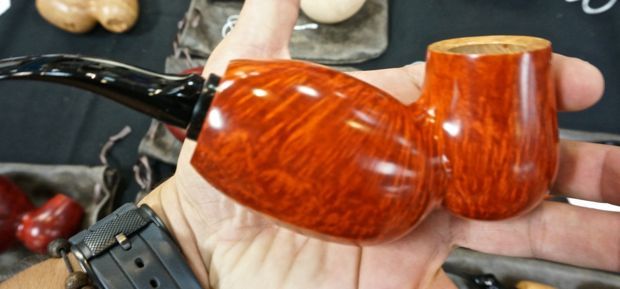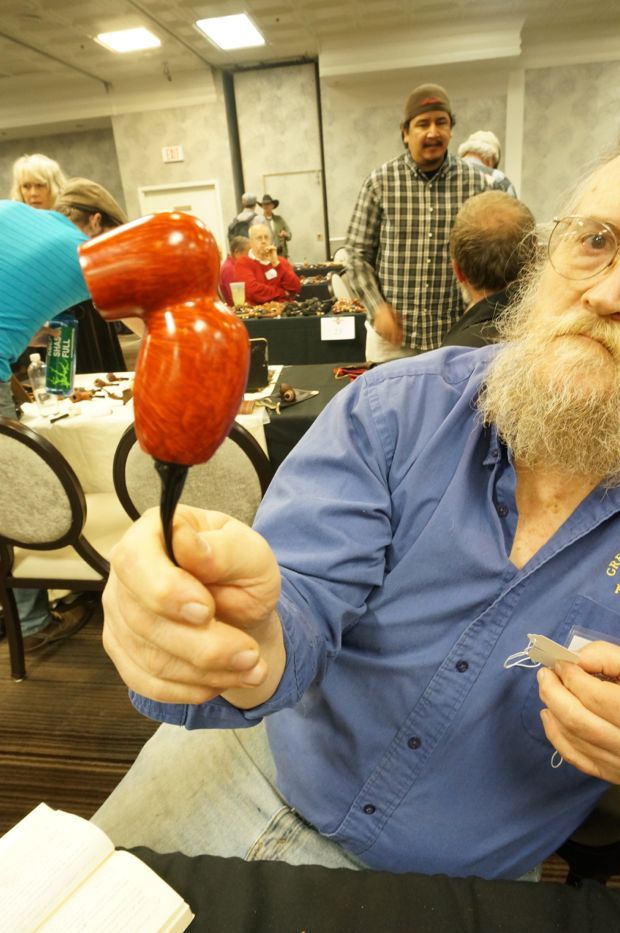 Anthony said: "What does this look like David?"
To which I responded: "They killed Kenny!!!"
Anthony smiled.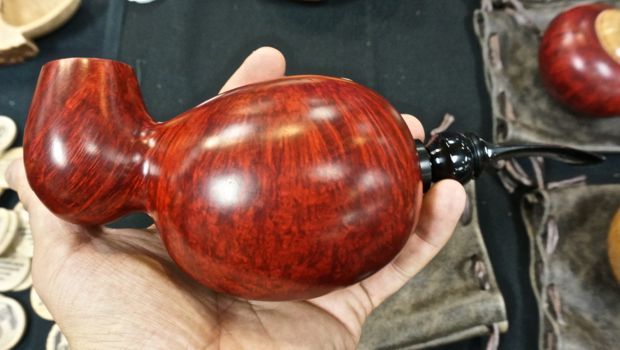 Here again is the link to the article I did that proves that Reverse Calabash pipes Really Do Cool the Smoke.
Click here to read 'Reverse Calabash Pipes are 100% Proven to Provide a Cooler Smoke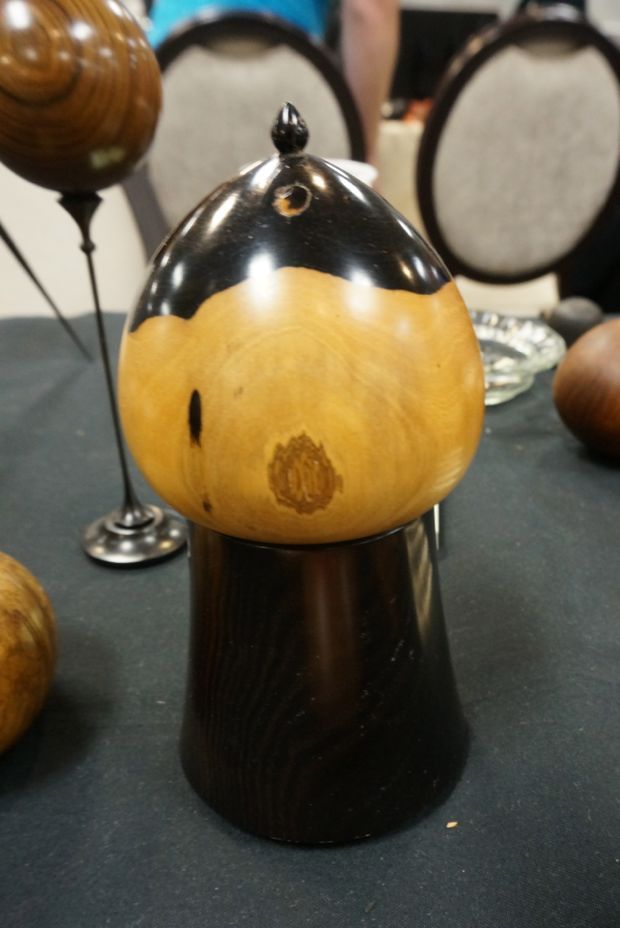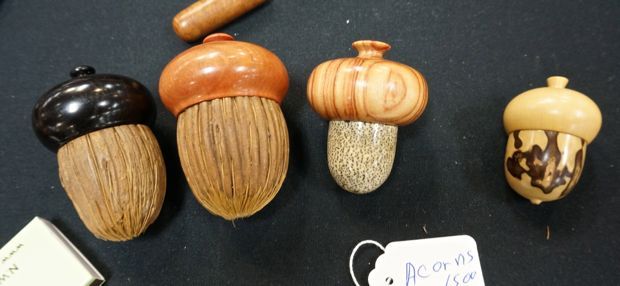 Time for some briar from J&J Pipes.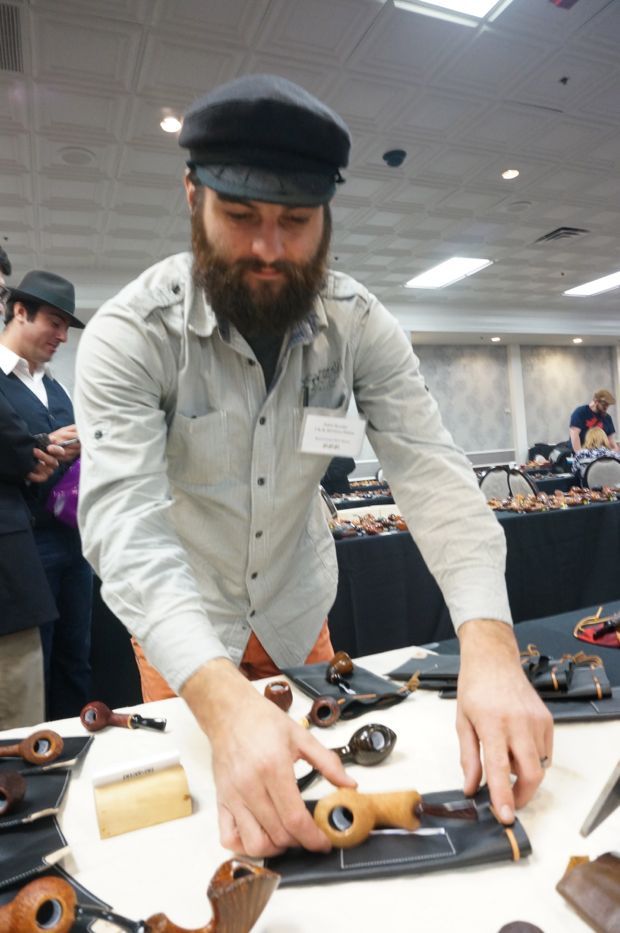 Jared…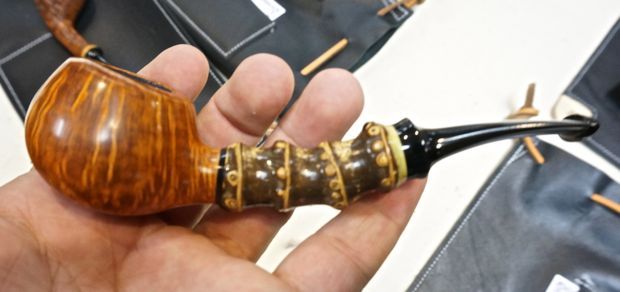 …and John.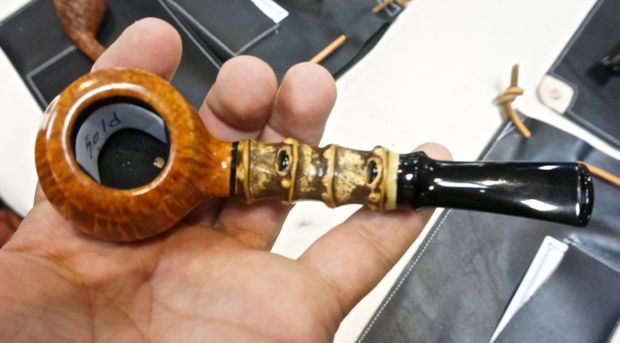 Some funky looking brown bamboo.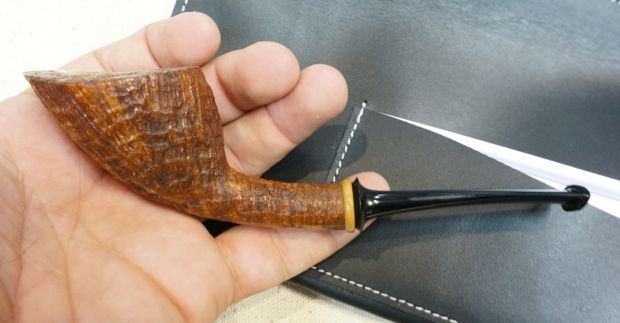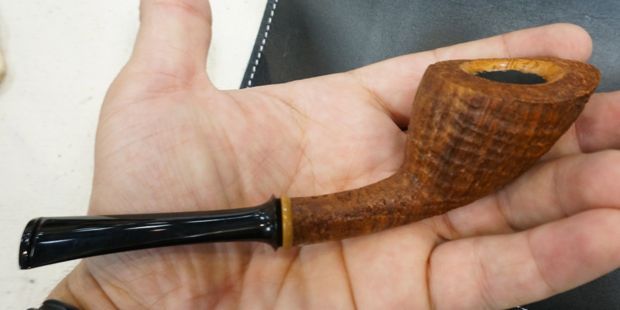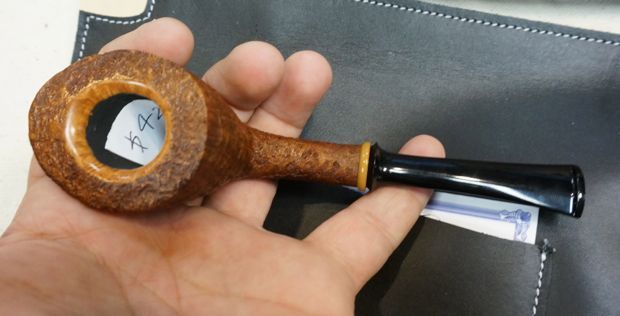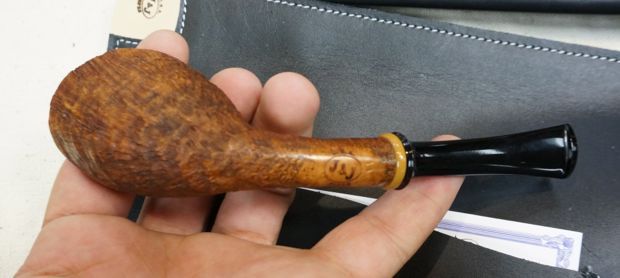 When I spoke to them at the show they told me that this pipe was not going to be for sale for one reason or another. I told them they were quite literally crazy if they would not sell this pipe and I do not know what happened with it in the end. Whatever it is they were considering, I think you will agree, this guy is a looker.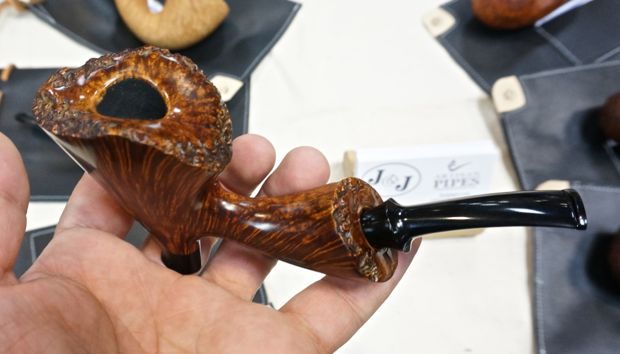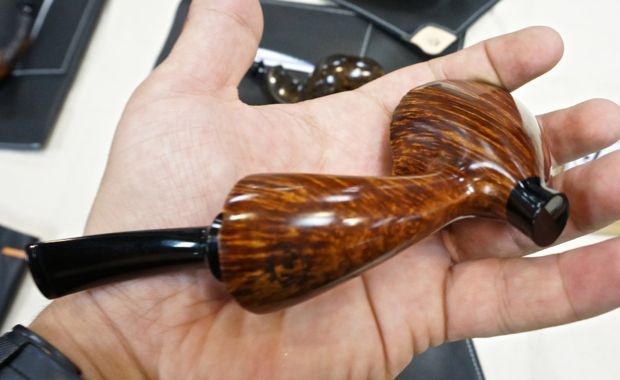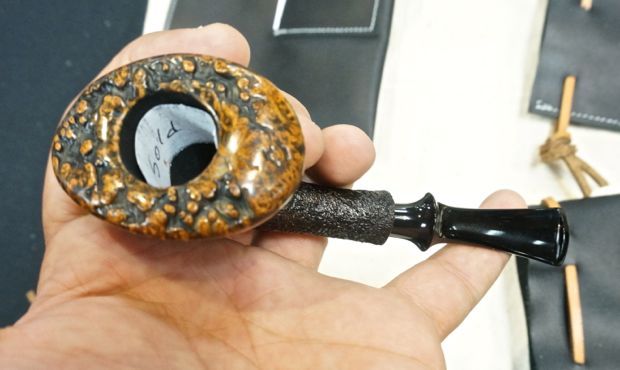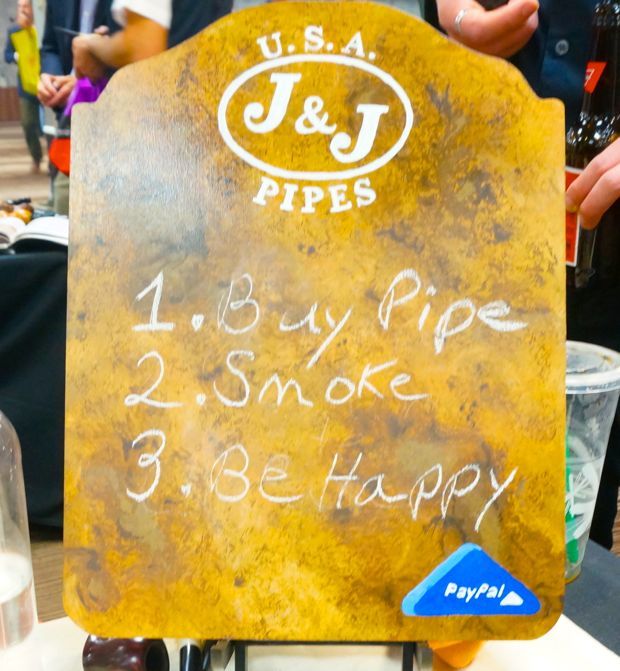 Wise Words of the Day, the Week, the Month, the Year – or frankly our Lives!, from J&J Pipes


Time for some John Jensen….seen here chatting it up with Ernie Markle.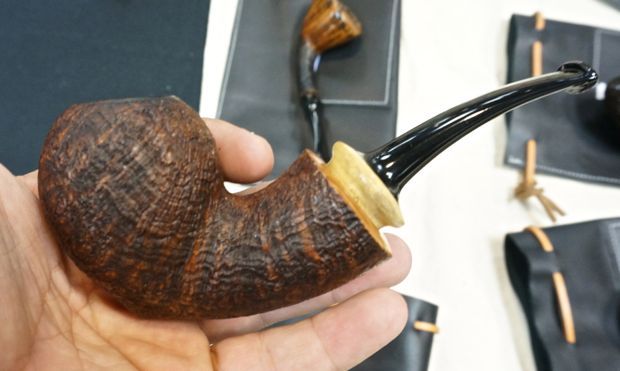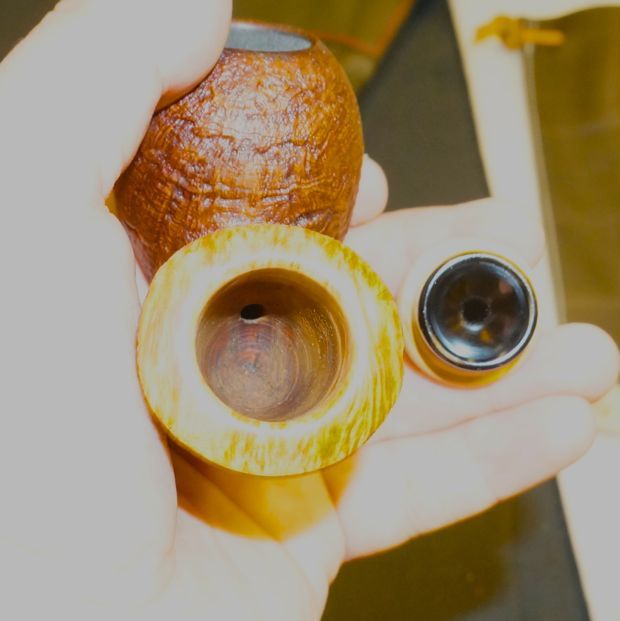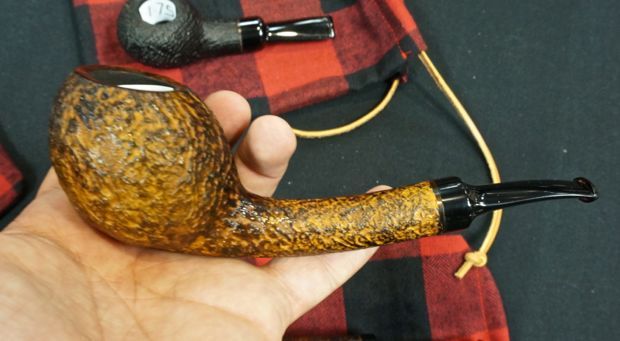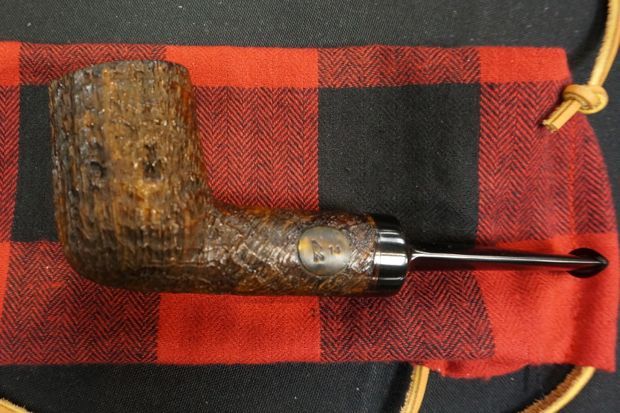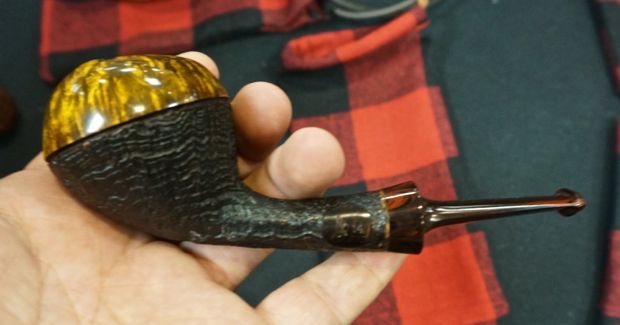 I told John that this would be the 2nd pipe to sell for him. I was wrong. It sold 4th.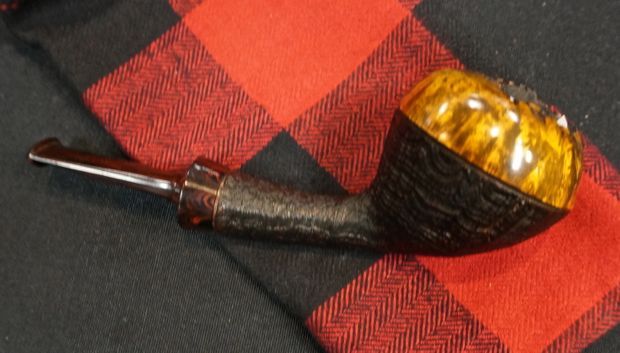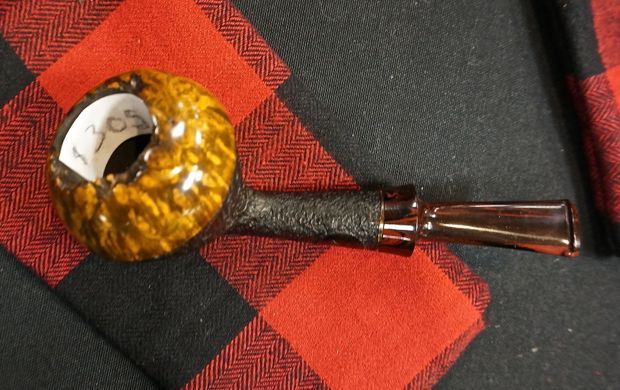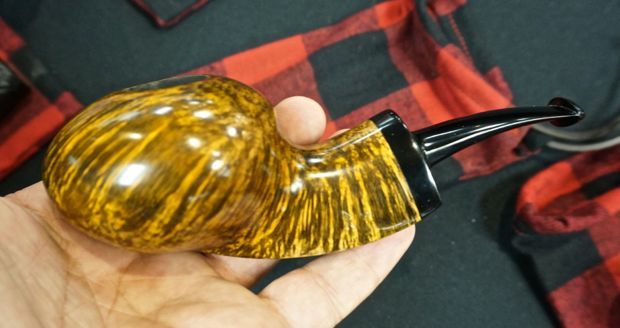 This is a rather cool looking bent. I like the hard yellow stain on her.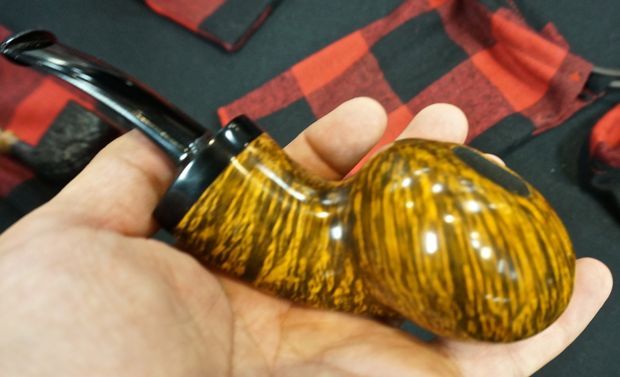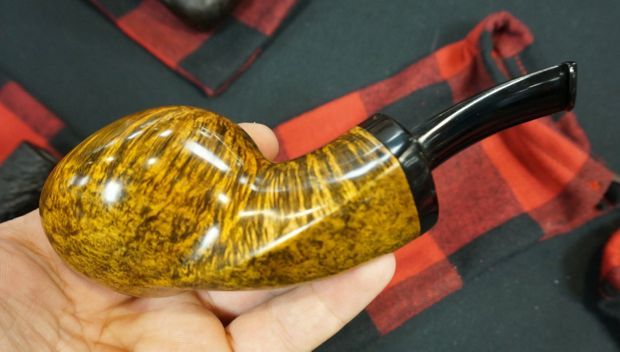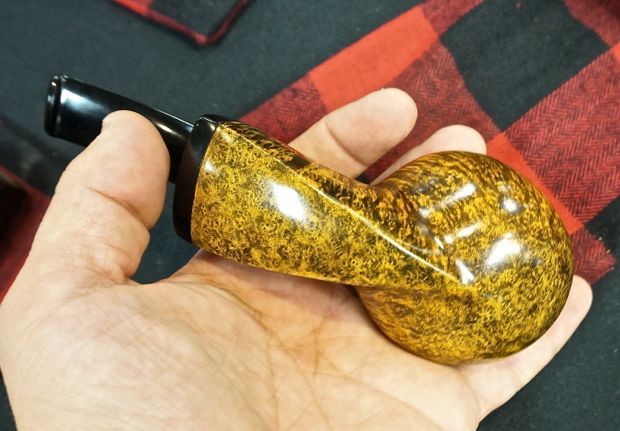 I think he kind of, sort of, absolutely and positively, nailed the birds-eye on this one.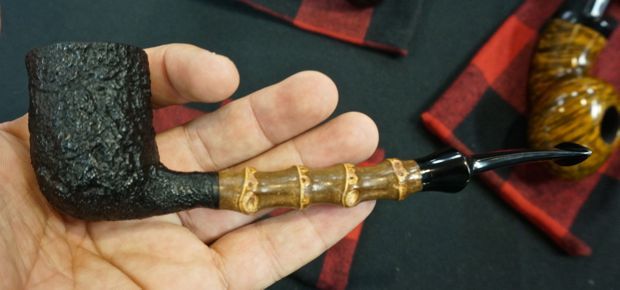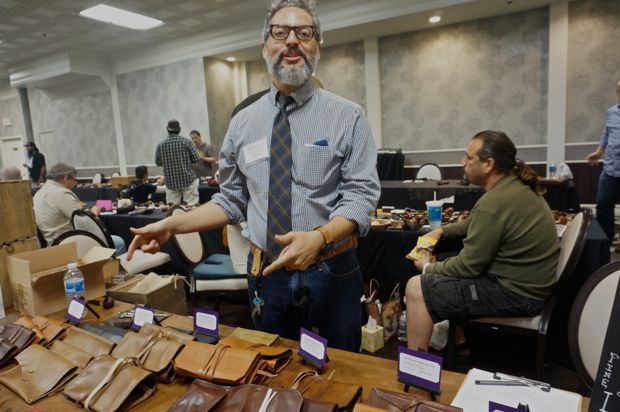 Fellow Los Angeles Pipe Club Member Frank from Sorring Owl and Sons.
Frank is a great guy. Smart, analytical, has good taste & he makes some great leather pipe bags and other goods. Frank has an Etsy store where you can find his wares.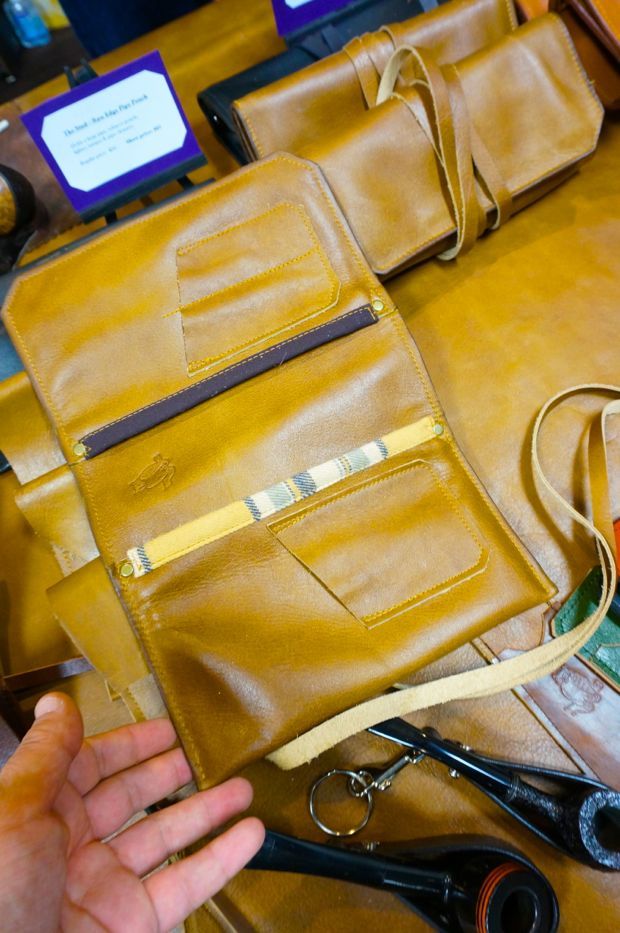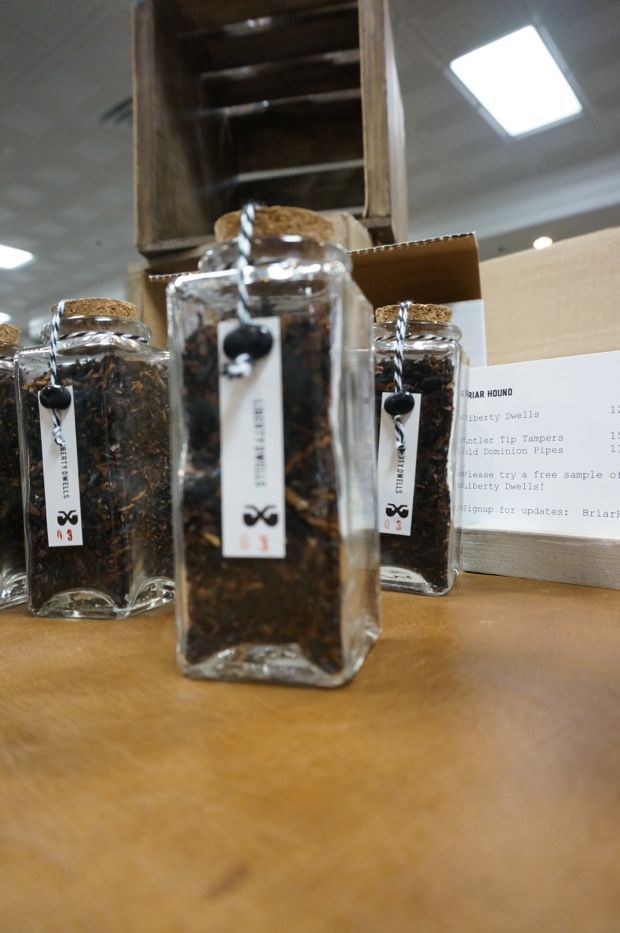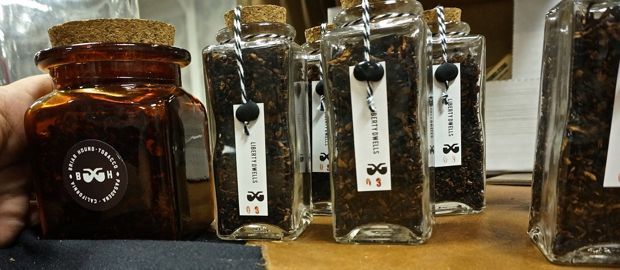 Have you ever seen a nicer form of packaging for Tobacco?
Admit it – You have not!
Glass. Sleek. Modern. Dabble of Wax with string wrapping. Gorgeous!
He has large sized bottles as well.
This is from my new buddy Chuck at the Briar Hound. www.BriarHound.com
He has a very quaint shop in Old Town Pasadena, California. His place has become the temporary home for the Los Angeles Pipe Club meet-ups.
Chuck is an amazing guy.
Very intelligent, very kind and very open to new ideas & new thought.
And as mentioned, he makes some of the best looking pipe tobacco jars I have ever seen.
Chuck also sells tobacco and other wares. I really like Chuck.


Scott Klein
Great pipe maker. Stared at his table for a good while.
The pipe I wanted to get from him was snagged away from me by someone else a few hours earlier.
Next time I will get one of his.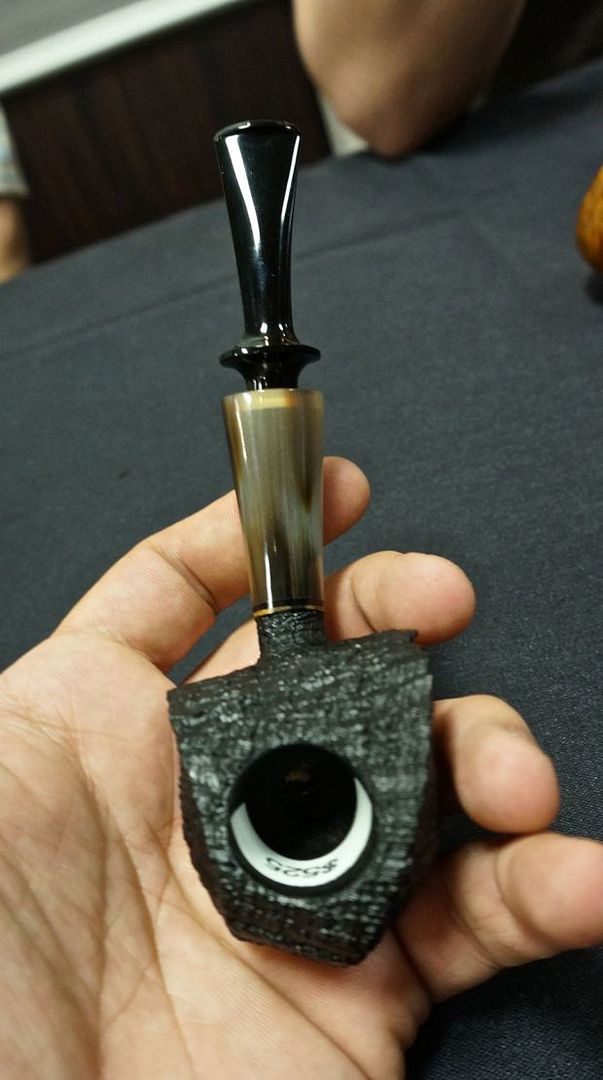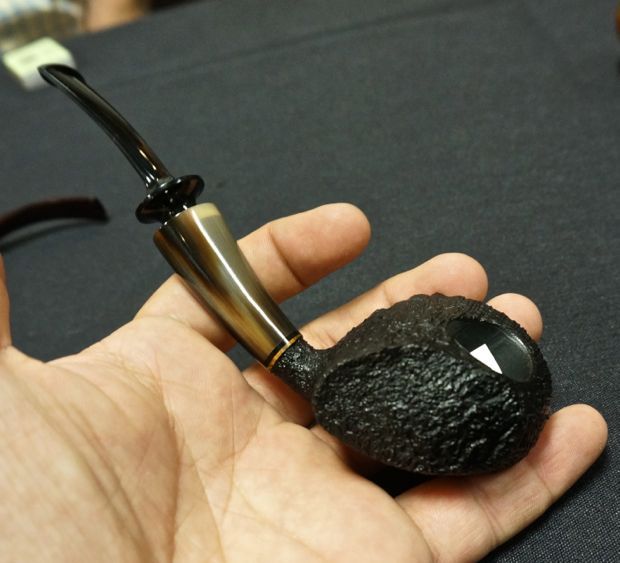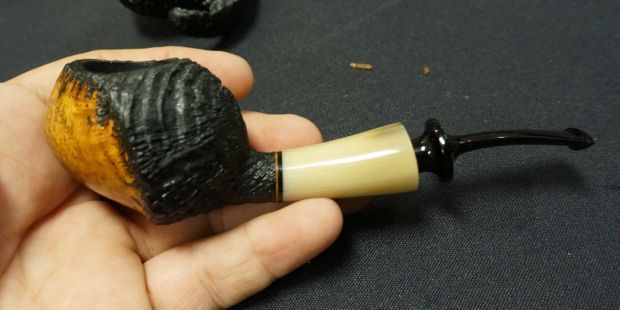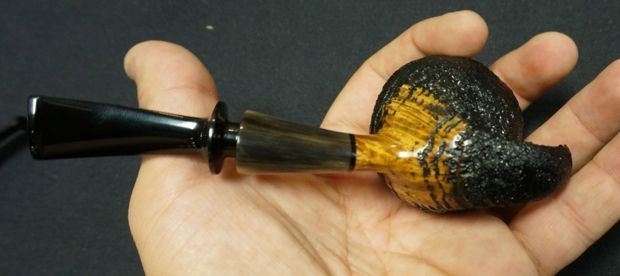 I know that a blasted pipe means that the grain had some flaw in it. Once again though, for some reason, I am really drawn to multi-textured pipes. I love the additional beauty we get to enjoy by seeing multiple & dynamic layers of briar expressed on a single pipe.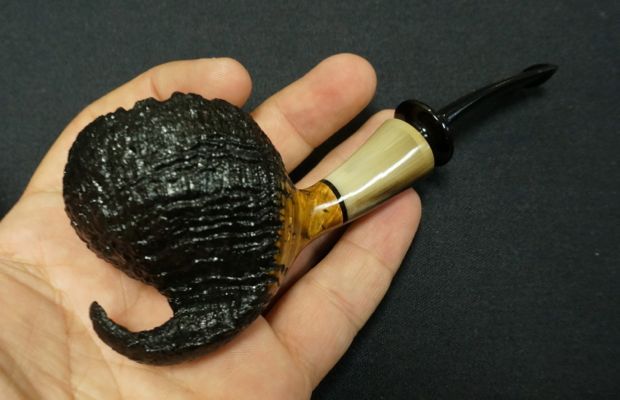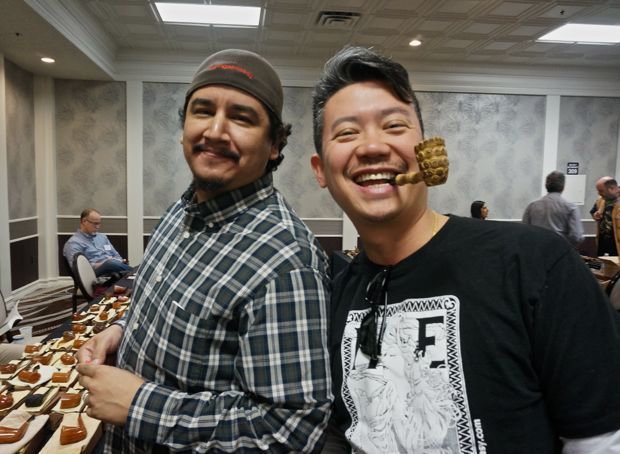 A quick little detour – Your looking at fellow pipe nuts L.J. from PipingAintEasy.com (in baseball cap) and Mr. Dean who is a fellow Los Angeles Pipe Club Member whom I have nicknamed 'Big Smile'.
Two Good Fellow Pipe Buds.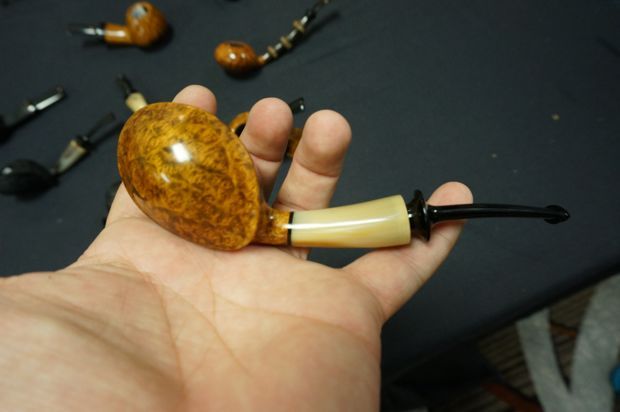 Back to Scott Klein's pipes and this little guy with some gorgeous horn.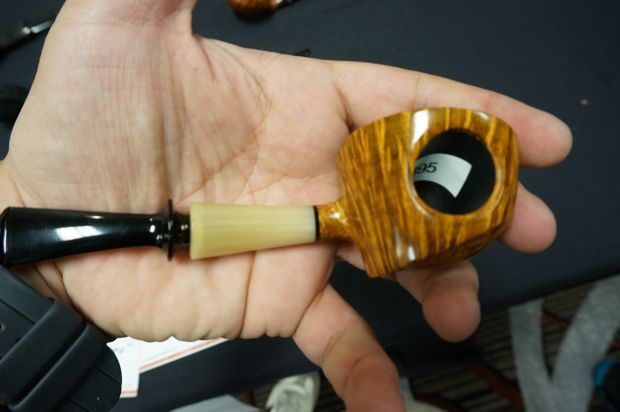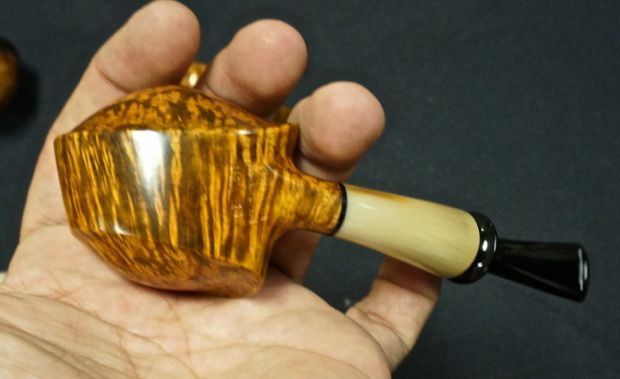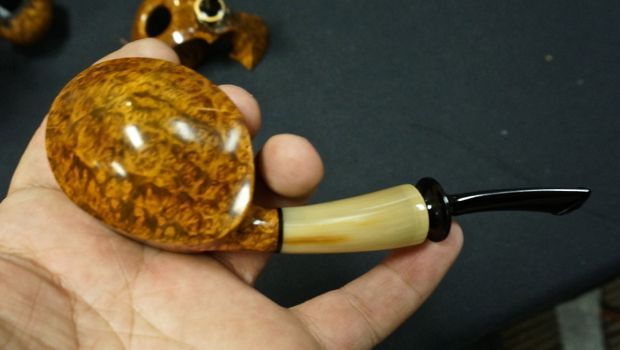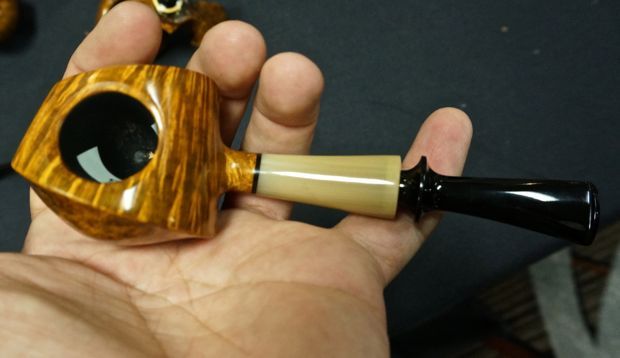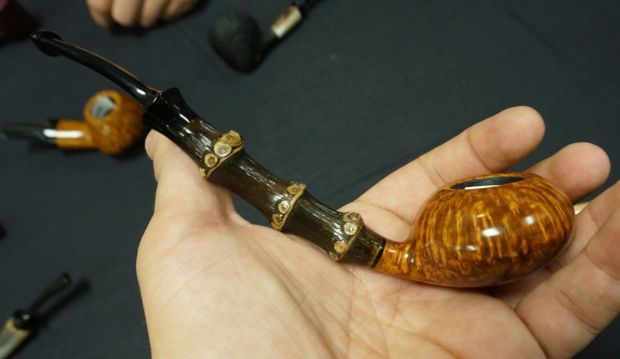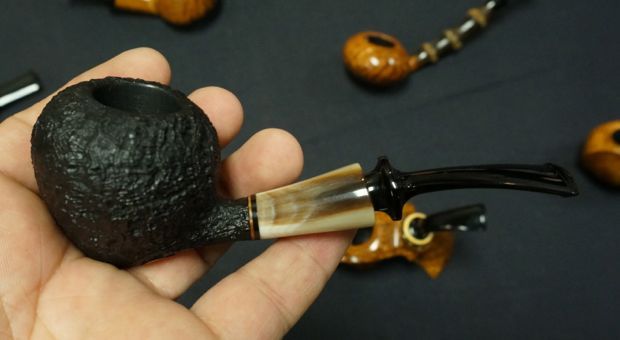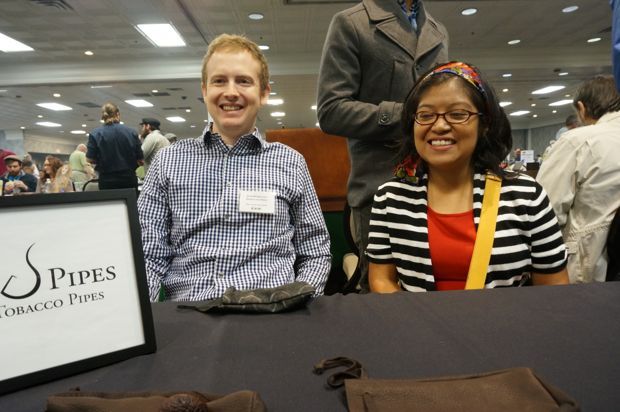 If I had a bell I would ring it right now as you read these words.
ADAM REMINGTON IS BACK.
He took a little bit of personal time off and he is now making pipes. The level of excitement I have is rather tremendous. Being a complete pipe dork / nut, just like the rest of you or anybody still reading these words this far down, I cannot express enough how happy I am.
Several years back, Adam was on a tear to take the leading position in the USA as one of the Top Guys and then his little vacation happened. Have no fear though, Adam is back and he is here to stay to make full time pipes.
REMINGTON PIPES is Back and You Cannot Wait to see more of this Young and oh so Talented Man's Stuff.


Gorgeous, Gorgeous, Gorgeous, Gorgeous.
I would have bought this pipe in a heart beat if it was just half an inch smaller. Oh well, time for me to get on his commission list. Gonna wait a bit to see what kind of amazing goodies he comes up and he probably needs about 15 to 30 minutes to get back into the swing of things.
Looking at this first pipe though, you can tell that it really won't take that long.
Look at each angle of this pipe and enjoy the talent that oozes so easily out of this man's hands.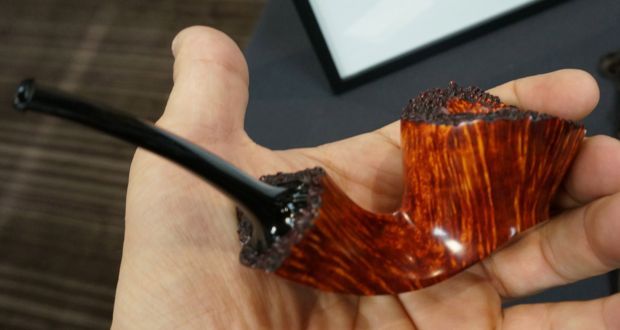 This particular pipe is incorporating a whole bunch of different ideas. From Revyagin's surfer like bottom, to a whole bunch of plateaux on either end of the pipe and in general several ideas, joining together as one to create an amazing pipe. Have you ever wondered how pipes tend to evolve over time? From one idea, then to another…then adding another idea and going on and on from there? Take a look at the picture flow in this article where you see a simple Stem Fin turn into an entirely new pipe concept. I call it exploring pipe evolution through Boris Starkov's fin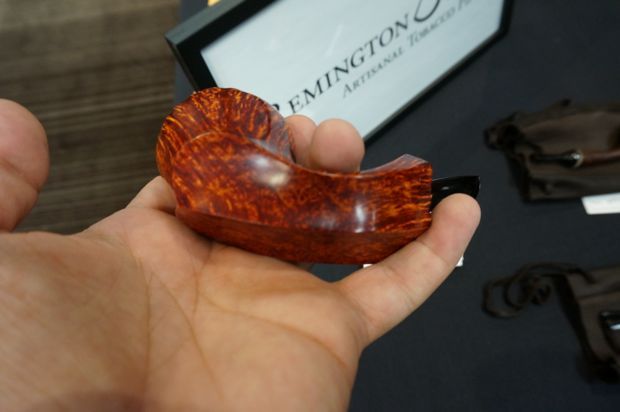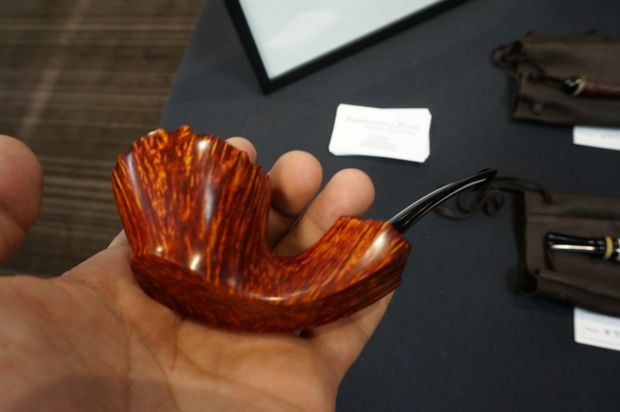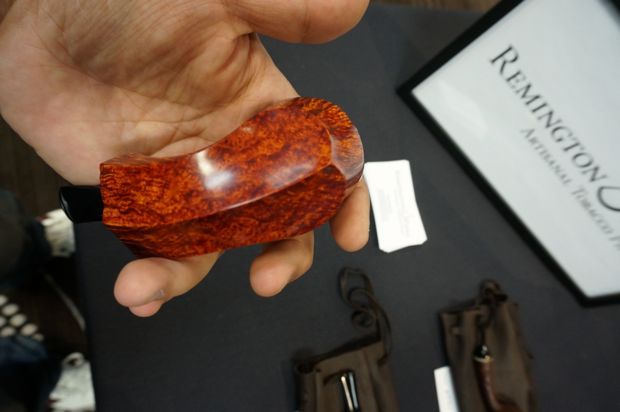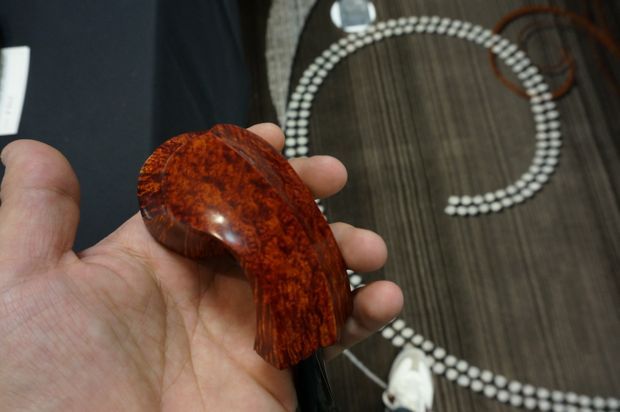 Several of Adam's pictures will focus on his stems. Why? Because I believe that Adam is one of the best stem makers in the world. Adam, along with the likes of Cornelius Manz and a few others, sit in a company where the top stem makers reside.
If his stems are this good….and his pipes look like this. Oh boy. What a combination for pipe mecca fun.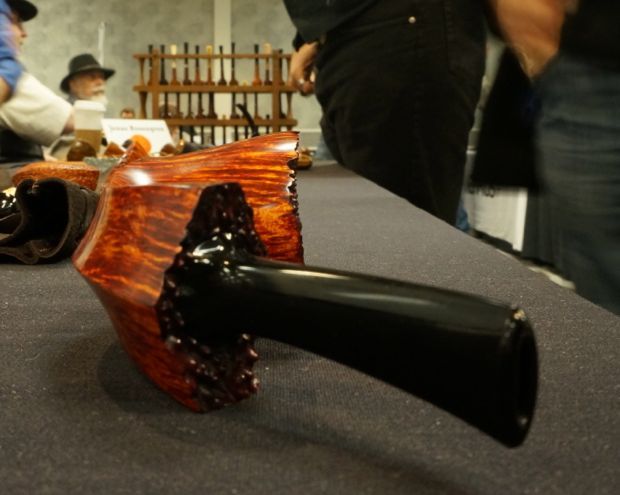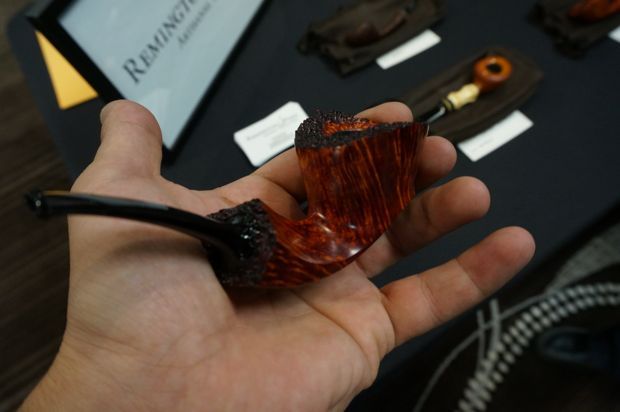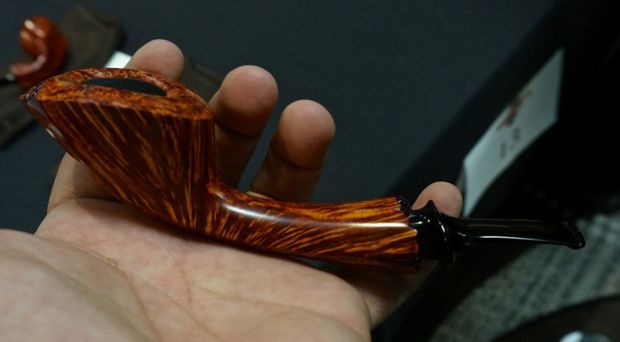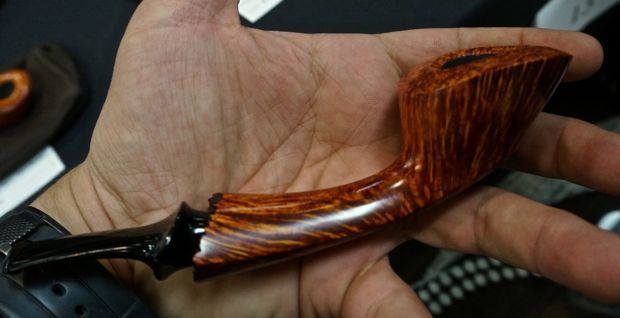 Beautiful.
If this is the 1st work that Adam produces when he just got back to pipe making….well, you guys get ready for a nice roller coaster that he will soon take us on.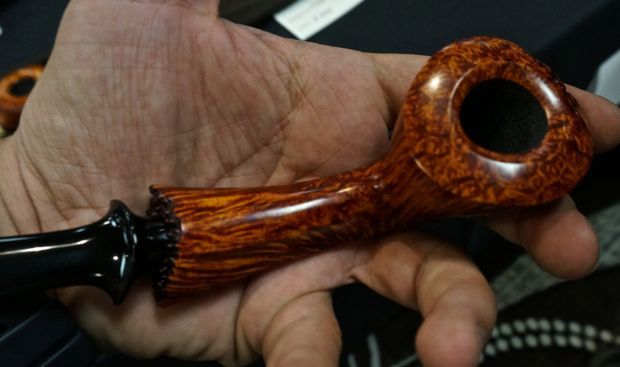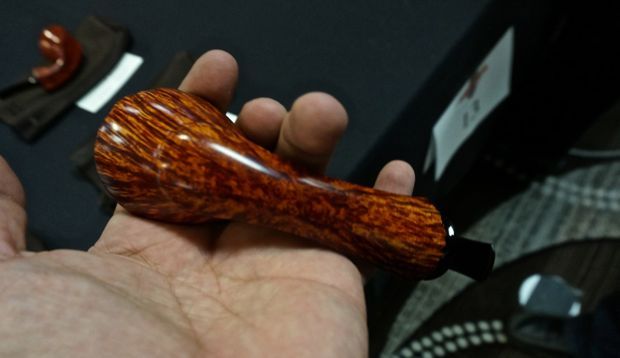 I am mildly embarrassed to be adding these next 4 images because of their poor image quality. They were not actually present when I finished picking all the photos for this report. I can't help it though. I must bring them in, have to add them, even with their bad quality just to show you how good these pipes look.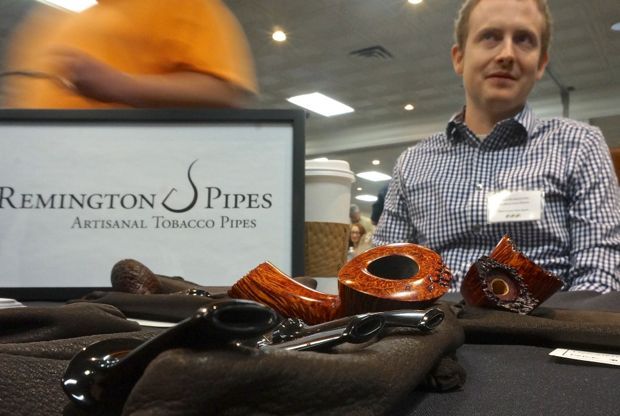 Jonas Rosengren from Sweden. Great guy. Great pipe maker. We will get to his pipes in a little bit.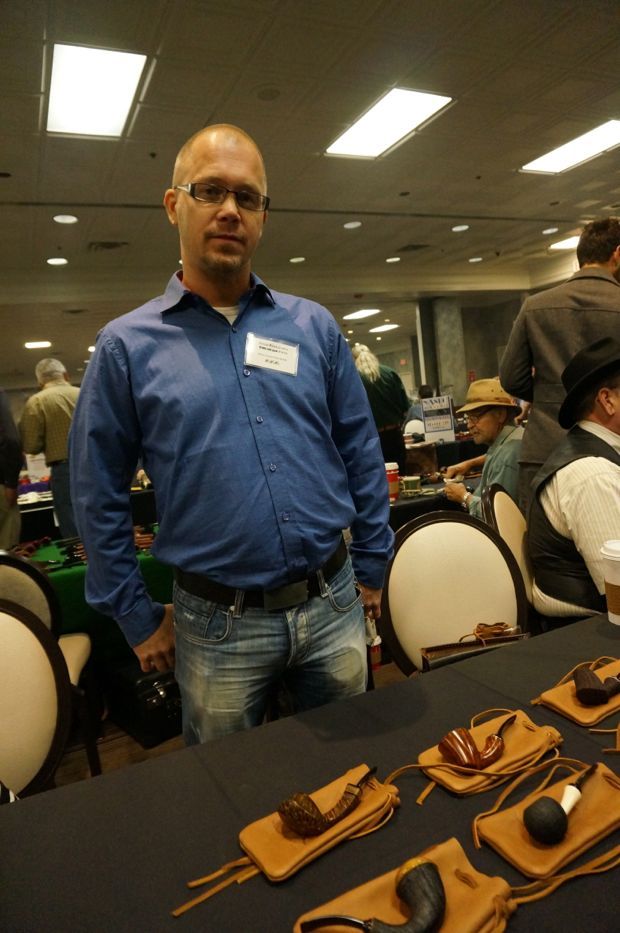 Ho Ho Hey Who Haa – Who do we have here? None other than the Mr. Mike of the House of Lancaster.
Mike Lancaster from TPC or TobaccoPipeCollectors.com
The man who started the phenom and the man who continues it. the Indie Community marketer numero uno…having fun with a pipe in his mouth at the show.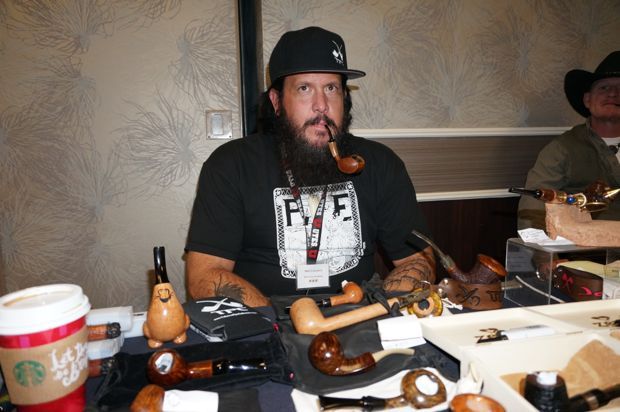 And beside Mike is Sparky from Sparky's Pipes – Laughing…maybe because I said the exact same thing that I just wrote up there for Mike's pic? I dont know. Only Sparky knows. Will Sparky tell?


Mike brought some nice pipes. Most notably from fellow Californian pipe maker Chris Morgan. Like this gorgeous little guy we see here.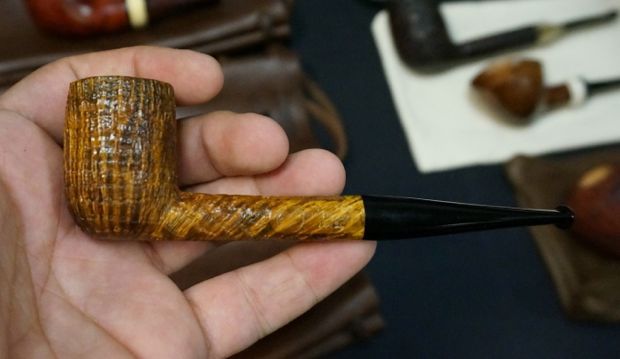 Our good friend Olie Sylvester who is always up for making a quirky, odd, unique, crazy etc…looking piece of briar. I own an original Olie pipe from back in the day. What you are looking at here is Olie's transformation of a Chris Morgan Briar Cigar.
Believe it or not, I do not think that Olie was a 60's child.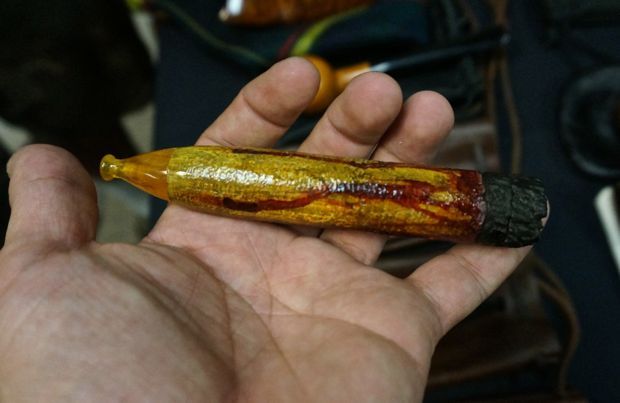 Back to Chris Morgan and this little beauty.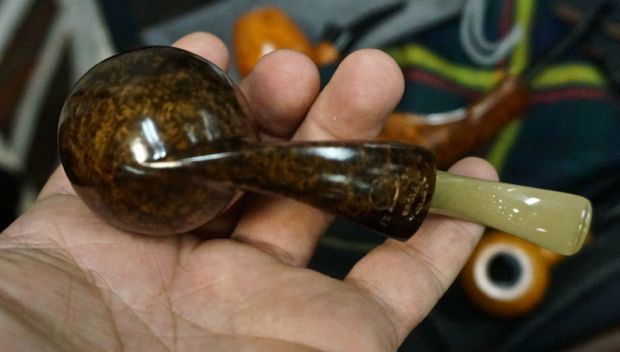 Dirk Heinemann makes an appearance in Las Vegas with this lithe thin beauty offered up by TPC.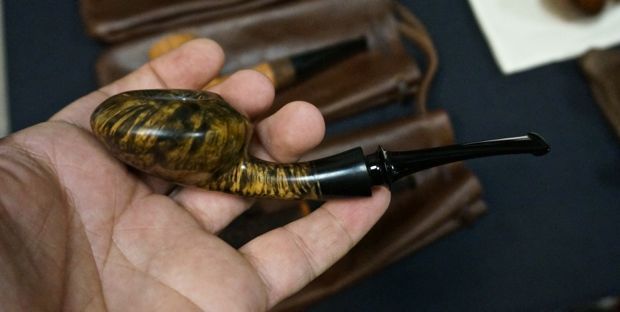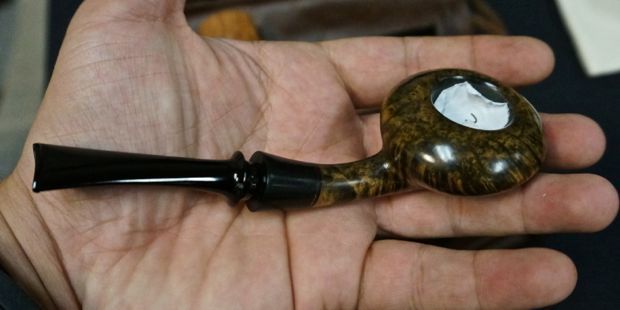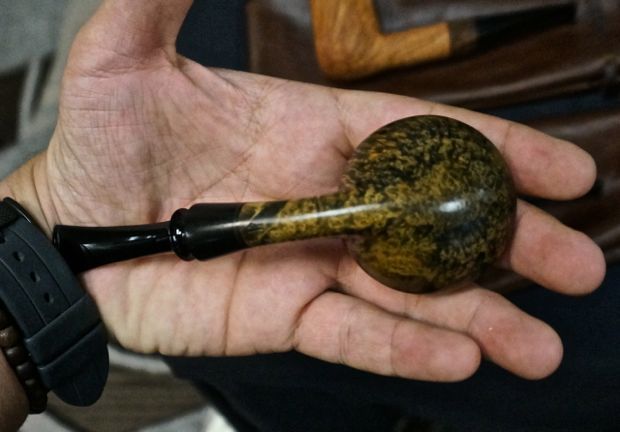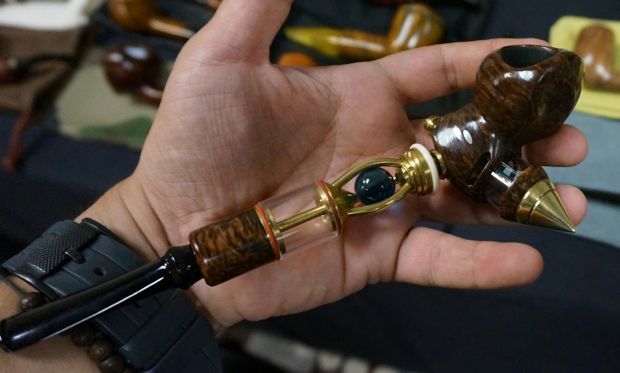 This is Chris Morgan's Triple Chambered pipe.
A unique pipe contraption.


Olie Sylvester again and this is I believe his Vampire Series.


Back again to Chris Morgan – Yes, Mike brought a lot of Morgan pipes and yes, those are obviously the ones I gravitated towards when walking by his table.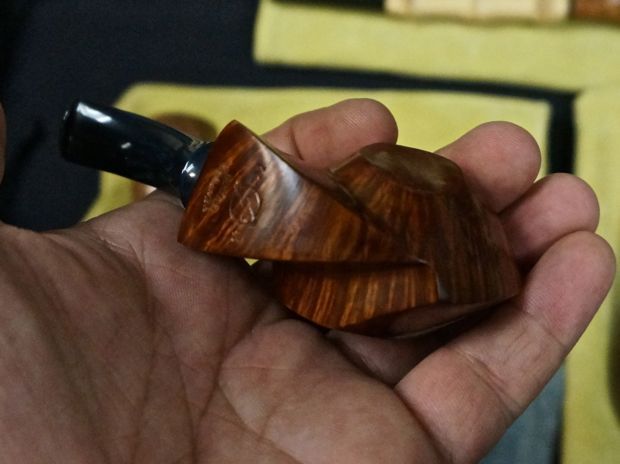 Now you can hold your horses for a second and really enjoy this beauty from Chris Morgan because it obviously has some extra special qualities. This guy turned out Gorgeous and I have already seen the owner enjoying her on Instagram. It is a Reverse Calabash with Birds-eye and Grain that leaves one speechless.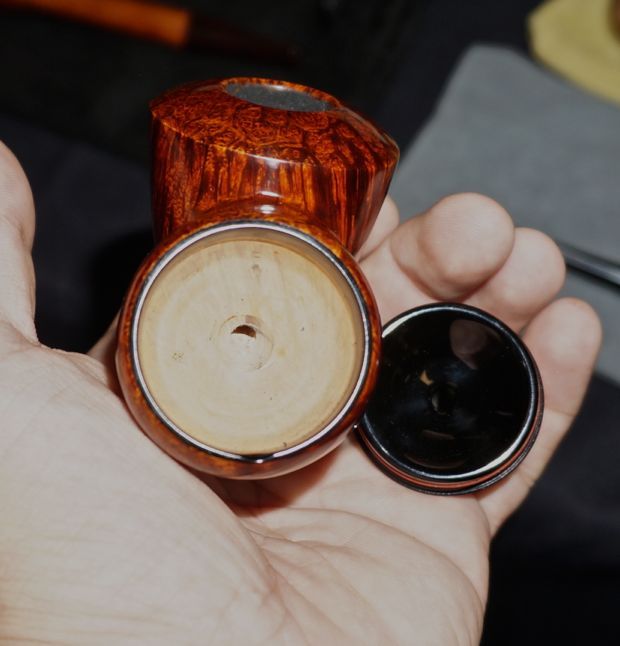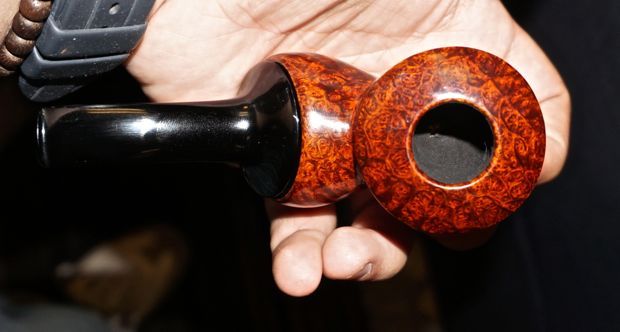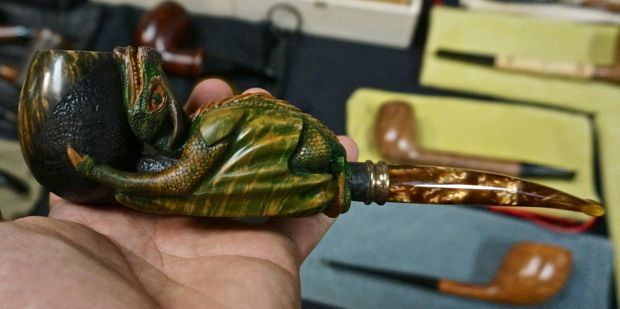 Sparky's Pipes showing us his skills.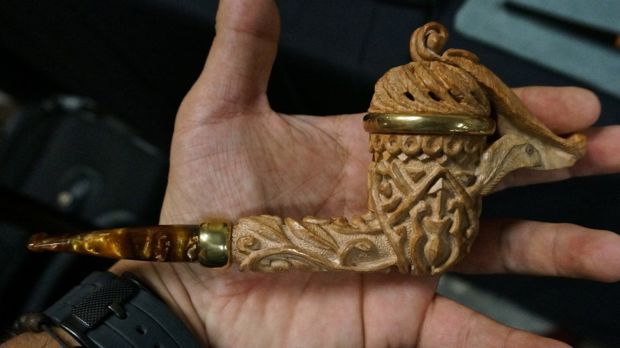 And again, Sparky's going in a completely different direction than the last pipe…with added benefit of wind cap.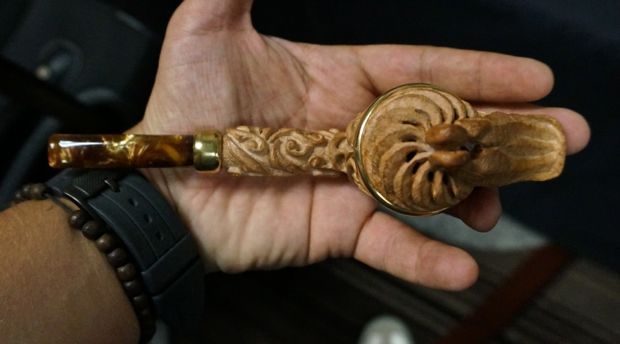 Some nice views to highlight that Sparky gave this piece all of his attention, all around her.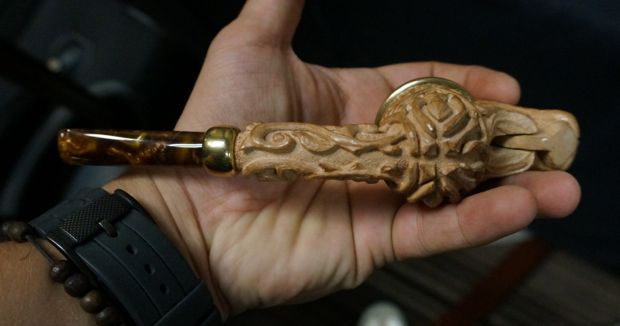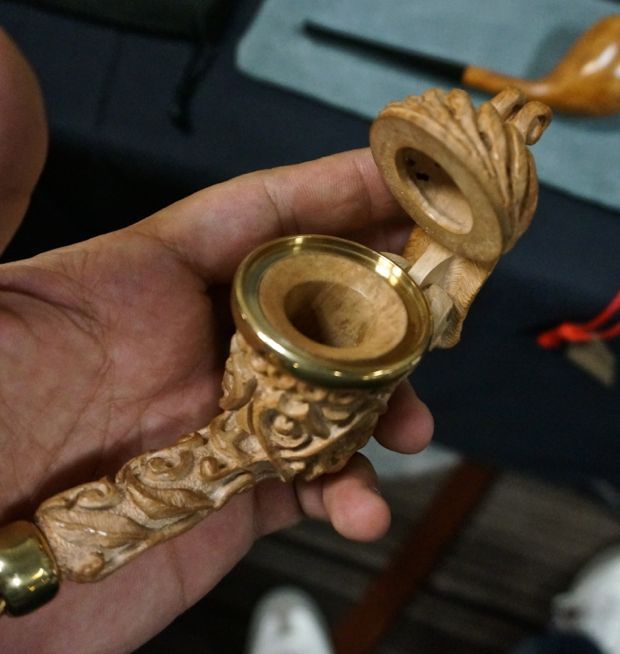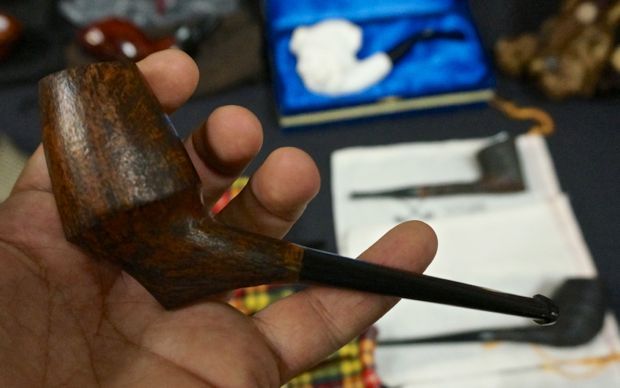 JSG pipes from Poland, also on TPCs table. I like this kind of shape. It implies a strong outdoor feel. Like a great farming or fishing pipe. Something to do with the outdoors. I like those kind of pipes.

Hank Saatchi is a fairly well known US pipe collector. Hank has great taste and an even better personality.
It's always nice to see Hank's pipe hanging from his mug.
Hank is always ready to talk shop when it comes to Pipe Collecting and I always enjoy our conversations.
Now he is selling off some of his well selected stock & yes, he had a table at this show.
His first offering was one of the most pleasant Jurgen Moritz sandblast Dublin's I have ever seen.
What a gorgeous piece of wood Jurgen made.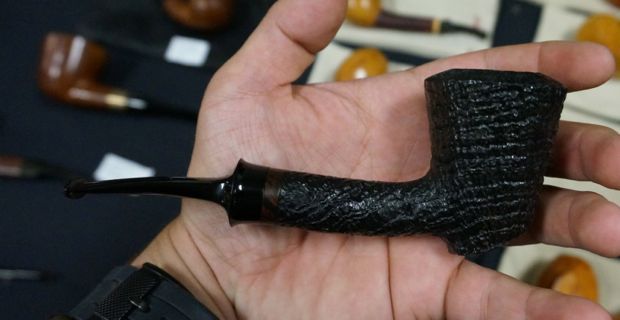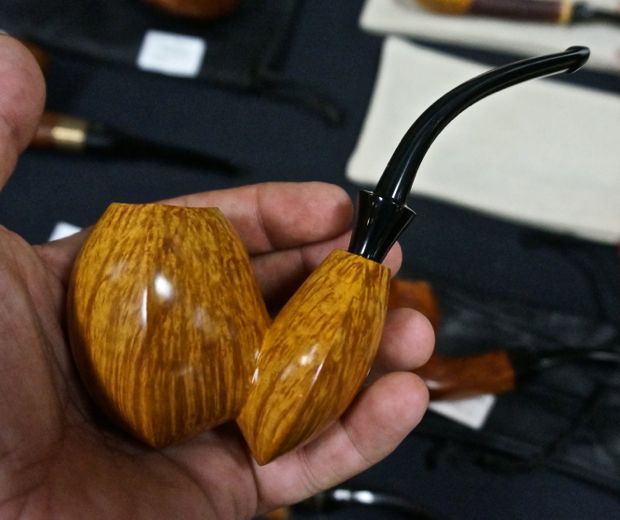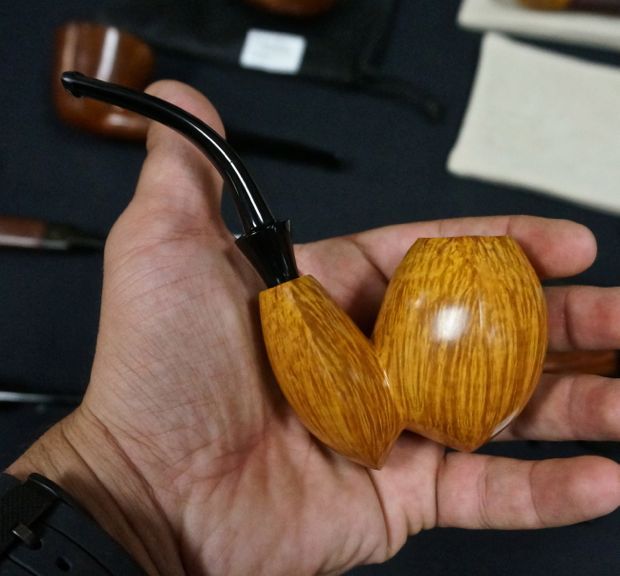 Hank really likes Uwe Jopp, also from Germany, like Jurgen.
Uwe clearly has his own distinct style. I enjoyed meeting Uwe at this last Chicago show.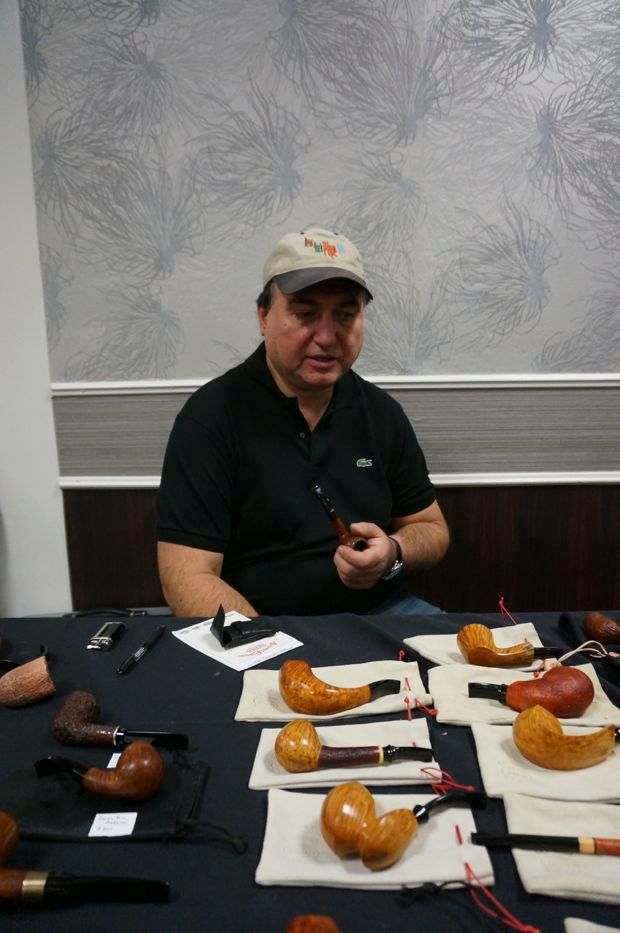 Mr. Hank Saatchi.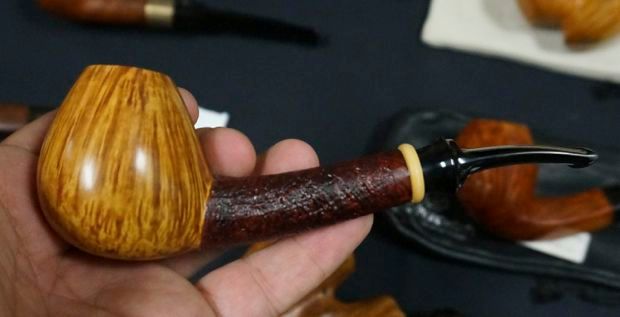 Another Uwe Jopp.
Yes, I am enjoying the multi-textured nature as usual.
I wonder if a pipe maker can purposely find a way to have multi texture pipes do their thing but focus on the texture interaction, not out of necessity (a flaw) but rather out of beauty and on purpose.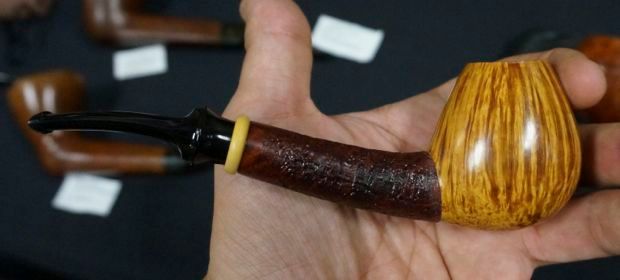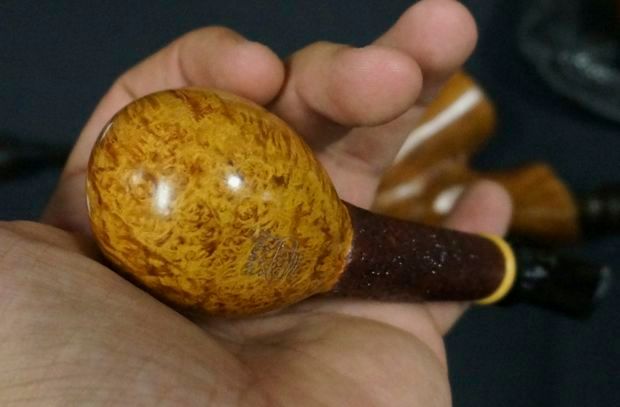 Jonas Rosengren again.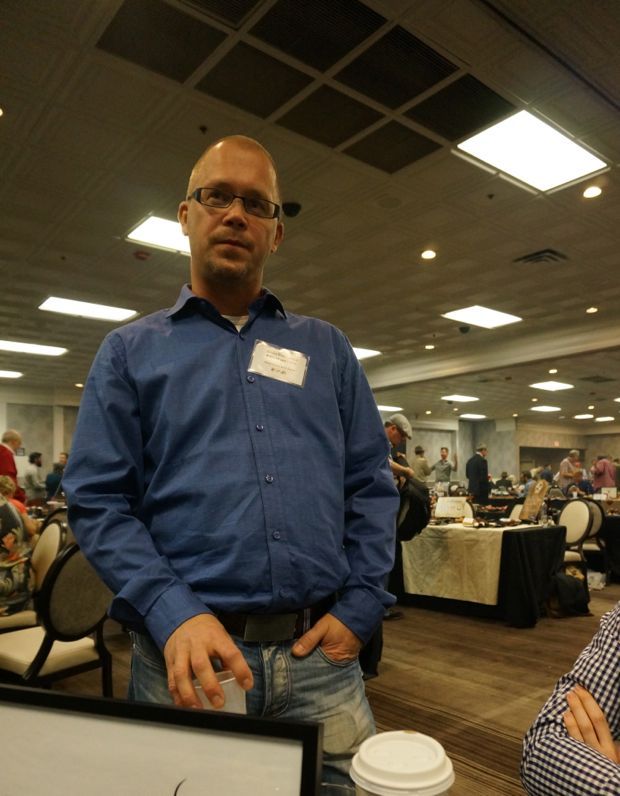 Adam's wife. Not only a great smile but also soon will have a PhD.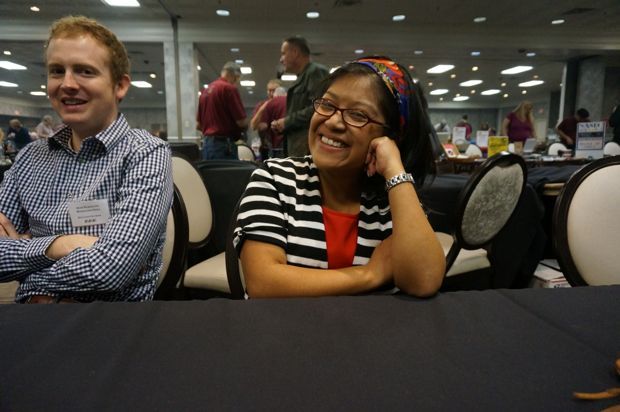 Finally we get to look at some of Jonas Rosengrens pipes. All of them are solid, beautiful, great pieces of fantastic briar art.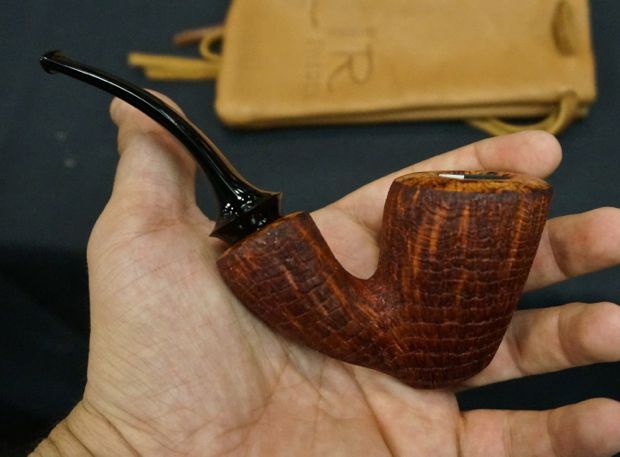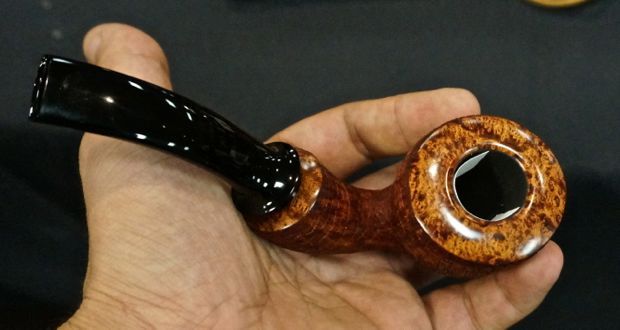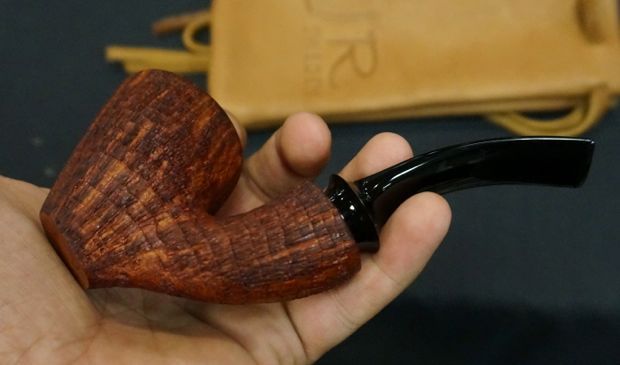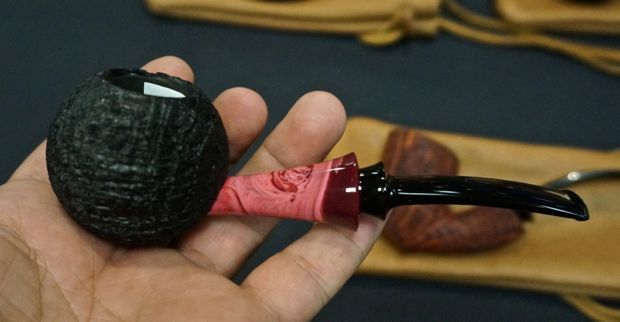 This piece is part of his globe series. This series started I believe 2 or 3 years ago in Chicago. You can find some of his first variations, well, first public variations in the Show Reports from back then. It has clearly evolved quite a bit.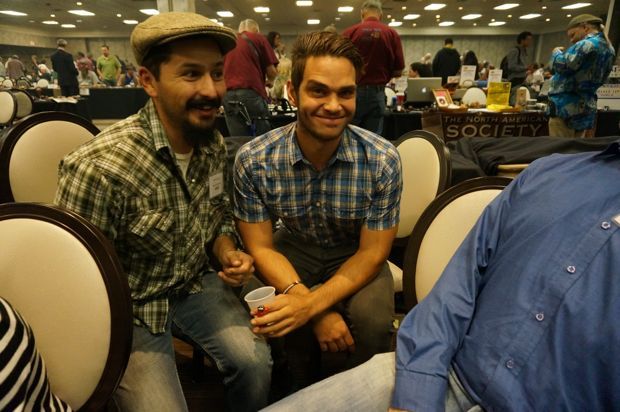 Oh Boy. Here we go again. Jonas is constantly getting interrupted.
Now we have Brighton James and Steve Liskey hounding him in front of the camera.
There was some unique verbage being said at this very moment.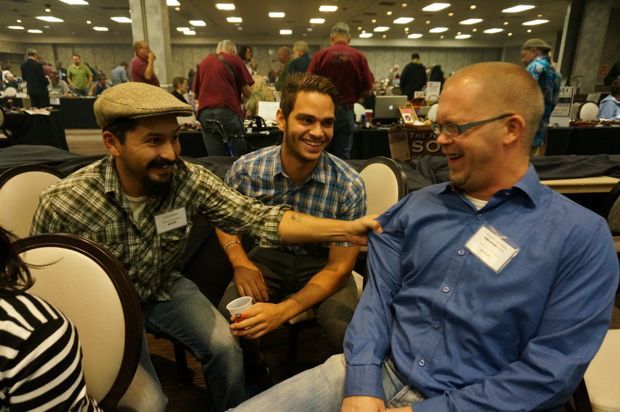 The verbage had some not so family friendly fun associated with it so I will allow your imaginations to wander.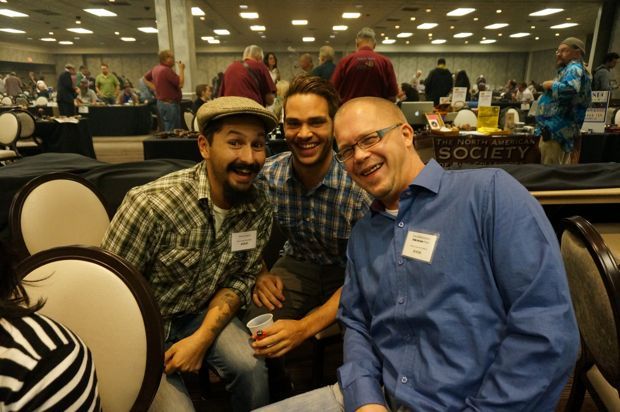 Nonetheless, it is good to see pipe makers smile and having fun.


Back to his Globe Series.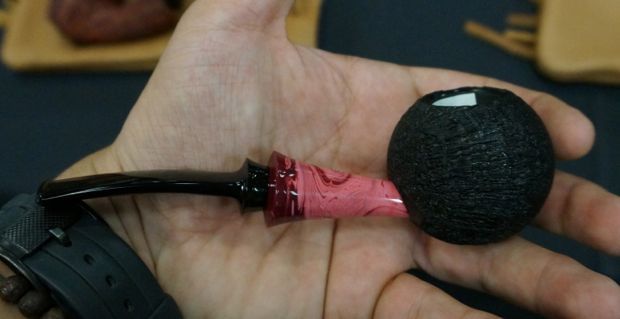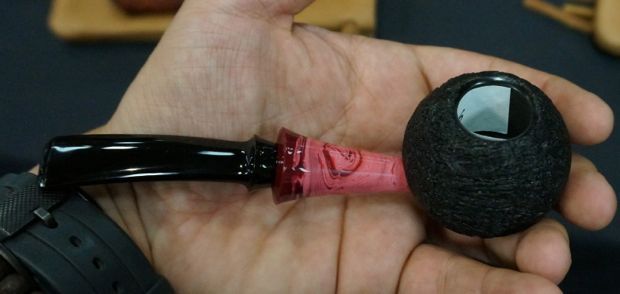 A different variation and nice to see the experimentation going on.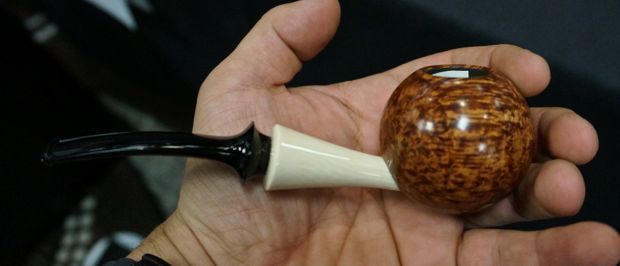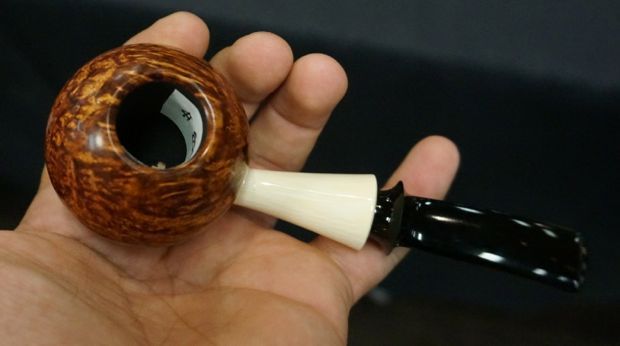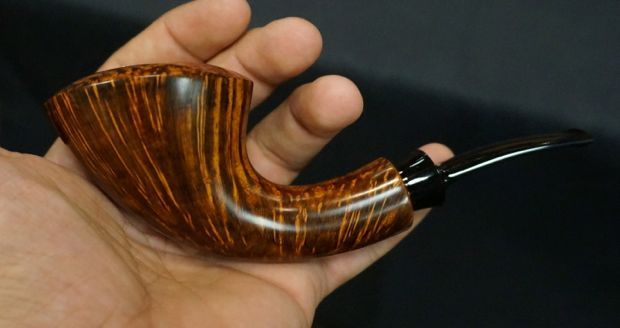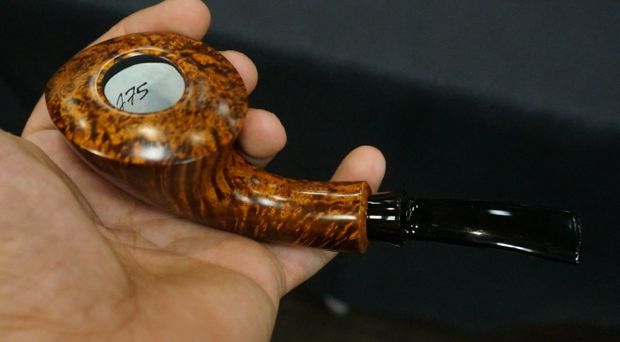 Yes, Jonas is making excellent pipes. What a gorgeous gorgeous horn. Beautiful everything, all over her.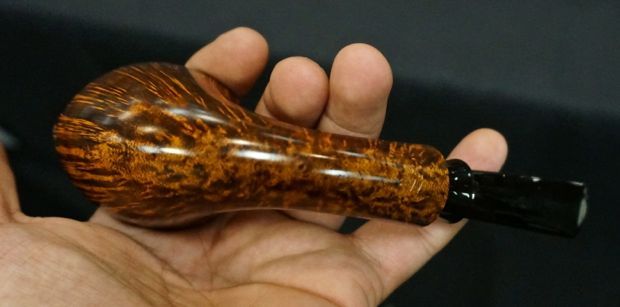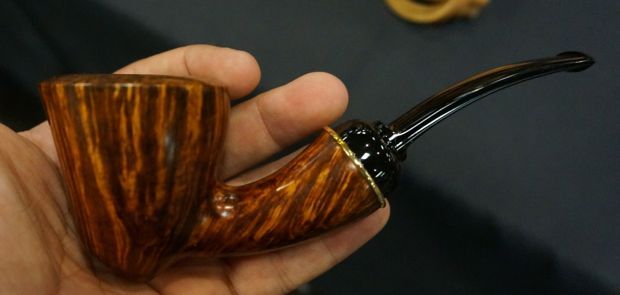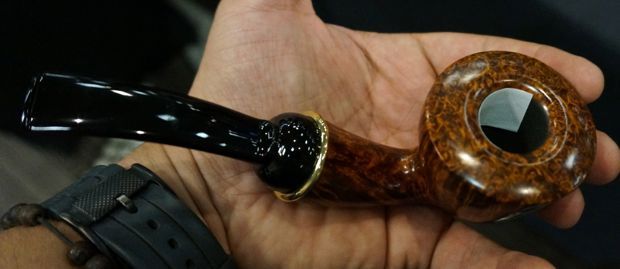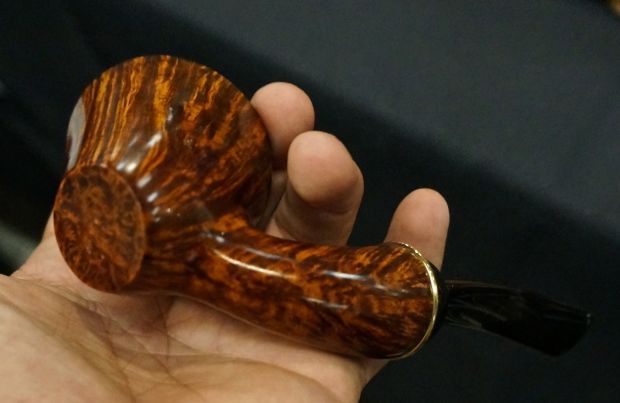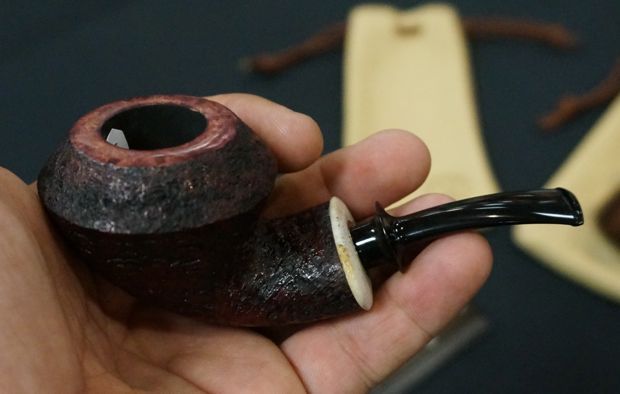 Back to some Steve Liskey Pipes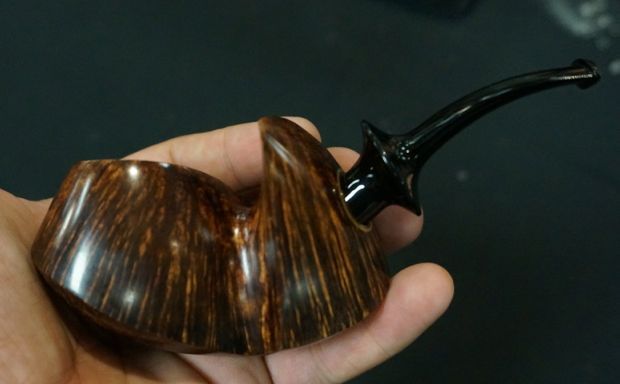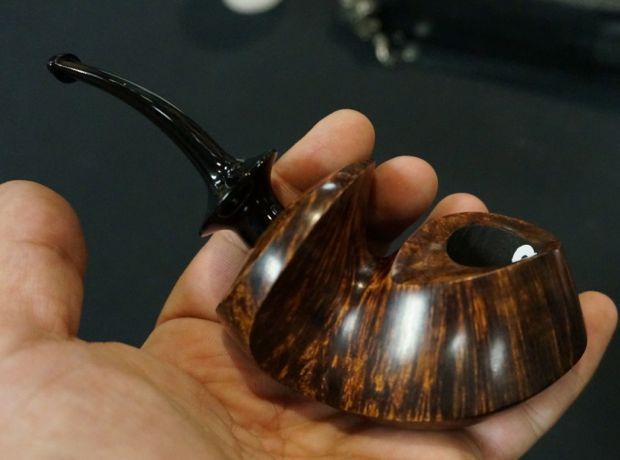 I am glad we got to show this guy. A different Liskey pipe.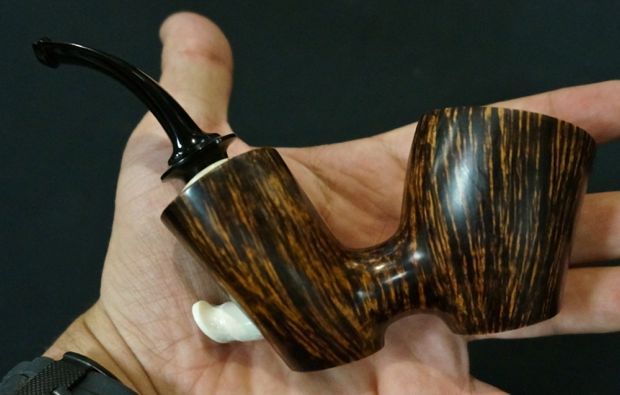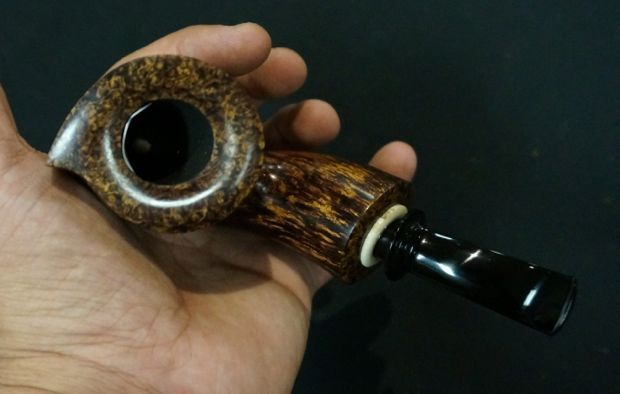 Who do we have here? Brighton de Los Santos!
Another California maker.
Brighton himself came but he did not bring any finished pipes with him.
If you are following my Instagram Feed (see bottom of page) then you know that on Friday night, Adam Davidson and I spent some time discussing a block of wood that Brighton was working on.
Most of what he brought was in pre-everything stage but this one block I am showing you because I have a feeling it will turn out to be a fabulous pipe. Brighton, if you like, you can give this pipe to me when you complete it.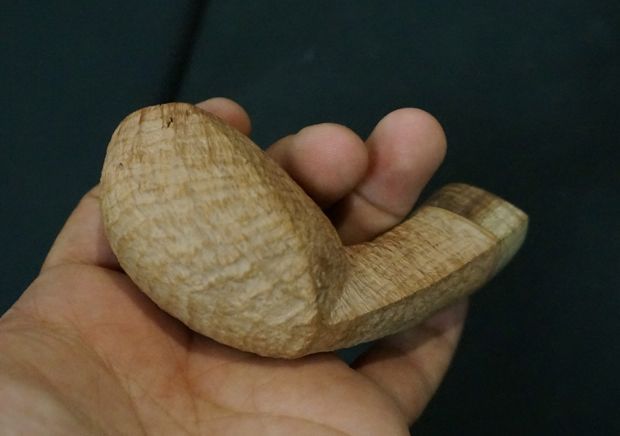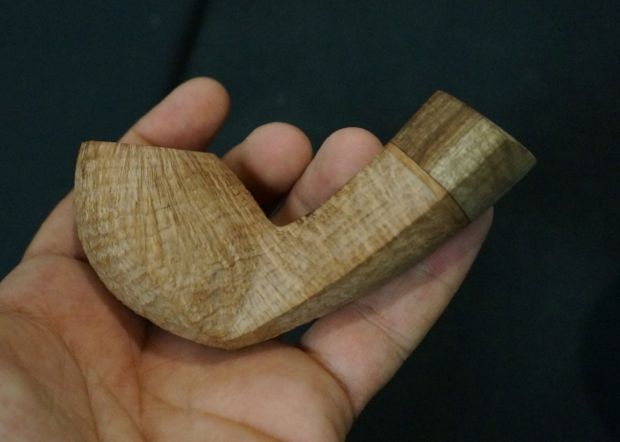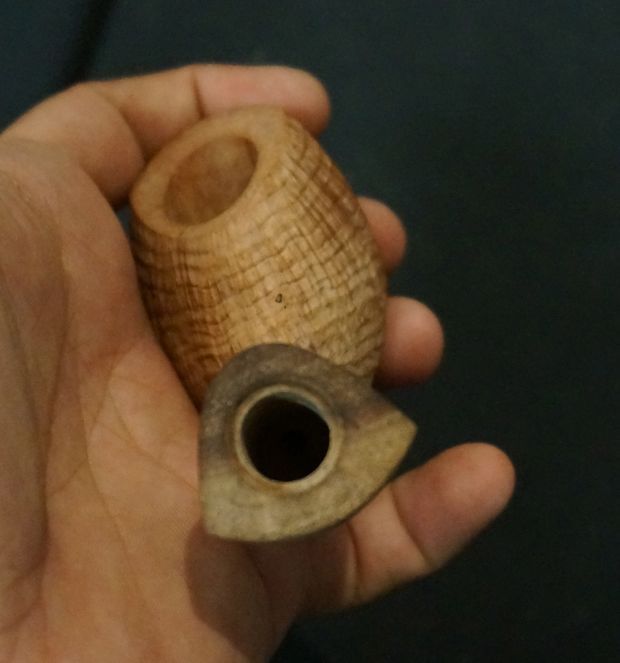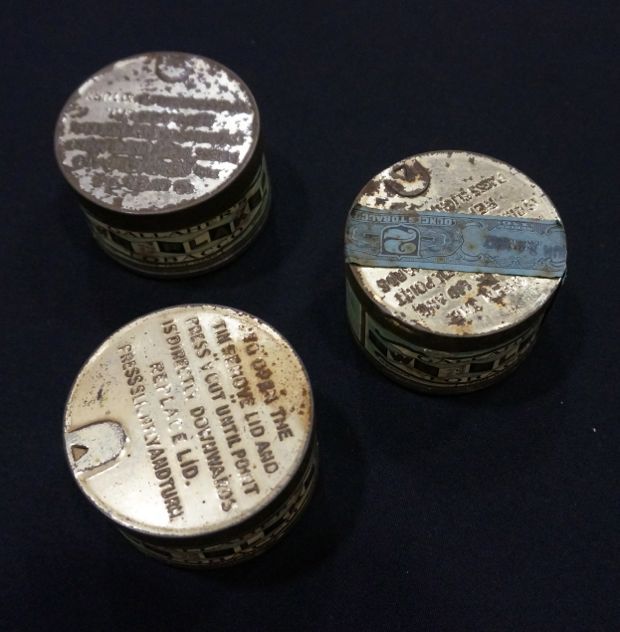 Some Super Old Tobacco Tins that were sitting on Brian Burke's table.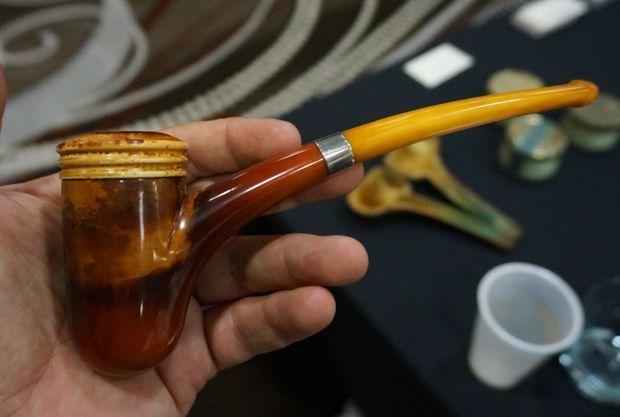 Again, not sure if you follow my Instagram Feed but I took a pictures of my oldest pipe and it is on there. A 160-year old Meer with Amber stem. Purchased her off of Brian Burke.
This Burke pipe is stunning and exquisite. I asked if it was for sale but intelligently Brian said no.
What a beautiful pipe don't you think?
We ignore so much of the old stuff but there is so much fantastic beauty (and obviously History) in them as well.
What A Stunner!


Gurra – One of my favorite pipe makers not making pipes full time.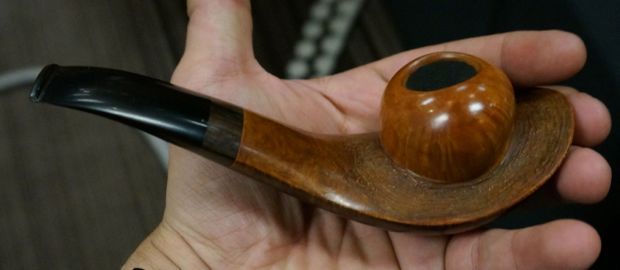 A couple pipes from Japanese maker, Tatsuo Tajima.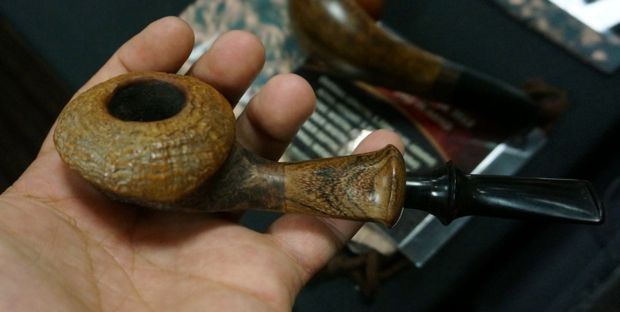 Tatsuo and his pipes are the most abstract pipes that we have shown here in this report.
If you would like to see the "King Of Abstract Pipes" (King is my opinion only) – I highly recommend taking a short click over here to read about Mr. Christian Wolfsteiner, also known as Tarock Briar. I did an article on him and his pipes which are very difficult to describe yet they will leave your eye-balls craving more and more.
You can read or again, look at the pictures of pipes from the Abstract King here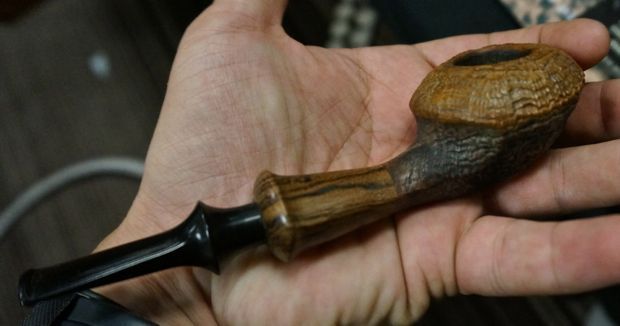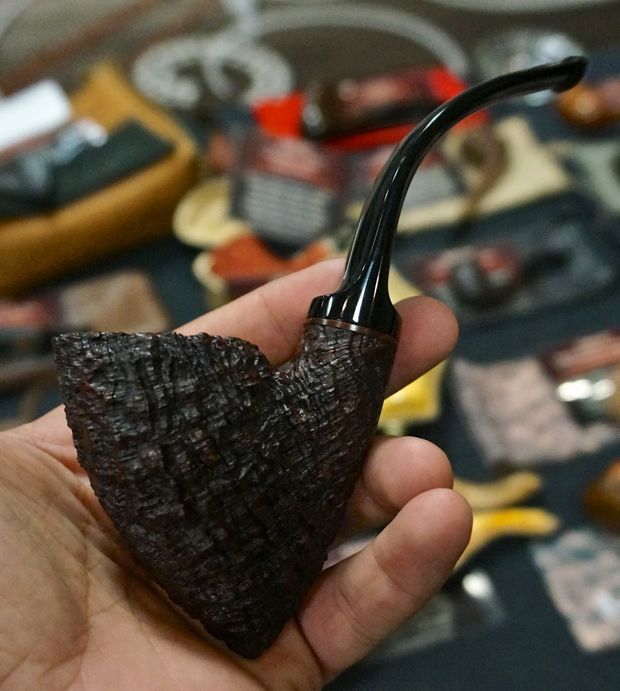 Canadian Pipe Maker Michael Parks.
If you want to learn about this pipe maker whom I define as the Most Rugged & Most Elegant pipe maker out there today. Most Rugged – Why? Intense and amazing sandblasts. Elegant – Why? Because his lines, even with the harsh nature of sandblasts, are exquisitely perfect and nice. This combination – Rugged Elegance, is not common in the pipe world when discussing sandblasts.
Learn why I call Michael Parks this type of maker and see his outstanding and amazing work
by clicking here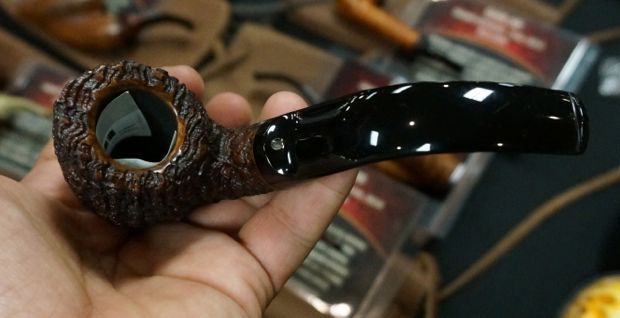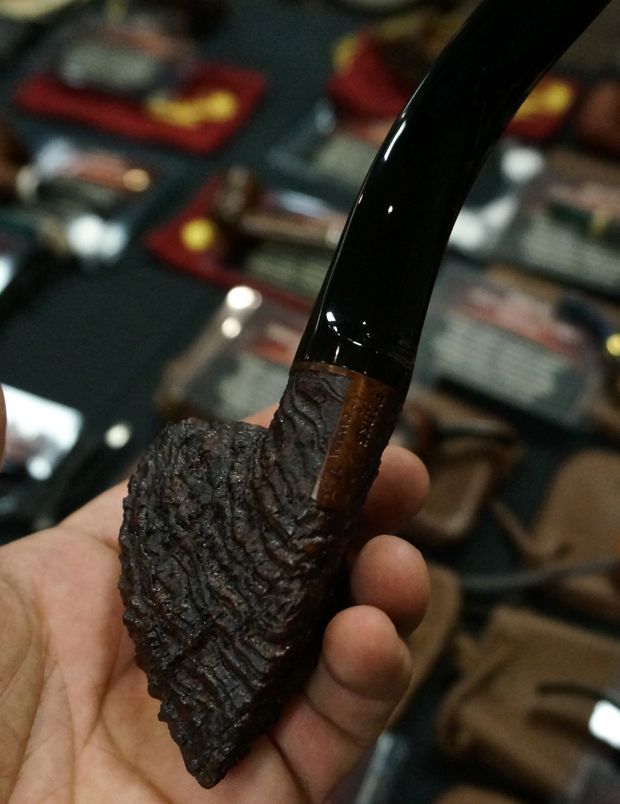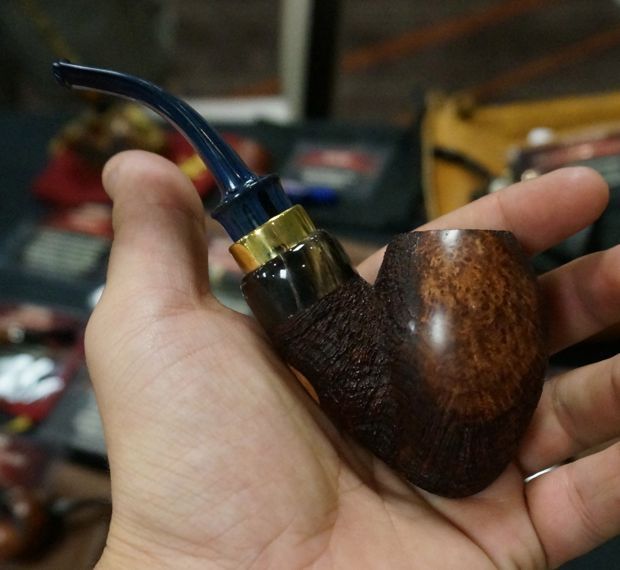 One of the most beautiful Grant Batson pipes I have ever seen.
Grant enjoys nature and natural concepts.
grant often mixes and experiments with multiple ideas and many concepts.
What is unique here is the joining of several unique concepts – all done very effectively.
Beautiful & Interesting work.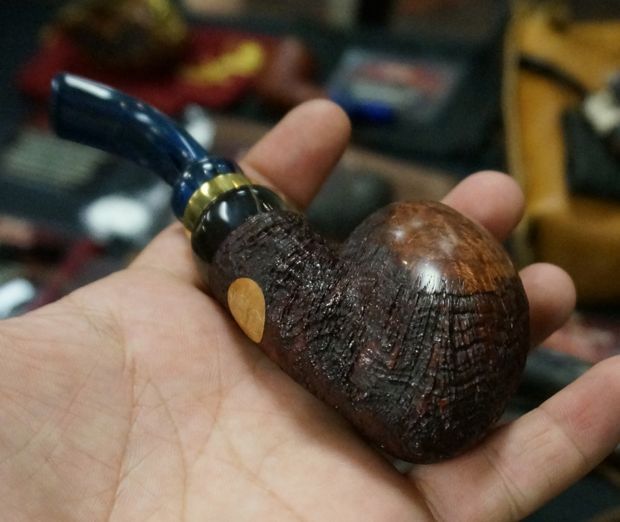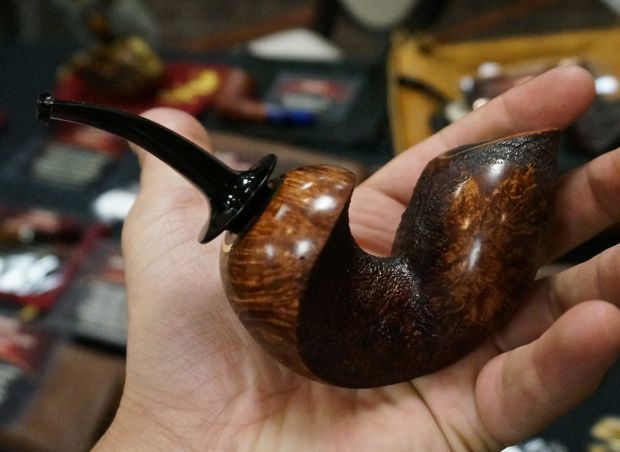 Another Grant Batson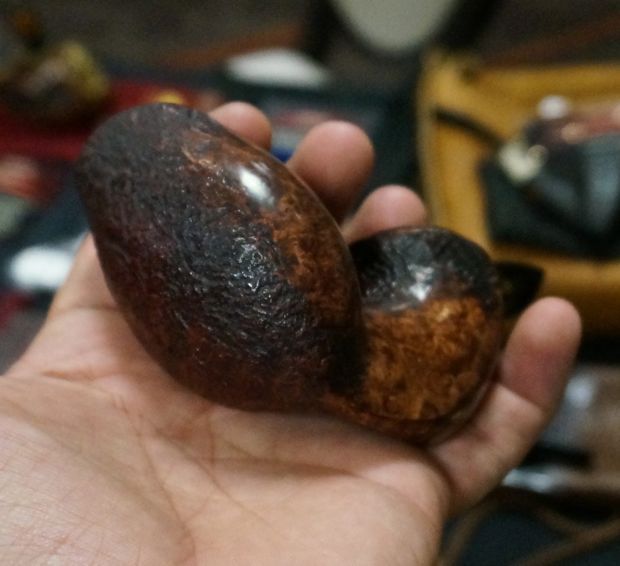 And another Grant Batson, also up my alley, with it's Full Bent nature.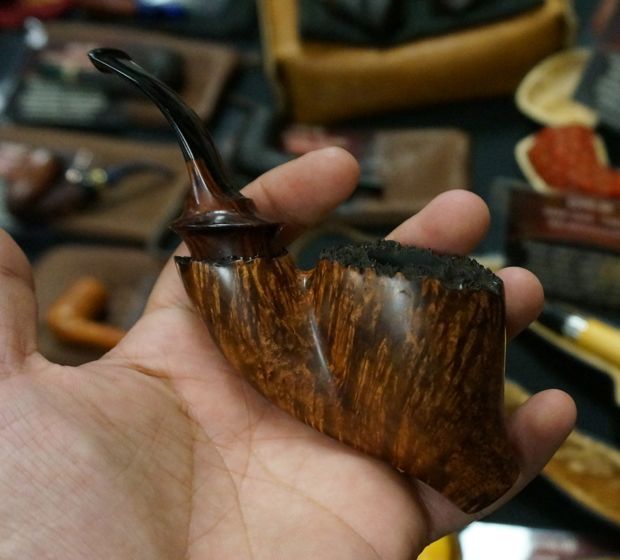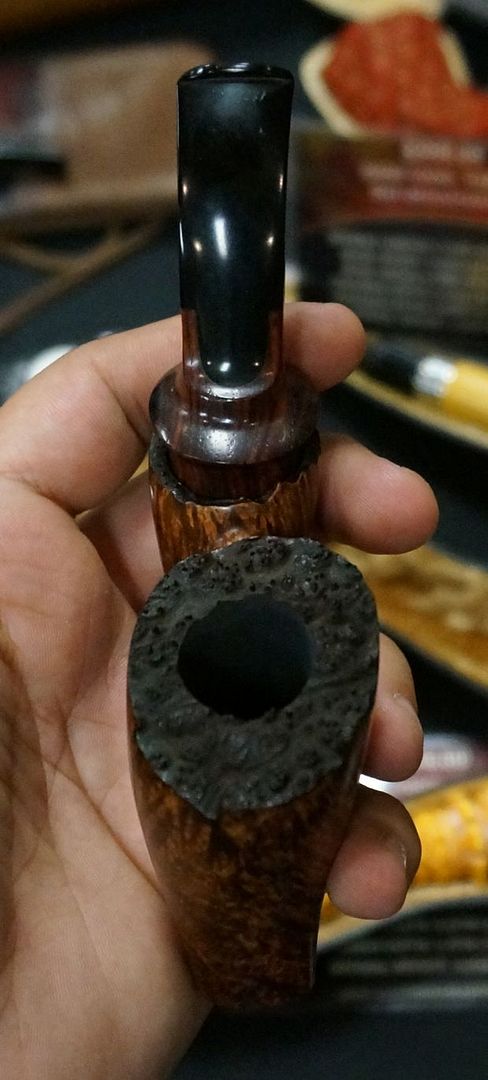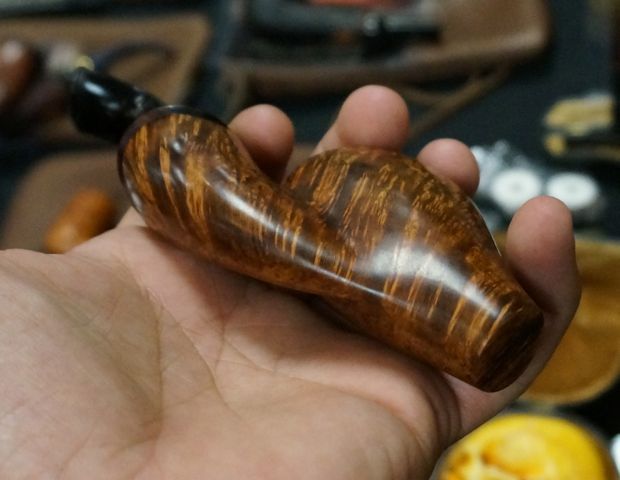 Trever Talbert and some of his Halloween pipes.
Trever is a very serious pipe maker. I love the fact that this serious pipe maker who mostly makes serious pipes, classical shapes etc….I like that he also enjoys making seriously creepy looking pipes.
Been wanting to get inside Trever's head for a while now but he is a bit camera shy….as we all are to one degree or another.
Tonni Nielsen was camera shy but eventually he warmed up to me and we got to do an interview that he was extremely happy with.
Back to Trever. Enjoy some beautiful shots of his devious work.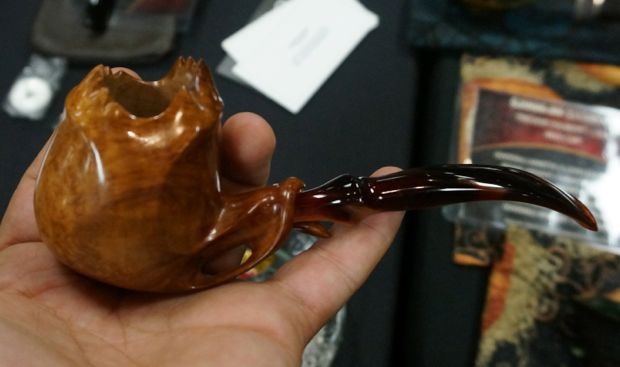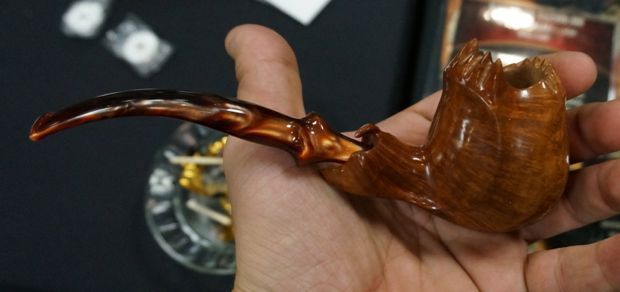 I like the teeth.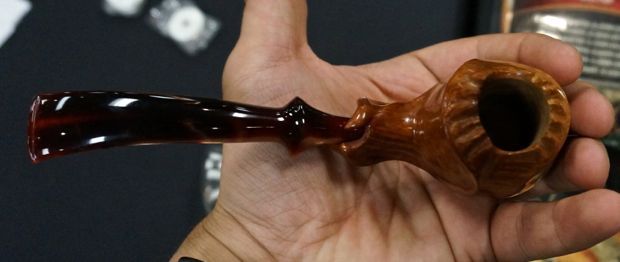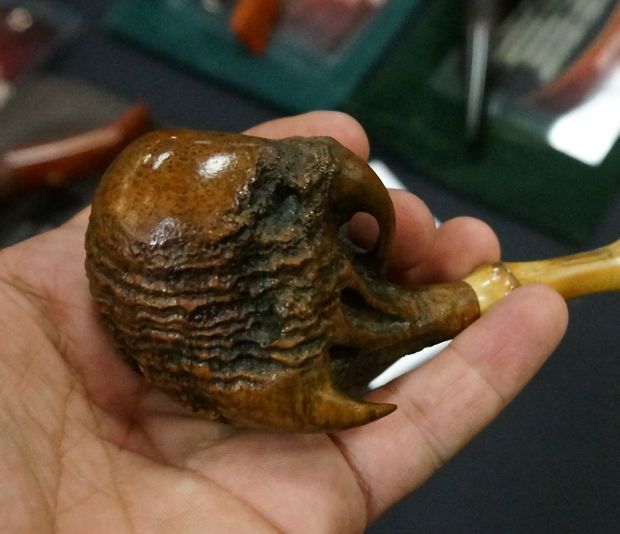 Larry Roush – Fantastic Artisan and one of my 1st articles. You can spot a Roush pipe from a mile away.
That quality is good to have for a pipe maker.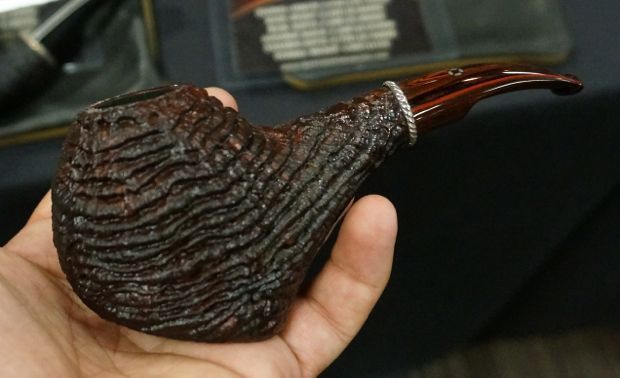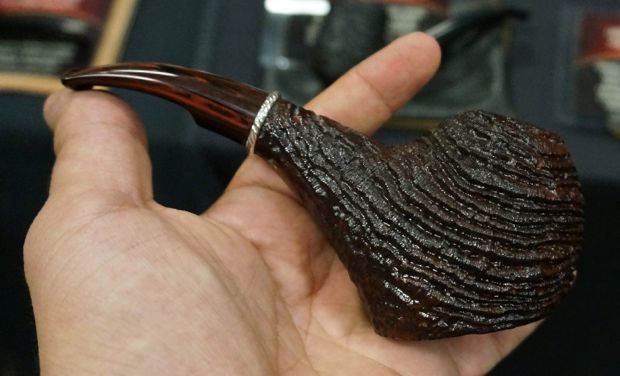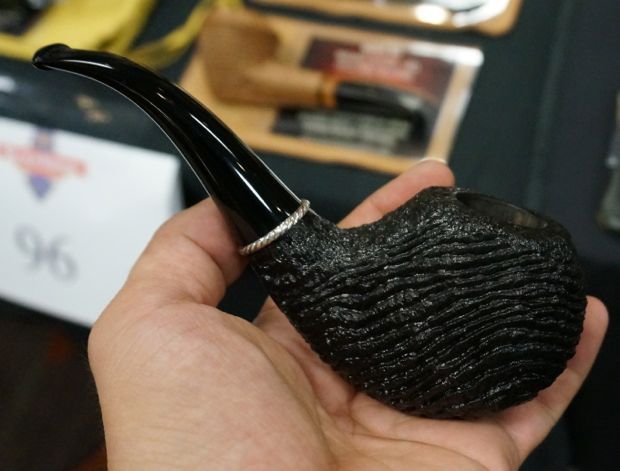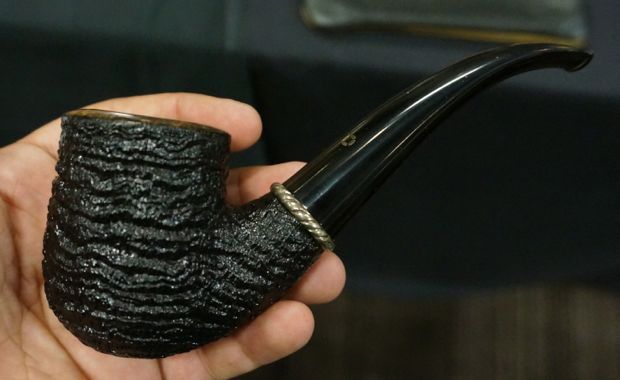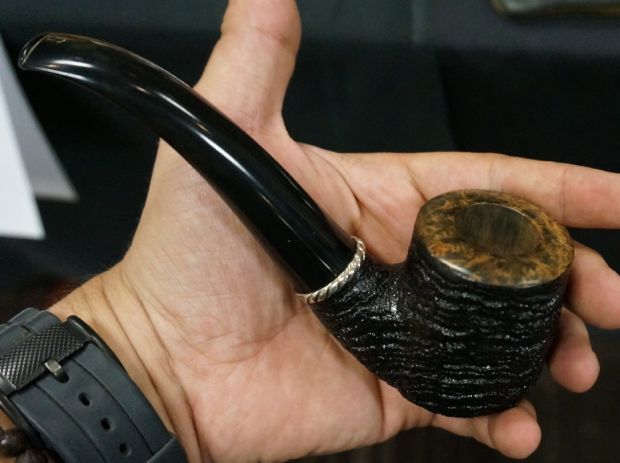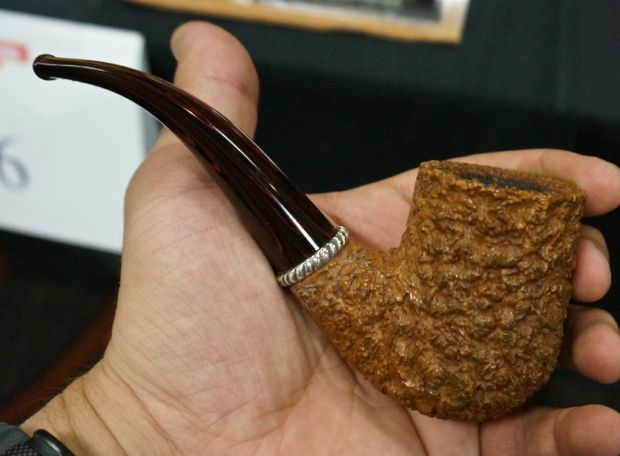 Martin Hansen from Germany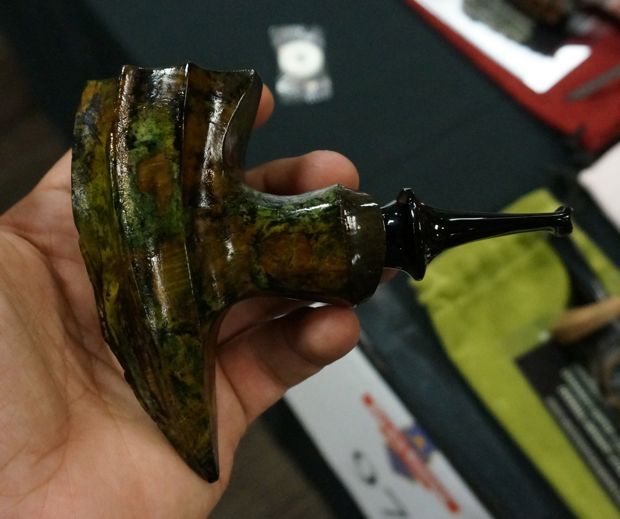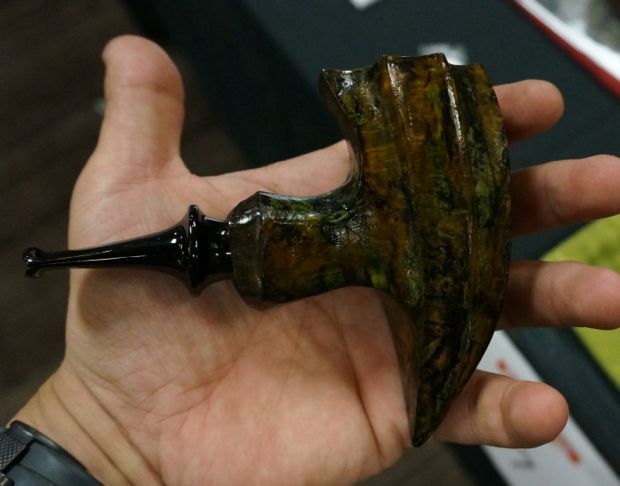 Andrey Savenko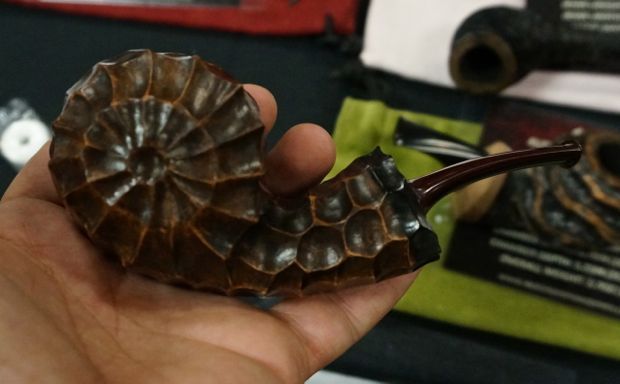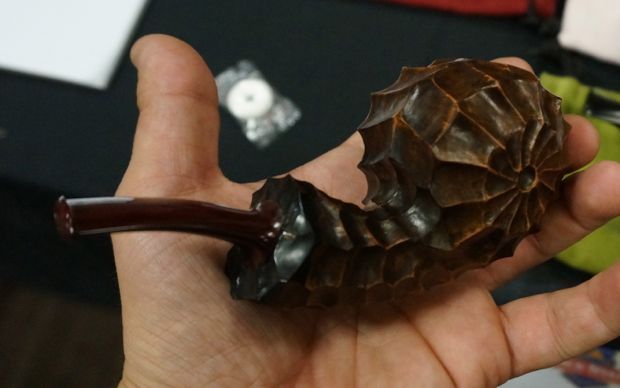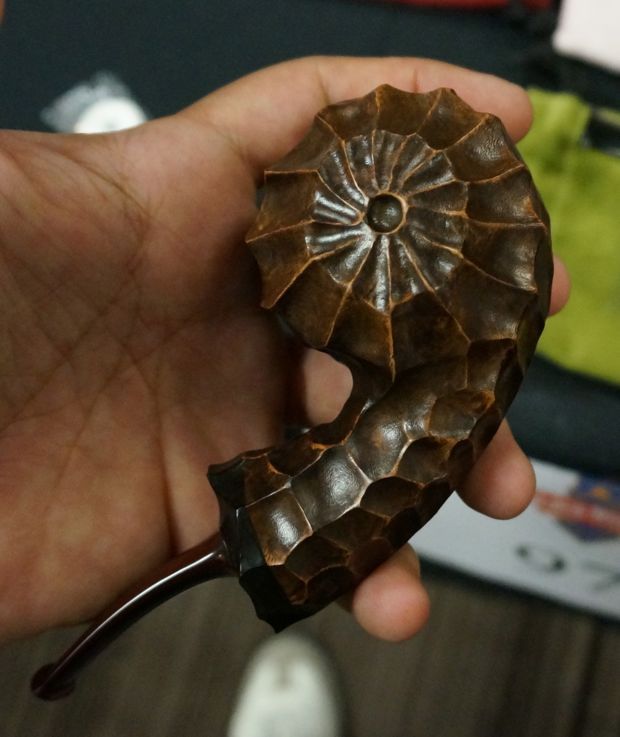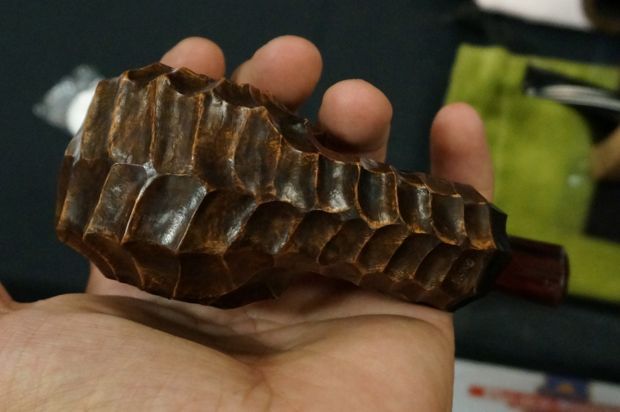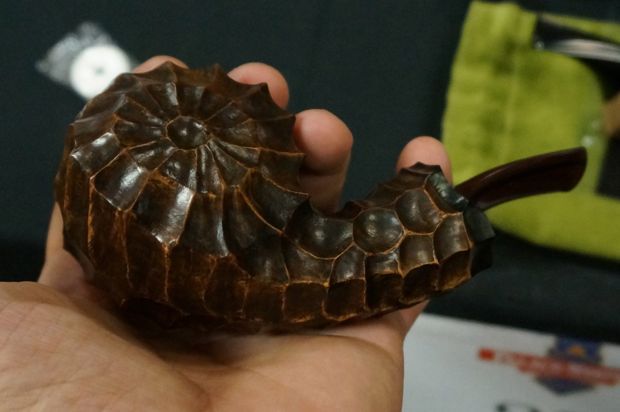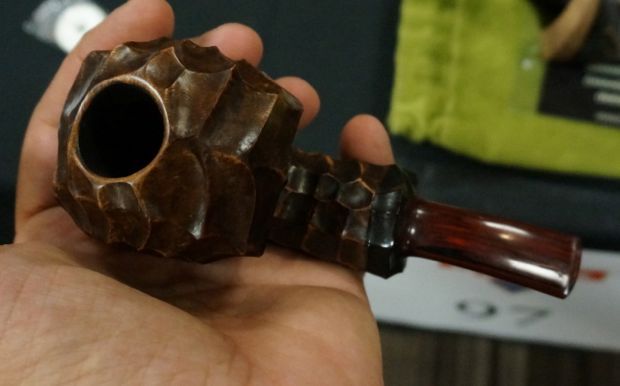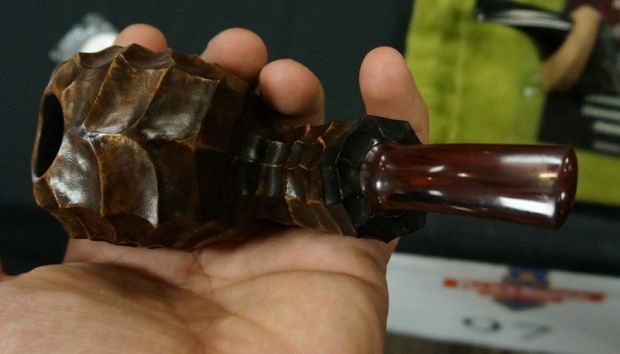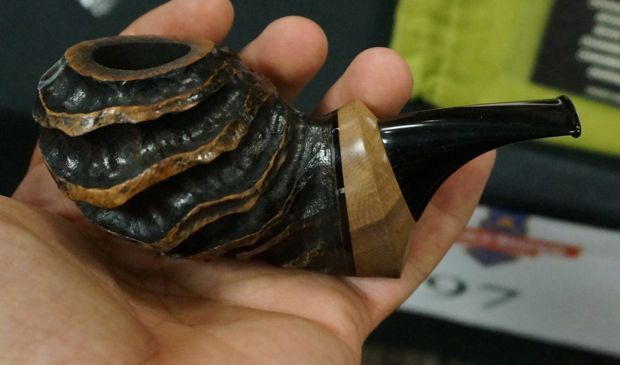 Alex Brishuta & look at that exterior. Can you imagine the tactile fun you will have holding such a pipe? Even when I hold a fantastic sandblast, it is more fun than a regular straight grain.
It was Alex Brishuta who reminded me a few years ago that pipe makers have not been spending enough time on experimenting with the exterior look of briar. Yes we have Straight Grain, Sandblast and Rusticated – so what? We can have a whole bunch more! I wrote a brief article on this subject about two years ago and since then have received many emails from pipe makers all over the world thanking me for pushing them into more experimentation in this area. You can read the article by clicking here
Good Job Alex. Together we have helped push this area forward and we have so much new stuff to enjoy with our eyes today.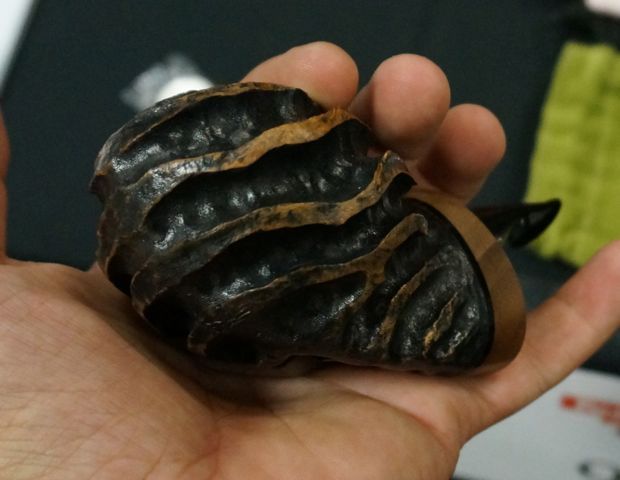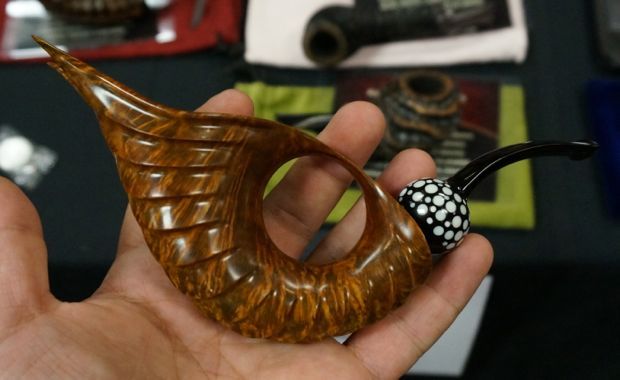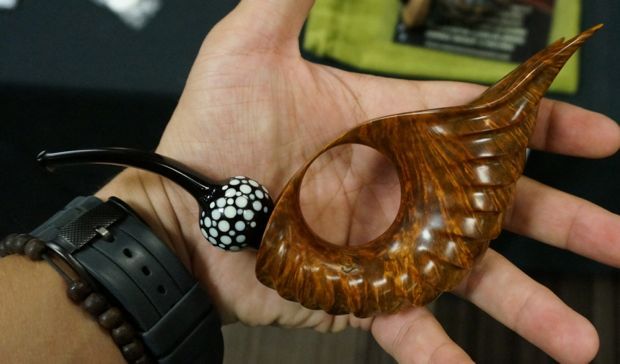 Andrey Savenko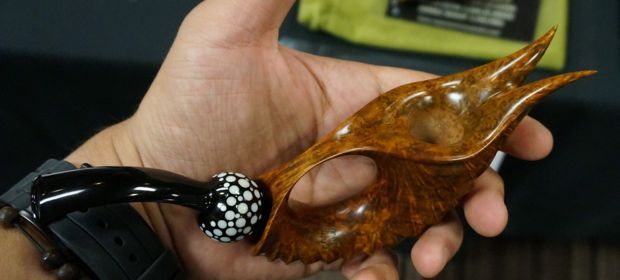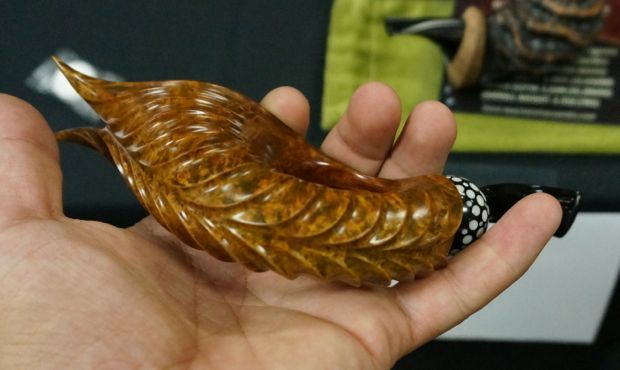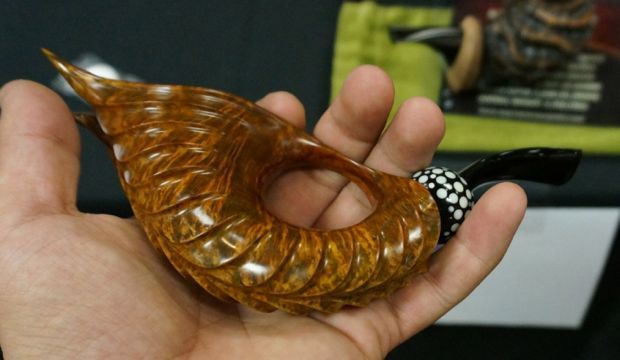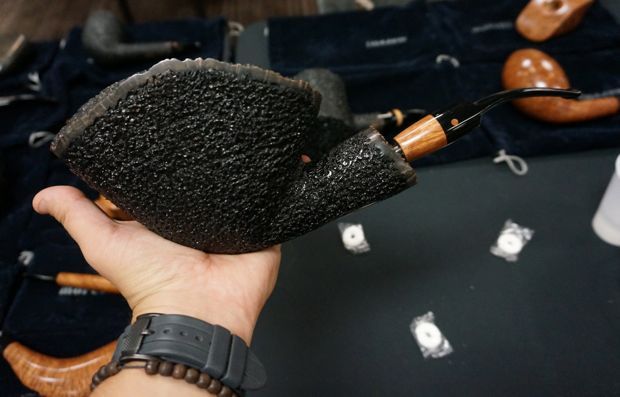 And now we look at some Gargantu-um pipes that I am not sure if they are pure novelty or if there are serious collectors who actually smoke these suckers. If there are, please contact me and let's talk….out of curiosity. Boy oh boy, these are Big Big Boys!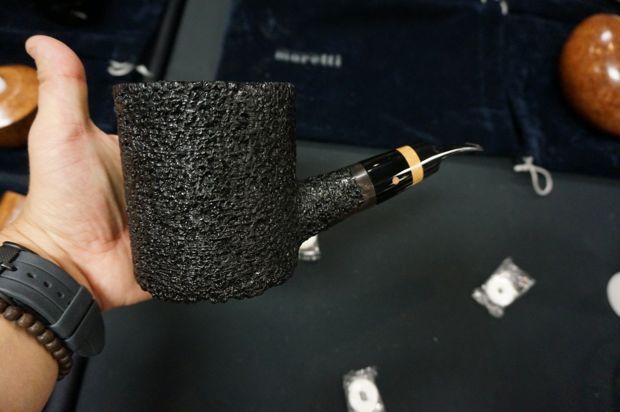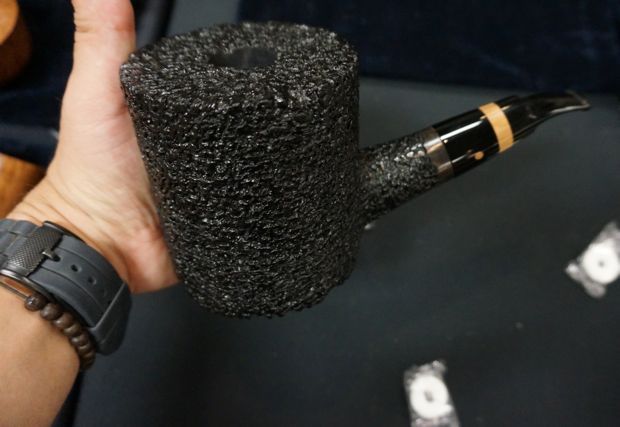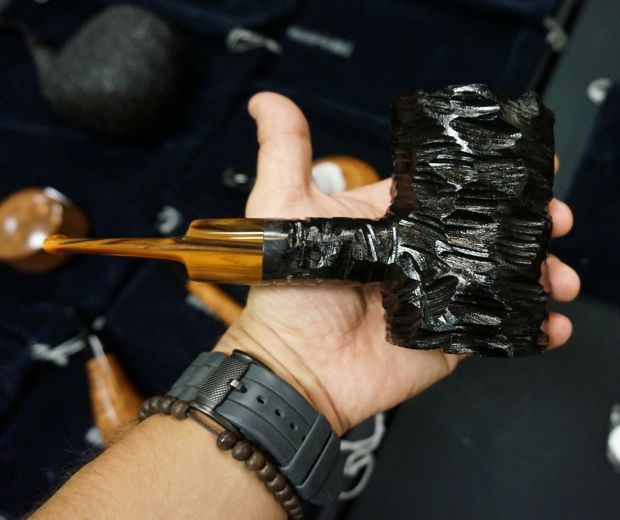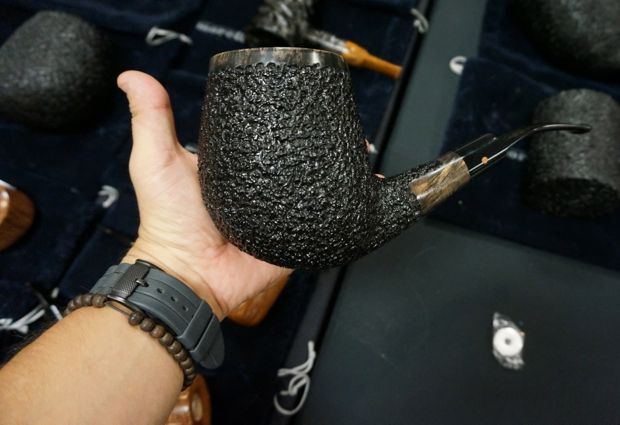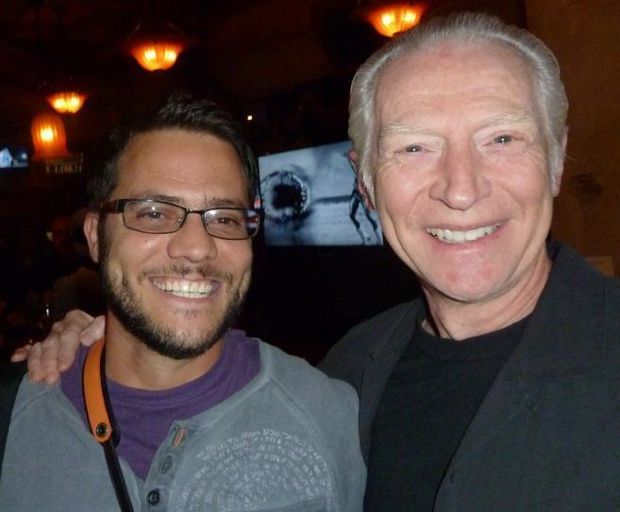 And we finish with a picture of Matt Guss and myself.
All smiles. Pipe shows are always great great fun & a good place to meet up with your fellow friends.
ENJOY SOME MORE FANTASTIC PIPE PICTURES & MORE STIMULATING COMMENTARY.
CHECK ME OUT OR FOLLOW ME ON INSTAGRAM
Copyright © 2014. TobaccoDays.com. All rights reserved.